A bronze statue, one of several created by artist Yiota Ioannidou that are installed at various public spaces in Paphos has been stolen, it emerged on Sunday.
'The girl with the hula hoop', which had been placed in the Hani tou Ibrahim weighs 70 kilos and is worth 10,000 euros. It was put in place last autumn.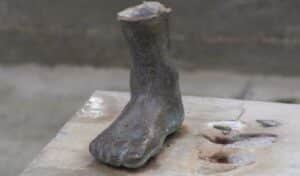 According to police, the theft was reported by an employee of the Paphos municipality after shopkeepers in the area noticed it was gone.
CID went to the scene and collected evidence. They also have CCTV footage that might reveal who the perpetrators were.
Ioannidou in a statement to CNA expressed her disappointment. "It is really a great pity," she said, adding that she could not fathom the thinking of some who would destroy such a work of art.
Paphos Mayor Phedon Phedonos said: "It is a shame that we work to give something beautiful to our society and some people destroy it". He added, however, that the bronze sculpture would be recreated and paid for by a donor.
However, Ioannidou, who is offering a 1,000-euro reward for anyone who can help to locate the statue, said later on Sunday that it could not be replaced because the mould no longer exists.
"I am asking for the help of the public who can identify it or even provide some information about the theft of the work of art, and to eliminate this kind of phenomena," she told CNA.
'The girl with the hula hoop' was gifted to Paphos by Chinese businessman and Paphos resident Henry Jiang in 2019. Ioannidou described the philosophy behind it at the time to the Cyprus Mail. She said a child's toy, like a hula hoop, was recognisable and often seen as a "circle of life". This represents the two extremes of birth and death and also a plethora of other elements that give meaning to the context of life, she explained.
The statue was the fourth sculptural composition by the artist to be placed in the town, The girl with a sparrow, The Little Fisher Boy and Sol Alter, a homage to Aphrodite, attract hundreds of visitors. Another of her sculptures is found in Argaka and honours rural mothers.
Earlier in 2019, four bronze birds were stolen from the 'girl with a sparrow' and later replaced by the artist.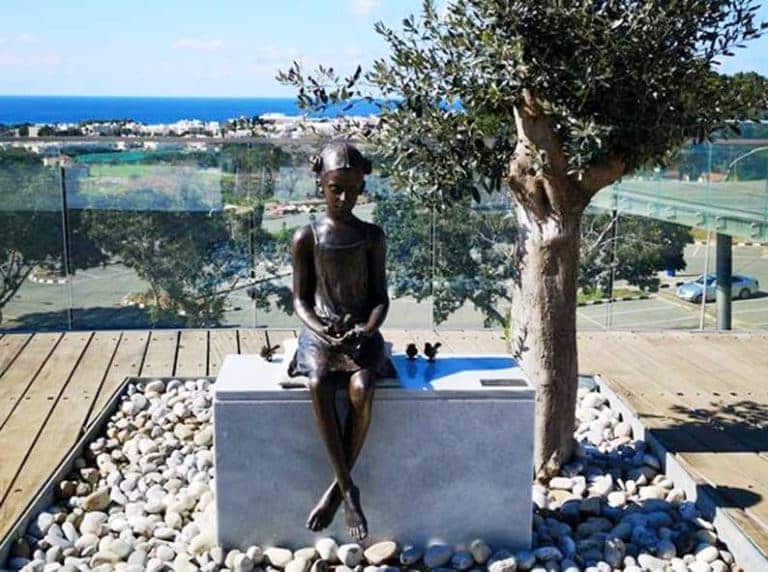 The sparrows were integral to the sculpture with one of them sitting carefully in the girl's hand, as she gently holds it. It took the artist one month to create the replacement birds, which are now firmly attached to the bronze rods on the base.
The bronze of the child and the birds sit on a marble cushion and plinth and under the branches of a recently planted olive tree.
Born in Paphos, Ioannidou studied at the School of Fine Arts in Athens, before returning to Cyprus.