"Something I always say to my students is that when you're learning any new language, try not to think in your native language; think in the language you're learning or speaking."
Valentinos Filippou speaks from experience. Having founded his own online Greek language school back in 2013 at a time when online classes where not as popular as they are nowadays, his team currently consists of 12 trained professional teachers who provide a plethora of live courses to meet the needs of those aspiring to get acquainted with the Greek language.
Known as The Online Greek Tutor, what seems to stand out with the school – aside from its flexible teaching approach as an online platform – is Filippou's philosophy behind how one perceives and learns a new language, in this case: Greek.
"For me, the accuracy or to be perfect in the language isn't so important; the most important thing is for students to be able to communicate," reveals Filippou. "Once you can communicate with people, then you can try and improve your accurateness, correct your sentences and so on," he adds.
This explains why the school places so much emphasis on speaking. "We focus on communication without leaving behind other things, such as grammar and syntax. For example, instead of having students read out loud during classes, we send them the text, they read it at home, and, during the lesson, we try and talk about the topic," explains Filippou.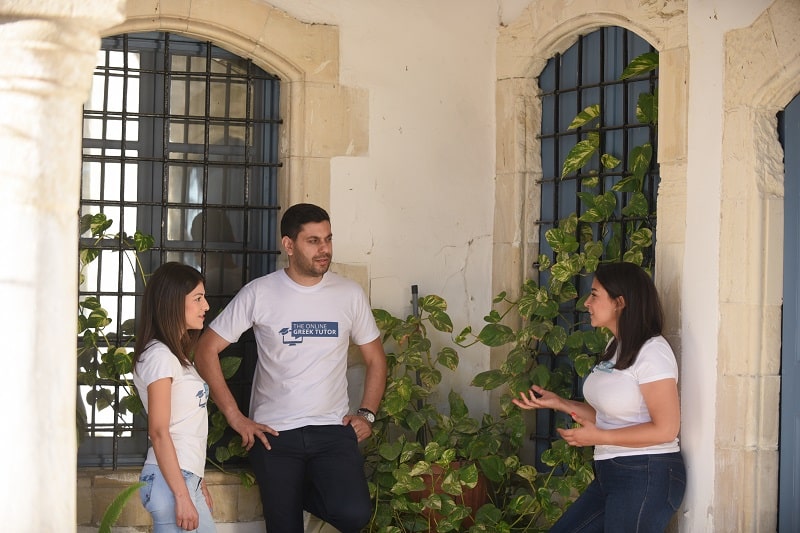 To this end, Filippou attests that their role as teachers extends to making sure their students attain the confidence in the language while providing high quality lessons in which they progress and speak Greek.
"We try and help our students overcome their fear of speaking Greek; we're not just teachers, we're like coaches.
"We try and help students understand that it doesn't matter if they make mistakes – that they must go out and speak, say things, communicate. That's the most important thing; after that, once they communicate, they will feel better, get the confidence and get better at it. And then yes, of course, they will work on their accuracy, but if they don't make mistakes, they won't learn the language, there is no other way," says Filippou.
The Online Greek Tutor offers a plethora of live courses, including summer classes, group and semi-private classes, conversational Greek and Greek for Tourists, to name a few, with the opportunity for students to pass the internationally-recognised Ellinomathia Exam.
What's for more, the School has also begun delivering Greek Cypriot dialect classes – one of the only teaching institutions to do so on the island – which are very much based on the school's emphasis on speaking. "We offer a 20-hour course in Cypriot dialect; we don't teach the Cypriot dialect as a full curriculum as we do in Greek – they provide insight to basic Cypriot words and phrases, ones we hear every day," says Filippou.
While testifying to the School's online nature, a fact that gives students the opportunity and flexibility to learn Greek from anywhere, Filippou describes the diverse background of his current students. "We have students that live in Cyprus or Greece for work or retirement, we also have students with Greek roots, but live in America or Australia, second- or third-generation immigrants.
"We have students who are married to Greeks or Cypriots who want to learn the language to communicate with their family and we also have people who admire the Greek culture and history and want to learn the language to learn more about it. But we also have students from Belgium, Germany…"
Notably, but not necessarily, this implies most of Filippou's students already have some knowledge of Greek, a language which Filippou admits isn't the easiest to learn.
"I believe that all languages have difficulties; Greek also has difficulties but it also depends on how you approach the language and the mindset you have when you begin to learn it," he explains. "If one feels that it's very difficult and that they cannot learn it, they won't learn it. Greek is one of the most ancient languages with a long history, and in some ways, that's what makes it a difficult language; it's a very broad language, but I really think it depends on how you see it and the mindset you have."
Having dealt with online teaching for almost a decade, Filippou is quick to pinpoint the advantages.
"Classes can be much more interactive because you can easily access videos and quizzes during lessons, teachers and students can work on the quizzes together at the same time, and they can write on the same white board. Teachers can easily change the colours in which they're writing and emphasise things faster.
"Of course, the personal contact that you have with students when face to face gives something else that we don't have online, but, having said that, we have become friends with many of our students and when they come to Cyprus, they visit us, and when we go to their countries, we visit them – we do create personal connections," he concludes.
Check out the school's Live Greek Lessons Online
Contact:
Ydras 1 Despoina Court 1
Meneou 7000
Larnaca, Cyprus
Tel: +357 99323091
Email: [email protected]