Carnival fever is on! Limassol is getting ready for its biggest party of the year which lasts over a week and spills throughout its old town streets. Ten days of music, parades, shows and masquerade parties await as Cyprus celebrates its 2023 carnival season from Thursday until February 26. Just like every other year, a series of live music performances will add an even more festive touch, swaying to the sounds of Afro-Brazilian and Latin music.
Thursday
The fun begins on Thursday, the day that signals the start of the carnival week. Apart from eating smokey meat and hitting the town for after-work drinks – Tsiknopempti staples – the day includes music performances and a samba-infused parade. At 6pm, crowds will gather at the Grigoris Afxentiou Square on Anexartisias Street in Limassol for a series of shows and a parade through the old town. Following a flag-waving show, Batukinio Percussion Band will perform a live show playing on almost 40 Brazilian surdo drums, repiniques, snare drums and chocalho shakers, bringing a taste of Brazilian carnival music.
The band will then lead the parade through the old town streets along with the Limassol mayor, the Limassol Municipality Brass Band, the Limassol Majorettes of the Cyprus Girl Guides Association and this year's Carnival King. The parade will conclude back at the Grigoris Afxentiou Square where a Brazilian band of eight musicians and 12 percussionists will put on a carnival party.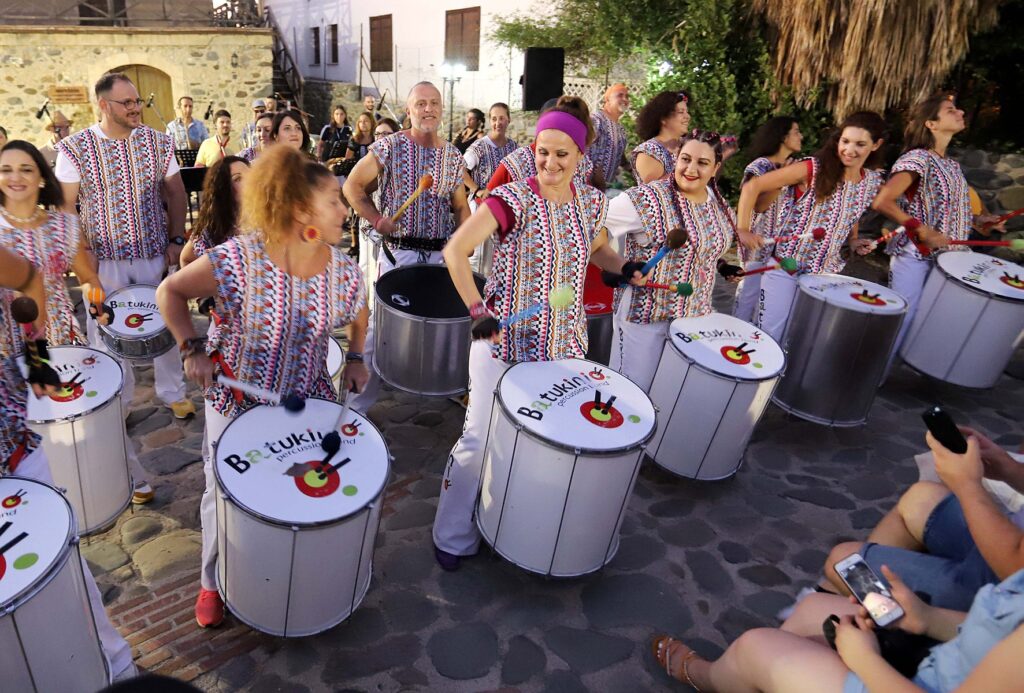 Sunday
Continuing the Latin-themed carnival celebrations, an Afro-Brazilian Fiesta will take place at Mason Bar on Sunday again featuring members of the Batukinio Percussion Band in collaboration with 10 prominent guest musicians. The evening will be one of music and dancing as the artists present a repertoire of well-known Afro-Brazilian music and distinct carnival tunes, in the styles of Samba Batucada and Samba Reggae. Joining Batukinio will be professional musicians  Andria Antoniou, Rodos Panayiotou, Evelthon Michaelides, Giorgos Krasides, Marios Papares, Marios Charalambous, Elias Ioannou, Andreas Theocharous and Giorgos Morfitis.
 February 24
The Rialto Theatre will also host a carnival celebration by welcoming seven renowned musicians from the local music scene. The Motown goes Latin performance on February 24 will be a special concert with well-known songs from Motown and Soul music genres rearranged by Giorgos Morfitis into a Salsa and Samba dance frenzy. On lead vocals will be Vicky Anastasiou while the band will be comprised of Elias Ioannou, Charis Ioannou, Andreas Theocharous, Giorgos Morfitis, Rodrigo Caceres and Rodos Panayiotou.
 February 25
A day before festivities conclude, another band will take the floor of Mason Bar, featuring some of the same musicians who are known for their Latin music renditions. Macumba is a Cyprus-based band that plays a unique version of Latin Jazz. Three Cypriot musicians and one Chilean founded the band in 2017 and play Brazilian funk, samba, rumba and guaguanco afro-cuban blended through a modern post-jazz aesthetic. On February 25, the band will present an explosive repertoire which includes original songs and some versions of Latin – Jazz, aiming to get audiences up on their feet, carnival style.
Tsiknopempti Parade
Live flag show and live music by Batukinio Percussion Band followed by a parade. Grigoris Afxentiou Square, Limassol. 6pm onwards
Afro-Brazilian Fiesta
Live music with members of Batukinio Percussion Band in collaboration with 10 prominent guest musicians. February 19. Mason Bar, Limassol. 7.30pm. €12. Tel: 99-211280
Motown goes Latin
Motown and soul music with a samba flair. Seven musicians on stage. February 24. Rialto Theatre, Limassol. 8.30pm. €12. www.rialto.com.cy
Macumba Latin Jazz Carnival Edition
Band plays Latin Jazz live. February 25. Mason Bar, Limassol. 7pm-9.30pm €10. Tel: 99-211280