The notion that plant-based food is a "Great Reset" WEF-inspired trend might be overblown.

Sean Dollinger, the founder of PlantX (PLTXF:OTC US) tells investors the trend has been incipient for many years.

Recent global events and new consumer habits led to a rise in plant-based companies on the stock market.
Perhaps given the astronomical push on ESG initiatives, mainstream green and vegan investors already assigned a different meaning to keeping all their "eggs" in one basket. Well, every few years something big happens in the world – often to the extent that most people can see it coming. The plant-based food market in North America is projected to reach $162 billion in the next 3 years. This trend started as a meager $3 billion market in 2017, which jumped to $5 billion in 2019. Whilst many view this as positive for the environment and people's health, late adopters remain skeptical.
Any food, meat or vegan, is clearly attractive due to its recurring revenue potential. Institutional investors like Goldman Sachs taking up large positions in companies like Oatly (NASDAQ:OTLY) and Beyond Meat (BYND). Blackrock and Vanguard seem to be all in on Tattooed Chef, Inc. (TTCF). The smaller prudent investor is rightly asking: How did we get here? Is this a mega trend based purely on fashion, or is there real substance to it? These are perfectly valid questions, which we will seek to answer in this article:
Whereas the World Economic Forum (WEF) vehemently endorsed plant-based food, it does not mean it is something new, nor that skeptics of "The Great Reset" should fear it. 
Sean Dollinger, the founder of PlantX (PLTXF:OTC US) issued a statement explaining his view: "Regardless of the position one may take on the Chatham House report which advocates for a drastic switch to plant-based food, the ensuing painful changes farmers have to make and possible fears that this is just another WEF grand scheme we can all agree this is nothing new. Plant-based food has been around since 500 BCE. I believe it is merely our awareness of health and the environment that has caused an overdue acceleration in adoption". 
What the WEF says about plant-based food:
The WEF, citing research by think tank Chatham House, believes there should be a global switch to plant-based food. Bill Gates also weighed in, stating that it is a great way to reduce climate impact. This is because outdated farming methods pose a threat to some 24000 species, which equates to biodiversity losses. Raising animals increases greenhouse gas emissions, whereas plant-based foods reduce them, particularly when relying on organic methods. 
Essentially, it argues that with some 80 billion animals per year killed for food, although livestock farming currently provides both food security and a means of living to some 1.3 billion people, if the global population can switch to plant-based diets it will yield a huge benefit. The benefit could be that 75% of all croplands in the world can be freed for other uses. 
As a powerful but unelected group, it is understandable why many are skeptical about the WEF, yet in the case of plant-based food, it seems to have raised some very valid arguments. 
Key trend drivers in North America
As a precursor to the above, one can argue that the American market started its own trend, perhaps with help from foreign researchers who joined American universities. This is notable as it is a peculiar market in the sense that it likes to set trends, as opposed to being a trend follower. It is likely that Americans would feel resistant if they hear misinformation outlets adding their spin: "You'll be switching to plant-based food now because a think tank in London UK believes it is better for your health and the environment and the WEF agrees with them". After the pandemic, people are just too sensitive to such decrees – which it is not.
Was the proliferation of this trend initiated in North America? Let's follow the research:
Global Trend Drivers:
Europe: North America is by no means isolated in the sense that the Biden Administration and the EU are singing from the same hymn sheet and we have the same market drivers. That said, it is as if the European Union were much quicker to lead the change by buying up farmland and retiring outdated farming practices which does not comply with what we'll refer to as the "Chatham house consensus".
India and Asia: The population of India itself outweighs that of North America and Europe. The reason meat is not consumed in India can be attributed to religion and culture which existed for hundreds of years prior to what we see as a "new trend" in Europe and the United States. China and other parts of Asia have other unique constraints such as water scarcity which will greatly impact its ability to continue livestock farming. 
Investing in the plant-based food trend: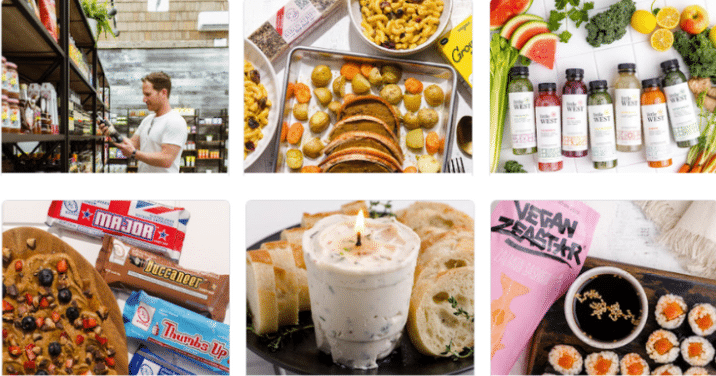 Jim Cramer, the famous CNBC cheerleader, made an interesting remark on "Squawk on the Street." Cramer said:  "This movement is happening. You've got to get on the bus or … get left behind." Of course, no prudent investor will follow him blindly. Many other analysts have shared their views on the best ETF's and stocks for the vegan/vegetarian food market. Although history will be their judge, thus far the trend has kept up its momentum.
Many mega trends are called "fads" during the early days. Yet when trends take 10 to 15 years to mature, can a fad really be measured in just two years? 
Just as Forbes turned out wrong by calling Tesla a fad in 2016,  Bloomberg, may be wrong too. As a recent cheerleader for Beyond Meat (BYND), the publication seems to have grown impatient by calling  it just another food fad. The BYND bears may wish to remember that Tesla (comparable only due to trend similarities) also dropped substantially at the end of 2019, prior to the pandemic – only to take a moonshot in the ensuing 24 months. 
Clearly Beyond Meat is a single-brand play. For those who believe they should not keep their "eggs" in one basket, PlantX sought to chart out a different path with multi-brand exposure.
PlantX positioned itself to be accessible to investors in Canada, the United States and Germany (CSE: VEGA) (Frankfurt: WNT1)(OTCQB: PLTXF). According to Dollinger, although it is not an ETF, it behaves in the same way by giving investors wider exposure to all the top brands in the plant based food market. 
As Dolinger explained: "If you did not know whether to bet on Mac, Dell or Lenovo, but your research indicated that the overall market was growing, you might have betted on multi-brand retailers like Amazon, Best Buy and Target so as to be on board whichever way the wind blows. In the same way, by virtue of PlantX representing most of the top plant based food brands, I am humbly but confidently aiming to provide investors with exposure to the performance of all the top brands in our industry." 
What is the business model? The PlantX is quite similar to successful ecommerce platforms like zappos, chewy, sephora: an online shop focussed on a unique set vertical with a strong community built around it. Leveraging this model dates back to when Dollinger started his ecommerce career with Ryan Cohen who founded Chewy.com. Lately, he improved this model by acquiring owned brands with higher margins, along with physical retail locations (including the largest vegan grocery store in Chicago). Some notable owned brands include Little West, Portfolio Coffee and Xmeals. 
Where to next?
All major trends seek direction from time to time. Globalization itself has faced its obstacles in recent years and did not progress upwards on a straight line. The same can be said for the plant based food trend. Yes, millions of people love their steaks, pork sausages and chicken burgers. There are also those who would not agree with Chatham House, Bill Gates and the WEF on whether change needs to happen. Meanwhile, those seeking out the best investment opportunities grow impatient.
Although one could not say with absolute certainty that the Unilever information, which asserts that this industry will go mainstream in 2023, comes from a completely neutral player in the market, yet it seems quite persuasive. The polemic investor, as always, will wait till the lastminute to turn bullish on any trend. The only question left among skeptics: has the plant based food industry now reached a crucial tipping point given the tremendous institutional support it received?