Not all politicians are the same, finds THEO PANAYIDES after meeting the man given a baptism of fire after the financial meltdown of 2013. He finds an outward looking, low-key former finance minister who rose to the 'nearly impossible task'
Almost exactly 10 years ago, on March 25, 2013, a bailout was agreed with the EU – and thousands of depositors lost their savings – in the infamous haircut. A few days later, on April 3, six days shy of his 41st birthday, Harris Georgiades was appointed by the newly elected government as minister of finance, tasked with mapping a way back from near-bankruptcy. Now, 10 years later, he leans forward slightly, trying to forestall my assumptions. "You keep referring to 'politicians'," he observes mildly. "We are not all the same."
We're in the office of the deputy leader, on the fourth floor of Disy (Democratic Rally) headquarters in Nicosia. That's still his post, at least technically – though of course Disy is in the throes of changing its leadership at the moment, following Averof Neophytou's failed presidential bid; a new leader was elected last Saturday, while Harris' successor will be decided in a few weeks. He'd initially put his own name forward as leader, but later withdrew so as not to become "an obstacle to the party turning page". He's happy just being an MP, he assures me, after all "I have been politically active since my student days. The last 10 years I've had top jobs… [Being an MP] is a task that I shall fulfil until 2026 – then probably I will not seek re-election".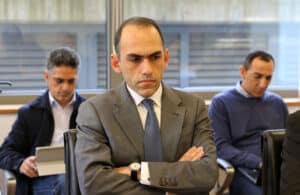 Yeah right, they all say that; then again, as he points out, there's no monolithic 'they'. Not all politicians are the same – and Harris has always seemed one of the unusual ones, if only in being quite low-key. There's an interesting moment in our conversation, when I note that politics seems to require two quite separate talents – political nous and, for want of a better phrase, people skills – just as his assistant is bringing us coffee. "Probably I'm not particularly…" he starts to reply, then "Why are you laughing?" – this to the assistant who's chuckled quietly, as at a private in-joke. "Sorryyyy," she laughs, sidling out of the room, and Harris laughs too (the whole exchange is very good-humoured): "Probably I'm not particularly skilled on people skills," he admits with a grin.
There are two takeaways from that brief exchange. The first is that he fosters such a good working environment that an assistant feels comfortable joking around, even about her boss's shortcomings. The second is that it's no secret – even, or especially, to himself – that he lacks, say, the larger-than-life charisma of his hero Winston Churchill. He's never been a popular hero, let alone a populist. Would he call himself a technocrat, then?
"No, not even a technocrat… I mean, I like the substance of politics. Being in the thick of it, let's say. Of the decision-making process – of making choices, of promoting a political agenda. The real, hardcore substance of politics. Less so all the – uh, the things which come with it." 'People skills' is actually a misnomer; he's entirely pleasant and easy to get along with. What he doesn't like – unlike most politicians – is the hand-shaking, back-slapping, baby-kissing side of politics, pressing the flesh at christenings and memorial services. Deep down, he craves the quiet life. What has he missed most, I ask at one point, during all these years of high-level jobs and public office? Harris pauses, looking wistful: "Staying home at night," he replies. "Especially when it's wintertime, with my fireplace and maybe a glass of whisky. Just staying at home, like a normal person!"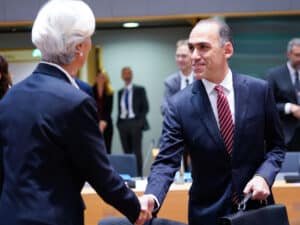 We speak in English, a language he of course speaks fluently – he studied in the UK, International Relations and Economics followed by a Master's in Euro-Mediterranean Studies at the University of Reading – but some way behind his Greek, which he speaks beautifully. We should probably have stuck to the native language but I'm worried about losing nuance through a possible mistranslation, after all he's been involved in some controversy over the years – most notably over the collapse of the Cyprus Cooperative Bank (CCB) in 2018, for which he was explicitly blamed by an investigative committee.
"First of all, these claims were never substantiated," he responds when I bring it up. "It was a collapsed bank by 2013. The [government's] effort since 2013 was quite successful in somewhat restoring the soundness of the bank, that was the plan – and ultimately the plan, which was very clear from the very beginning, was that there would be an exit… It was like putting enough petrol in your car just to make it move again, to go a certain distance. You fix what you can, and you privatise. That was the clear, legally binding – under EU state-aid rules – obligation." The fact that he was "easily" re-elected MP after the debacle shows that it didn't dent people's faith in him, says Harris; more importantly, the fact that Cyprus was upgraded back to investment grade by Fitch and DBRS in 2018 – just days after the CCB's liquidation – shows how well it played with the markets. And the markets, as opposed to party politics or domestic in-fighting, have always been what's important for him.
He's "very outward-looking", always has been. He was active in Nedisy, the party's youth wing, from his student years, but also active "in the international networking of the European centre-right… I made friends with people who rose through the ranks". (Roberta Metsola, the current president of the European Parliament, is a friend from those years.) Later, as finance minister, he served on the Eurogroup and Ecofin, and even chaired the European Bank for Reconstruction and Development for one year (2014-15). His global outlook may indeed have been what persuaded President Anastasiades to hand him the ministry – a poisoned chalice, a "nearly impossible task" – in 2013, though they also knew each other well, Harris having been his spokesman for four years. Either way, the young politician was "not the obvious choice".
He was still fairly new, having been an MP for just two years. His experience was mostly in the tourist industry, running a beach hotel in Polis (a family business). He'd been reading books about politics since he was a teenager – but the days of the haircut were undoubtedly a baptism by fire, "a defining moment… I don't think we all realise how close we came to complete meltdown, how close we came to an exit from the Eurozone – and what a failure would've meant. We came dreadfully close to becoming what Lebanon has regrettably become in the past few years.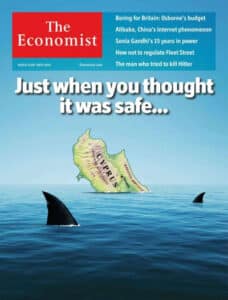 "I mean, I can tell you now that even the troika heads, with whom we had close interaction at the beginning, when the official meeting ended they would – uh, they would offer me a pat on the back, saying 'Probably this will not work'… Even they did not see how exactly we'd be able to recover. I remember the week I took over the finance ministry, we made the cover of The Economist and Cyprus [in the cover illustration] was actually sinking into the Mediterranean. The assumption of practically every credible observer was that we would not make it". Simply put, the country was broke, downgraded not just to junk but all the way down to default; what the new government inherited "was literally cash-in-hand to last a month. The accountant-general of the republic, Mrs Rea Georgiou, took me aside literally minutes after I was sworn in, she showed me a chart and she told me: 'At the end of April, when we pay the payroll for the month, we'll run out of money'. It wasn't exactly a reassurance when she also told me that I should not worry – if the President wants to fly to Brussels for emergency talks, we will be able to buy a ticket for him!".
The magnitude of the crisis in 2013 is one thing that isn't sufficiently talked about; the relative uncertainty of the EU solution is another. It wasn't just a case of 'doing what we were told'. Yes, there was a memorandum, acting as a roadmap to recovery – but "Greece had a similar plan, and it failed". Thus, for instance, the roadmap called for annual tax hikes – but in Greece they only ended up stifling economic activity, prompting new measures and a vicious cycle of austerity. Here, on the other hand, Harris "basically committed myself" to no new taxes; instead, "we balanced the budget in one go, in one year, taking a knife to expenditure… It happened big-time but it only happened once, at the very beginning". The troika didn't think it would work, or that we'd have the "political stamina" to go through with it – but we did, and it paid dividends: "We never raised a tax after spring 2013".
One shouldn't overstate the success story. It's too bad, for instance, that a once-in-a-lifetime opportunity wasn't taken to reform the civil service altogether (even their fairly paltry pay cuts have now been restored), or to transform the country as it was transformed after 1974; instead, after that first burst of cost-cutting, the focus was more on 'golden passports' and other iffy measures. Still, when it comes to Harris Georgiades, it seems to have been a case of the right man at the right time. For a start, he was very cool-headed: "I'm not known for being anxious, or nervous," he shrugs. "I suppose I was 'cool under fire'. Or maybe it was the adrenaline rush, like being on the front line of the battle. People say you don't feel much". His temperament helped – he's not the emotional type in general – and his flaw (if it is a flaw) of not being populist also must've helped: a back-slapping, baby-kissing politician may indeed have lacked the political stamina. But it also helped that he's not – he insists – just a pallid technocrat, but in fact a political animal in Churchillian mould. "I am a strong believer in decision-making, and the responsibility of taking difficult but necessary decisions. This is my mantra." If it means enduring personal attacks (as in the aftermath of the CCB saga), then "so be it".
I suppose he would say that – but note, for instance, that his (rather surprising) hobby is shooting, mostly clay pigeons at the shooting range plus a few hunting trips every year, and shooting is another case of making quick decisions and keeping cool under fire (though admittedly you're the one firing). That quirk aside, his personal story fits his preference for the quiet life. His parents were both civil servants (his mum in tourism, his dad in education); his wife Eva is also in education, and they have a 15-year-old daughter. What can he tell us about his home, for instance? Well, "I have three large libraries"; he reads a lot, mostly non-fiction. (He also wrote a book on the crisis, The Perfect Storm – though it's not yet available in English – and may write another someday.) "It's a very comfortable, but not an extravagant house." So he doesn't have a pool, or a tennis court? He smiles thinly: "No pool, no tennis court, no".
His brand remains strong, as they say; the role he played in 2013 is undeniable. But a lot has happened since then – not to mention that he withdrew his name as party leader and will soon step down as deputy leader, not to mention that he's now in his 50s. Does he feel, I ask discreetly, that his political career may have peaked?
"Yes," he replies instantly. "Yes, of course. And I consider it perfectly normal, and healthy."
I'm a bit surprised; most politicians would prefer to keep on peaking.
"Well, that's one of the greatest illusions in politics – to believe that there's only an upward trend."
The lure of power is hard to shake, I suggest.
"Yes, but…" He pauses, as if unsure how to phrase it. "Believe me or not, I was never particularly lured to the power – and to the glamour, let's say, of politics. As I've said, I'm a political animal but I'm a deeply political animal, in the true sense. If you have the opportunity to do something, you should grasp it and do what is right, in your view… It's never a game of image, communication, or simply an effort to hang on to whatever seat you're holding forever."
Harris Georgiades hung on, to be sure. He's the second-longest-serving finance minister in the history of the Republic – but not for the sake of it, just because there was work to be done. "We can be proud of the way we were able to regain our footing," he concludes, looking back on the haircut and its aftermath. "And we should make good use of this second opportunity, that we have earned through hard work," he adds, sounding perhaps a little pompous in the manner we associate with politicians. They're all the same – or are they?