In Cyprus, you're buried in a standard coffin, no frills. But in Ghana, you can be buried in fish, a hammer, or even a pineapple! In this west African nation, death has long been seen as an important rite of passage, and families commemorate their loved ones by providing them with unique and elaborate coffins.
And ill health is something that's started to plague this country as the 33-million strong population starts to abandon the food of their ancestors for modern, processed goods. In the past, fruit, veg, fish and poultry were the fare of choice. Today, an unhealthy diet contributes largely to the country's chronic health problems.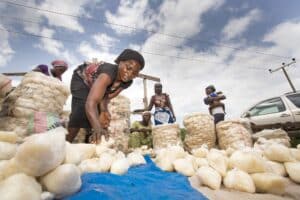 A return to traditional foods might well reduce the prevalence of such conditions. Time-honoured dishes such as banku and tilapia (fermented maize and cassava dough balls served with a spicy tomato and fish stew) and groundnut soup (a concoction of peanuts, vegetables and spices) are packed with vitamins and minerals, while waakye (beans and rice served with plantains and eggs) provides oodles of protein.
There's more protein on the coast: grilled sardines and mackerel (both abundant in the Gulf of Guinea) and fried barramundi (a local sea bass) or catfish have always been popular fare. Crabs and shrimp are steamed, boiled, or made into stew and soups. And everything comes with a side of nutritious jollof rice – a regional dish that's made with long-grain rice, onions and tomatoes, and seasoned with chili, garlic and ginger.
Of course carbs do exist in the traditional Ghanaian diet – albeit in moderation. Maize, yams, plantains and cassava pop up in many local dishes, most notably fufu. A staple food, the delightfully-named fufu sees these starchy veggies boiled until soft, then mashed or pounded until smooth and sticky. The resulting dough is then shaped into balls and served as a communal addition to other dishes – a sort of Ghanaian alternative to the ubiquitous fried potatoes of the west, and far more nourishing! If only more people adhered to the traditional diet, Ghana might not need so many fantasy coffins. Although there's a lot to be said for being buried in a pineapple!