As we look ahead to the future of crypto investments for 2023, the phrase "buy the dip" has never been more apt. Two top cryptocurrencies to watch out for are DigiToads (TOADS) and Polygon (MATIC) – two leading projects likely to bring incredible value and returns to their investors in the coming years. 
Fundamentals of DigiToads (TOADS)
Innovative and forward-thinking, DigiToads (TOADS) combines a meme coin with a gameplay element in a single package. DigiToads' play-to-earn features are one of the game's most exciting parts, as they allow players to earn TOADS tokens through in-game prizes, on-chain trade competitions, and NFT staking. 
Winners in trading competitions receive the prestigious Platinum Toad, which allows them access to the treasury to trade and reap prizes. Meanwhile, the top 25% of players on the leaderboard receive awards from the prize pool every month.  
All DigiToads NFT holders can stake their NFTs for increased passive income, with the staker with the longest stake duration receiving a larger distribution. Those who own three or more DigiToads NFTs are admitted to Toad School, where they can learn trading strategies from the industry's top professionals.
As a decentralized autonomous organization, the community will select the project's main mascot via a meme contest, with the winner earning handsome incentives from the project. 
DigiToads is also dedicated to the preservation of wildlife, and 2.5 percent of its annual income will be given to non-profits that aid in preserving and restoring the Amazon rainforest. The initiative also has its line of digital merch designed to raise money for the same charities.
Besides all these benefits, DigiToads is a hyper-deflationary asset with only 585 million TOADS tokens in circulation, ensuring the ecosystem's continued development over the long run.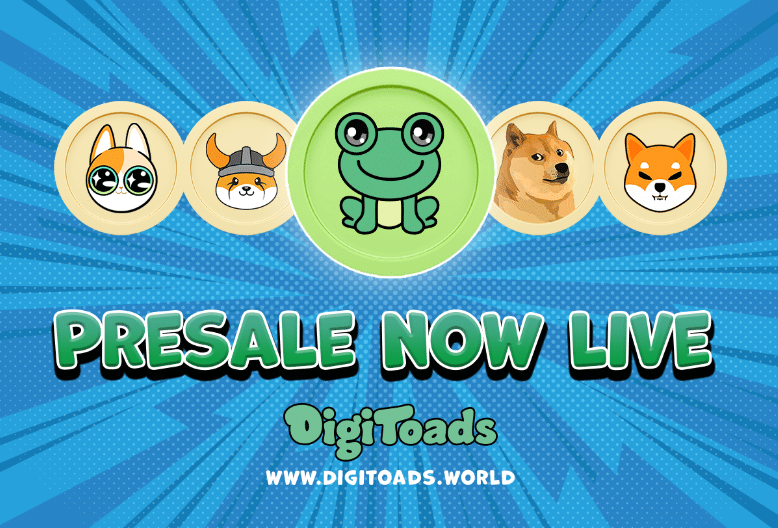 Notably, the presale price of TOADS is expected to rise by 450%, from $0.01 to $0.055. This rapid expansion presents an exceptional chance for early investors to amass substantial profits. 
Overall, as DigiToads's user base grows, the platform will majorly influence the cryptocurrency market and establish itself as a frontrunner in the field.
What is Polygon (MATIC)?
As a Layer-2 scaling solution, Polygon (MATIC) seeks to address Ethereum's scalability problems. It's a separate blockchain that processes transactions independently from Ethereum using a customized version of the Plasma framework. While respecting the decentralization and security of the Ethereum network, Polygon enables faster and cheaper transactions. To accomplish this, most transactions are moved to the Polygon sidechain, relieving stress on Ethereum's mainchain.
 By enabling up to 65,000 transactions per second, Polygon is an attractive option for high-throughput dApps. Polygon's flexibility as a platform for decentralized applications (dApps) is further enhanced because it supports Ethereum and other networks and protocols compatible with Ethereum. Polygon is a user-friendly and developer-friendly environment since it offers simple tools for creating and releasing decentralized applications. 
Overall, Polygon intends to improve the usability and accessibility of the blockchain to meet the rising demand for decentralized apps. A versatile and scalable platform, it holds great potential for developing DeFi and other blockchain-based applications in the future.
MATIC is the native cryptocurrency token of the Polygon network. The token serves various functions within the Polygon ecosystem, including serving as a medium of exchange for transactions, paying gas fees, and staking for network security. It is also used for governance purposes, allowing holders to vote on proposals for the future development of the network. 
Final takeaway
As it stands today, both DigiToads and Polygon are positioned to become a driving force in the crypto space soon and can be considered must-have cryptos for 2023.
For More Information on DigiToads visit the website, join the presale or join the community
USE CODE:
FINTECH10
FOR 10% EXTRA TOKENS ON YOUR NEXT DIGITOADS PURCHASE
---
DISCLAIMER – "Views Expressed Disclaimer: Views and opinions expressed are those of the authors and do not reflect the official position of any other author, agency, organization, employer or company, including NEO CYMED PUBLISHING LIMITED, which is the publishing company performing under the name Cyprus-Mail…more
---