Spain stands by Cyprus in its search for a just and viable solution to the island's political problem, while its prime minister on Tuesday said it would take the initiative to bring the two sides on the island together.
"We strongly support the search for a lasting and just solution based on UN resolutions and the principles of international law, and based on a bizonal, bicommunal federation that ensures safety, peace and prosperity for people," Pedro Sanchez said from the presidential palace during an official visit to the island.
"We shall work toward this during our presidency [of the EU Council]. Cyprus can count on us. We will undertake an initiative for restarting talks between the parties," he added.
On his arrival at the presidential palace, the Spanish premier was greeted by an honour guard salute.
Sanchez laid a wreath at the statue of Archbishop Makarios.
Christodoulides and Sanchez then walked on the red carpet to the entrance of the palace, where they shook hands and stepped inside.
The two leaders held a private meeting, followed by a working lunch during which they discussed issues related to the European agenda, in view of the fact that Spain will be taking over the Presidency of the EU Council on July 1.
During the talks President Nikos Christodoulides briefed the Spanish leader on his proposal for more active EU engagement in the Cyprus peace process, with a view to breaking the deadlock and resuming negotiations for a settlement.
Speaking to the press later, Christodoulides called Sanchez his "friend," adding he was particularly pleased that his Spanish counterpart is the first EU head of state to visit Cyprus after he took office.
The occasion also marked 55 years of diplomatic relations between Nicosia and Madrid.
The discussions included the issue of EU's energy independence, the green transition, and migration.
"The time has finally come for an agreement on the EU level for a treaty on asylum and migration," Christodoulides said.
"It is a matter which as the EU we have yet to tackle, and I believe that under the guidance of Spain, a frontline country which understands very well the challenges of migration, we will have developments."
The president thanked Spain for its interest in a more active involvement by the EU in the Cyprus talks, stalled since 2017.
"The role of the presidency of the Council is important to such initiatives, and in this light, and also the fact that Spain maintains excellent relations with Turkey, we believe this can help our effort for a more active engagement of the EU in efforts to break the impasse," Christodoulides said.
He added he and Sanchez agreed to coordinate closely in order to achieve this objective.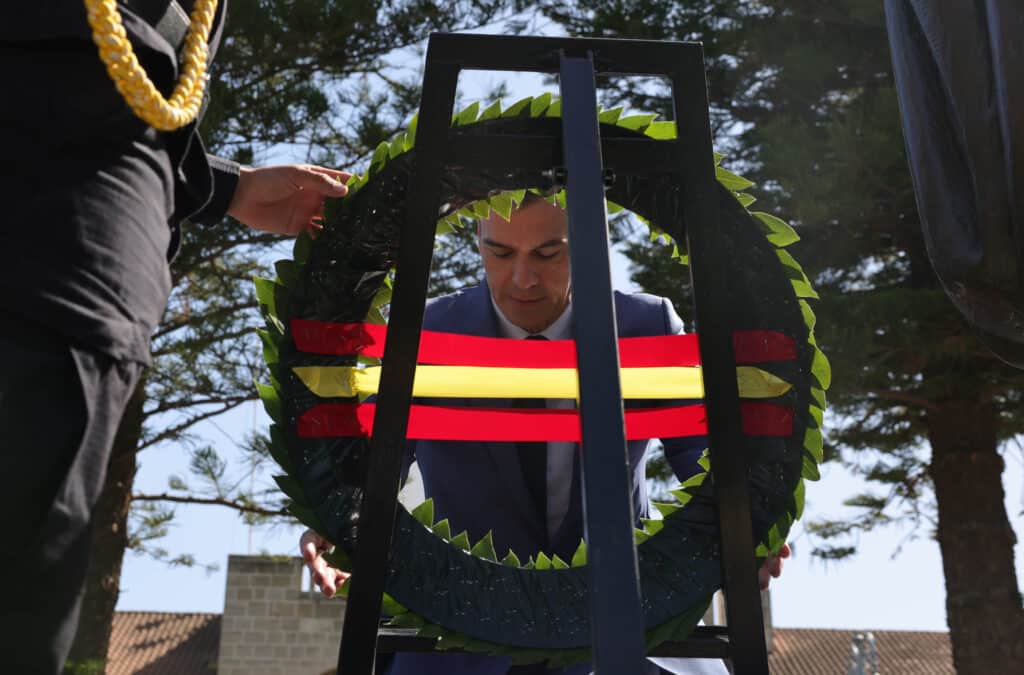 Sanchez laying a wreath at the statue of Makarios