The 5th edition of the CASSINI Hackathon, which was organised by the non-governmental organisation C.I.P Citizens In Power in Cyprus, was held under the auspices of the Cyprus Space Exploration Organisation (CSEO) and concluded successfully at the Information Centre and Training for Employment and Entrepreneurship (KEEAED), Municipality of Nicosia, at the end of last month. The event proved to be a great success for Cyprus.
This 5th edition of the CASSINI Hackathon focuses mainly on SPACE: Defence & Security and it was held in 10 different locations across Europe. Countries participating were Bulgaria, Croatia, Cyprus, France, Hungary, Italy, Latvia, Poland, Romania, and Sweden.
At the conclusion of the two-day Hackathon in Cyprus, a financial award and mentoring prizes worth over € 1000 were given to the first 3 teams who achieved the highest ranking on their local pitch.
The Cyprus winning team, "Hiris Guider" was selected to pitch to the final Demo Day, on Thursday 30 March in front of a jury panel representing the European Commission, the European Union Agency for the Space Programme (EUSPA) and other related industries.
Hiris Guider won the 1st prize in the European final proving once more that there is amazing tech talent in Cyprus. The team are part of KIOS CoE and the team members are Andronikos Charalambous, Stelios Charalambous, Eirini Christodoulou, George Christou, Maria Constantinou, Stephanie Kassinopoulou, Egli Michailidou, and Manos Papageorgiou.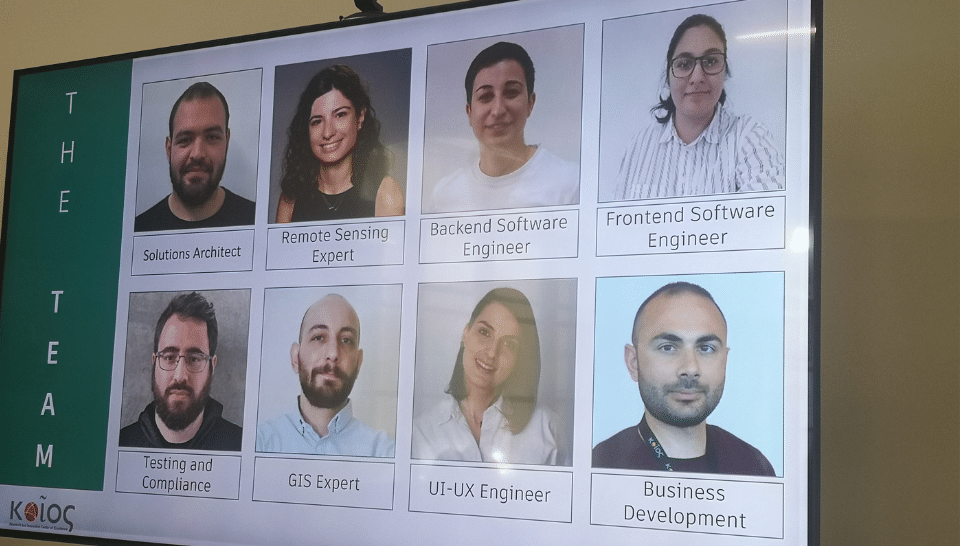 "Our team from KIOS CoE, after winning the local Hackathon, won first place at the EU CASSINI hackathon, competing with teams from 9 other EU countries. We presented our prototype platform "Hiris Guider" – a scenario-driven, on-demand risk assessment tool for emergency response planning using Copernicus data – and it clinched the top spot. Huge thanks to everyone who supported us, and congratulations to the amazing "Hiris Guider" team" the captain of the team George Christou said.
Their pitch can be seen here:
The team was supported by the organising team, Citizens In Power (CIP), Cyprus Space Exploration Organisation (CSEO), and the mentoring group from CAIUS.GR and CSEO, and the local jury members Kyriacos Pavlou, Panayiotis Philimis, George Danos, Liza Charalambous, Constantinos Tsangarides and Panis Pieri.
The CASSINI Hackathon & Mentoring is the first action in the implementation of CASSINI, the European Commission's new initiative to support innovative entrepreneurs, start-ups, and SMEs in the space industry, including New Space, during 2021-2027.
The CASSINI Hackathons are a series of semi-annual hackathons that tackle global challenges with European space technologies. Each hackathon is a hybrid event that takes place in 10 different locations across Europe simultaneously.
The purpose is to bring together young entrepreneurs, technologists and researchers from around Europe, and to provide an attractive environment to develop innovative applications and learn about the European space programmes.