In the head of the jury of Cyprus Film Days THEO PANAYIDES meets a dynamic woman who grew up surrounded by art and sees herself as free, despite it being hard to be a woman in a cruel industry
It's not uncommon to ask a well-known filmmaker – Paris-based Julie Bertuccelli certainly qualifies, with 15 films and dozens of awards under her belt; she was here as president of the jury at Cyprus Film Days – for their favourite movies, or the ones that mean most to them. It's also not uncommon for a filmmaker to reply by citing Charlie Chaplin, and classics like City Lights. It's a bit more unusual, however, for that filmmaker to have actually met Mr Chaplin, shortly before his death in 1977 when Julie (born in 1968) was about eight or nine.
Chaplin was old, and already unwell; young Julie was excited to note that he carried a cane – but it was just for support, not for twirling like he did in his Little Tramp days. "You're very sweet," he told the little girl, "and you look like your father." Her father, Jean-Louis Bertuccelli, was the reason they were there, in Switzerland; he was dating Chaplin's daughter Josephine, having been divorced from Julie's mother some years earlier.
Theirs was a family of artists, and indeed well-known artists. Her grandma married composer Nicolas Nabokov, first cousin of the (even) more famous Vladimir. Her mother ran a gallery, and was very involved in the art world; Jean-Louis – like his daughter, later – was a film director. Julie spent her childhood in museums where her mum was curating, and on her father's film sets – but later decided against going to film school, studying Philosophy instead. "What could I have to say?" she recalls her teenage self thinking. "We are artists, we are lucky, nice life – even if I had a lot of sadness in my family, a lot of difficult stories." She sits on the terrace of the Mediterranean Beach Hotel in Limassol, chatting away in voluble but slightly fractured, French-inflected English. "I was very curious about the world," she recalls. "I thought I had nothing to tell, I was more curious to see – you know, the world!… I prefer to be like a fish in the water, to go [up] from the bottom of the movies." She worked for a decade as an assistant director, marshalling the sets of big arthouse names like Kieslowski (she was second assistant on Three Colours: Blue), then spent some years making documentaries before embarking on her first fiction film, Since Otar Left in 2003.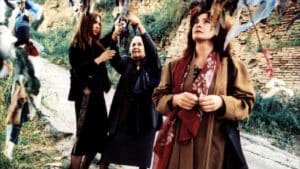 Her dad, I suspect, cast a long shadow (even Chaplin observed that they looked alike). Not only was young Julie's relationship with her mum "a little bit difficult sometimes", but her father recurs in all the older creative men who crop up in her life – from those early directors she assisted (all men, of course, the film industry being notoriously male-dominated; more on this later) to, for instance, Pierre Meunier who appears in her recent documentary Latest News From the Cosmos (2016), about a severely autistic prodigy with beautiful thoughts locked away in her troublesome body. (Meunier, as himself, is a theatre director staging a production based on her writings.) There was also her husband, Christophe Pollock, a noted cinematographer – 14 years older than Julie – who passed away from cancer in 2006, leaving her a young widow with two children, aged five and three.
That was "my big sadness," she admits. Christophe was the man of her life, as they say – not the only one, but "the one where I should have spent all my life with him, normally". Yet there's also a very touching quote that Julie ascribes to her daughter, the five-year-old, on Pollock's page at Mubi.com: "On the day of the funeral, my daughter said to one of her friends: 'In life, one can choose to be happy or unhappy. I chose to be happy'. I took up this sentence in [my film The Tree], dedicated to Christophe". That, in a nutshell, is the impulse – or one of the impulses – that seems to drive her, the idea of finding strength in adversity and making a choice to be happy. "I hate to be a victim," she tells me. "Even if I was a victim of things sometimes – OK, you can cry at the beginning, but afterwards you have to take your life in your hands, because if not then you're always dependent on others. And I think I'm a really free woman, I don't want people to decide for me – so I have to choose myself. But when you're a victim, everybody will choose for you."
It's a telling phrase, 'a really free woman'. She's moved on, inevitably, from her husband's death. That wise five-year-old is now 22, her brother 19 – and they also have a 12-year-old half-sister; Julie's current partner (not the 12-year-old's father) has three children of his own, their shared home in Paris a happy jumble of stepkids and half-siblings. But it's more in her work that Julie Bertuccelli can truly be said to be 'free'. "I don't make films just for making films," she explains, "I need to be really in love [with the subject]… I feel very free and independent. It's true that I never made a film for money". She's had big commercial hits, to be sure – notably School of Babel from 2013, a documentary (most of her films are documentaries) about young immigrant kids at a Parisian high school – but commercial success is a welcome bonus, never the driving force. "I think it must have a relationship with me," she muses, trying to define what attracts her. "I try to be myself – just that – and to tell stories that I am the only one who can tell."
Meaning what, exactly?
A subject you find "deep in you," she ventures; a subject that touches something in her. "A lot of people try to invent stories – and oh, it's a funny story, yes it can be pleasant for the audience, they can love it – but it doesn't have a link with me. So if there's no link, at the end the film is without sensitivity. It has no, no – sans chair [without flesh]," she sputters. "It's body-less, soulless." The most obvious instance of a link is The Tree (2010), which is about a death in the family (a young girl grieving for her father) and was written during Christophe's final illness – "It was really a way for me to talk about my sadness, and my children and what they lived" – but often it's a case of a very different story which she can nonetheless relate to. "I love to observe the world. To find people that I'm close to, even if we're very far in education and everything… And to tell the audience that I'm like an ambassador – I spent all year with this guy, and at the end I give you a little piece, of an hour and a half, to discover him!"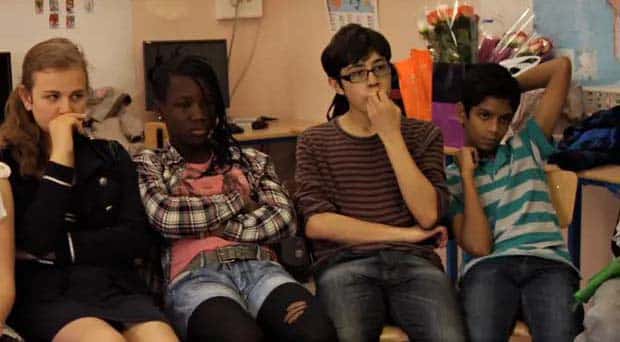 The documentaries do indeed take years, if only to gain the subjects' trust: "You spend time, you are interested… You give from yourself a lot, you talk about you. It's a question of relationship, you know, a human relationship. I talk with them, I don't hide myself". Fiction and non-fiction are equally valid – "Both are cinema" – and equally personal: "I'm always very moved by people who have difficulties – who have sadness, grief, an illness, or something very hard happens to them – and in fact they transform these problems into something strong… I love people to do that". In her film about the autistic artist, for instance, what's important isn't so much the autism as the artistry. Even Jane Campion, the Oscar-winning director (The Power of the Dog) who's the subject of Julie's latest documentary, is a case of someone who had to overcome certain hardships: "It was hard to be a woman in this cruel industry".
Freedom is strength, and strength is freedom; each leads, inexorably, to the other – because a free person is no longer a victim, and a strong person is free to do what they like. Julie is gushy and charming and very feminine, with the flowing hair and fine bone structure of a Gallic Meryl Streep – but she's also surprisingly (though why, in the end, surprisingly?) dynamic, and indeed there must've been a touch of steel even in her 20s; filmmaker's daughter or not, Kieslowski and those other arthouse titans would hardly have entrusted their films to her otherwise. "I was very efficace [efficient]," she reports modestly.
Her life outside filmmaking is hands-on and serious-minded. Raising the kids takes a lot of her time, even if two are almost grown (she loves motherhood: "I think the best thing I have in my life is to be a mother"). She only writes when working on a script, music being the more common route for creative expression – she plays the cello, joined by the kids who are also musicians – and her hobbies are also quite practical. "I'm in love with furniture. I go to the flea markets, you know? I love houses." She's just bought a small country house, and is busy renovating: "It will be my house where I will be a grandmother, just to receive my grandchildren!". Above all, she's extremely active in professional circles, fighting for the rights of documentary filmmakers and the place of women in 'this cruel industry'.
Her politics are those of the European creative class: she's pro-migration, non-religious, and took Covid lockdown in her stride, using it to re-evaluate her priorities – but she's also active in more specific ways. She was head of the rather unfortunately-named LaScam (the society for non-fiction authors) for several years and established the 'Golden Eye' – a prize of €5,000 for the best documentary – at the Cannes film festival. She created a documentary cinematheque at the Centre Pompidou in Paris. And she also does what she can for women filmmakers, mindful perhaps of the fact that it was slightly easier for her to get a start – as the daughter of an artistic family – than it is for most people. Her Jane Campion film opens with footage from the 60th Cannes in 2007, with Campion (the only female Golden Palm winner among 35 invitees) bemoaning the fact that "so much of the media – or the way we see the world – is written and thought of by men, that we really don't know what women think".
Julie agrees, noting that one of her own traits is that "I doubt a lot, and I say so". On a film set, for instance, she'll freely admit when she's not sure what to do (though her other bad trait is that, once she makes up her mind, "I always think I'm right") – and it's sometimes awkward, just because crews are so used to men being macho and assertive:
"The guys, they're more – you know, it's war. It's war. They know what they want, they have ideas about this, and they never fail to hide their fragility. The girls give much more the fragile side of themselves, and I think it's sometimes difficult to find their way [as film directors], because the guys – you know, mepriser – they despise this fragility. Because in fact it's a mirror of themselves, that they don't want to show this". At the end of the day, "we need to hear them," she pleads, echoing Campion, 'they' being her much-neglected sex, "because they are half of the world – and the guys don't know how we feel, what do we think about life. So it's very important to have this parity in art, like in life".
Art and life intermingle for Julie Bertuccelli; a lifetime of art, and assorted memories. Chaplin in his twilight years, with his walking stick. Kieslowski on the set of Blue, "how do you say, chuchoter – whispering in the ear of Juliette Binoche". (His style as a director was very intimate; Campion, too, directs her actors "like a friend".) People she's met through her films, the kids in Babel – she also helped many of them with their papers to stay in France, and showed the film to Francois Hollande at a special screening with all the children present – the autistic prodigy, a year in Australia making The Tree, various workers in a cemetery, a department store, a school for judges. Esther Gorintin, the 90-year-old star of Since Otar Left, who became an actress at 85 after a lifetime as a dental assistant. Julie is essentially an observer, and a chronicler – but it's an odd mix, because she's an activist too. It's complicated.
Life goes on. She recently had a bad experience – her first, despite 30 years in the industry – with a devious producer, but is already moving on to the next project: a documentary about blind kids – but it's not about them being blind, she emphasises, they're kids first and foremost. Making films to connect, and express something from her own life; it's her way, living as an artist and a "free woman". And remember: you can choose to be happy.