Over one hundred firefighters worked to put under control a fire that broke out near Akamas this weekend, authorities said on Sunday.
The fire threatened houses and destroyed 300,000 square metres of forest vegetation.
It broke out at 3pm on Saturday near the village of Kathikas in Paphos and it was put under control about six hours later.
This was due to the extremely high temperatures that prevailed in the area combined with strong winds, the director of the forestry department Charalambos Alexandrou said on Sunday.
"Very special weather conditions prevailed…yesterday we had 36C in Polis Chrysochous and 35C at Paphos airport while at the same time in Nicosia the temperature was 29C. Such temperatures at this time of year are not normal."
Similar temperatures were recorded when the catastrophic Argakas fire broke out in the summer of 2016, Alexandrou said.
All this, he said, "combined with the location where the fire broke out, made for a particularly difficult setting for immediate firefighting".
Nevertheless, the forestry department chief said firefighters timely response and assessment of the blaze played a key role in putting it out before it got dark.
"The reaction and the result given the circumstances was a feat," he noted.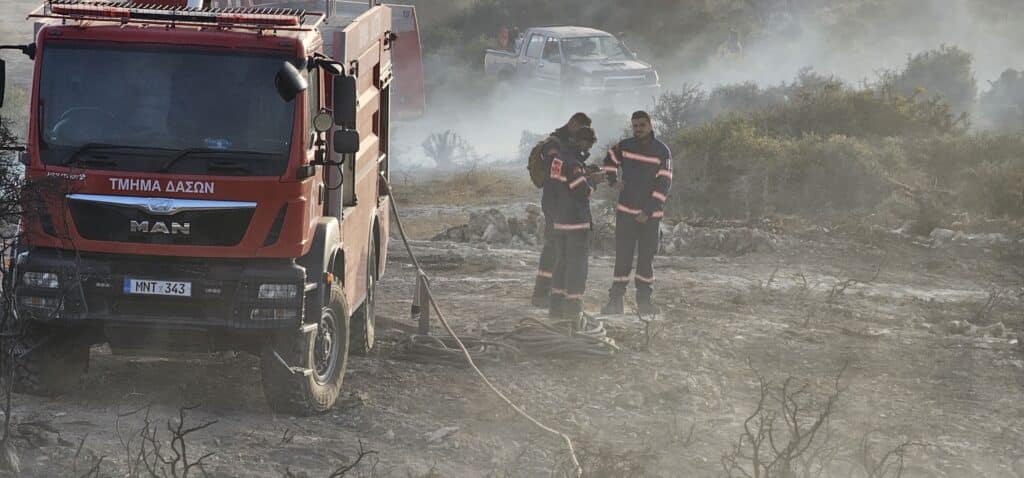 Crews of approximately 100 people from the forestry department with 18 fire engines, 11 members of the fire service with four fire engines and another from the game and fauna service were on site. These included forces from the Limassol and Troodos stations which were called in about 5.30pm, Alexandrou said.
In total seven aircraft coordinated by the police were battling the blaze with the activation of Icaros 2 Plan.
Firefighting forces stayed in the area overnight.
Regarding the causes of the fire, Alexandrou said "all possibilities are being examined".
Initially, he said, we had information that the fire started from the road. Then, information that came to us suggested that the fire was caused by power lines.
"We are also in consultation with the police and as always we are investigating all possibilities but so far, we have not come to any safe conclusion," he added.
Alexandrou also commented on the shortcomings of the forestry department in terms of staffing and fire-fighting equipment.
"We have significant shortages but we can to some extent cover them when we are prepared, when we take timely and quickly correct decisions," he said.