I've always been keen on Lebanese and Syrian food but hadn't had it for a while until a little over a month ago. I realised how much I had missed the cuisine and so I became a little excited when I heard about another restaurant in Oroklini. I headed there to check it out.
Chez Faina also offers a French menu, but I was there for their Lebanese selection. It is a quite small restaurant and it felt like I had walked into an area similar to that of an extension someone would have on their front veranda. The chairs had a kind of shiny white material covering them, like the chair decorations you would see at a wedding hall.
We were greeted by a friendly waitress who showed us our reserved table but, as most of the tables were free, she allowed us to choose wherever we wanted. She followed us to the table carefully selected by my mother and handed us the menus. I already had more or less of an idea of the dishes I wanted my parents to try so the menu was supposed to be a formality and just to indicate to the waitress what we wanted. I opened the menu and the first thing I noticed was the prices. Apart from the flavour, one thing I love about the restaurants I had visited was just how good the value for money was. These were not prices that I had expected so I had to have a little re-think about what I was going to order.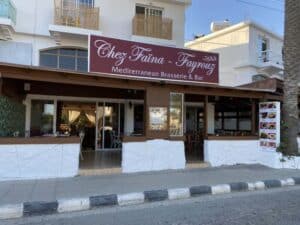 We finally settled on the meze which although it included a couple of things that aren't to my liking, seemed pretty generous. The meze was only a little more than the mixed grill and with all the extras, definitely seemed worth it. I also ordered the agnyak (halloumi bread) as it is one of my favourites!
We waited quite a while for the Fatoush (salad with crispy Lebanese bread pieces dressed with pomegranate molasses), dips and bread to come out. Not all the dips came at the same time and, with the small helping of Lebanese bread we were given, it was difficult to ration as the dips were actually quite good. The humus was very tasty, one drawback though was that it was decorated with tinned chickpeas which didn't smell very pleasant. The mouhamara had a stiffer texture to what I'm used to but was still tasty. Although I prefer it when meze dishes aren't all thrown on the table as quickly as possible, Chez Faina took a little too long between dishes. We found ourselves just picking at the dips but having to use the crispy bread pieces from the Fatoush because the Lebanese pitta had run out.
Eventually, we were brought a plate of falafel and cheese rolls, alongside the agnyak. The pastry on the cheese rolls was a little thick but the really tasty cheese it was stuffed with made up for it; they were really good. The agnyak was a bit of a let-down though, the bread was too crispy and the halloumi inside was very thin and its flavour was lost. The falafel were pretty good. As expected, they were served with a small bowl of tahini which complemented them brilliantly.
Lastly, the mixed grill was brought out, hiding under Lebanese bread. There was shish taouk (marinated chicken cubes), lamb kofta (seasoned mince cooked on a skewer) and lamb kebab. The lamb kebab pieces were very tender and cooked really well. The taouk was flavoured well but perhaps a little over cooked as the inside was quite dry. The kofta was quite thick but not seasoned as much as I would have liked but I still enjoyed it. There was actually quite a bit of food left over and we were offered a take away box which ended up being enough to feed my partner later that evening!
While the food was overall pretty decent and the waitress welcoming, unfortunately, Chez Faina didn't leave me wanting to go back for more.
VITAL STATISTICS
SPECIALTY Arabic/French cuisine
WHERE Chez Faina, Dhekelia Rd, Okeanias street 16 Oroklini, Larnaca
WHEN 12-10.30pm Tuesday to Sunday
CONTACT 24 646494
HOW MUCH €22 per head for meze with a minimum order of 2