The first time I visited Hofbrau Munchen in Limassol, the Cyprus franchise of the famous German chain of beer halls, I was left feeling somewhat underwhelmed. Not to belabour what may come across as a backhanded compliment, but since then the restaurant has improved considerably, both in terms of its offerings, which are now more varied, as well as in terms of the execution, with the items I have recently sampled all being very much up to scratch, but more on that later.
The Limassol restaurant can be found in Germasogeia's tourist area, near the Royal Apollonia Hotel. For anyone visiting by car, parking is easy enough to find, while getting here by bus is also convenient. The restaurant has a sizeable outdoor area and this is where you'll want to spend your time. Wood dominates the decoration, with numerous televisions showing various sporting events dotted throughout the restaurant, while there is also a garden area. Additionally, on our last visit, there was also a friendly, albeit stealthy cat roaming around, which can be petted free of charge.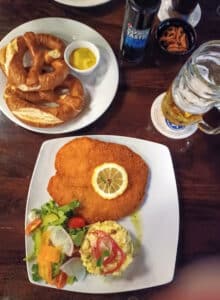 In terms of service, there are adequate staff members present, and the person in charge of our section was attentive, polite and helpful, frequently checking if we were in need of anything. We started the night with a couple of pints of Hofbräu original, a lager that most beer aficionados will find familiar, reliable and well-suited to many a red meat dish on the menu, as well as an equal number of warm, classic pretzels – or bretzel, if you are a stickler for linguistic authenticity. The funny thing about the pretzels, which are of the soft bread variety, rather than the crispier one, was how satiating they were, so if you're looking for something to take the sting off that third pint, you can always go for one of these carby starters. Also, make sure to ask for some mustard, spicy or mild, on the side to dip the pretzel pieces into, a basic but vital addition to your snacking process.
As for the mains, we went for the Bavarian sausage platter, which comes with three sausages and a portion of potato salad, as well as chicken schnitzel, which comes with a side salad and fries or potato salad. There's not much to elaborate on here. The sausages are a perfect accompaniment to the lager and work so well with the traditional, creamy potato salad, while the schnitzel was well-cooked, balancing the crunch of the fried, breaded exterior with the softer chicken inside. If I had to make a tiny modification here it would be to ask for more lemon to drizzle on top, since the thinly sliced wedge adorning the chicken is more decorative than anything else. I'm sure this could be easily accommodated by the restaurant if one were to request it.
Although we had originally intended to move onto the dessert menu, we were too stuffed to do it justice. I'm sure I'll be back for that apple strudel not too far into the future.
VITAL STATISTICS
SPECIALTY German food and beer
WHERE Hofbräu München, Georgiou 'A 92, Germasogeia, Limassol
WHEN Daily 3pm-12am
CONTACT 77 772337
HOW MUCH €6 for a pint, €10-20 for mains, €6 for dessert