Appalling conditions and overcrowding at the Athalassa psychiatric hospital resurfaced on Tuesday, following the publication of pictures of the facility on social media.
Increased admissions, medicine shortages, chronic understaffing, and outdated and inadequate infrastructure have plagued the hospital for years, and the issue was at the centre of a meeting of nurses and state health organisation (Okypy) reps on Monday.
Okypy spokesman Charalambos Charilaou, speaking on CyBC's morning programme on Tuesday, countered that the photos which caused the latest outrage are outdated ones from 2020-21, and that the wards depicted have since then been renovated.
Okypy took over management of the hospital only in 2019 and time is needed for improvements to be made, the organisation's spokesman said.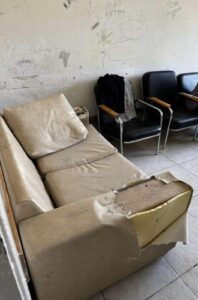 In April, Health Minister Popi Kanari visited the site to be informed about the progress  underway towards the creation of new and improved facilities, the first phase of which is expected to be completed by April 1, 2024.
Meanwhile, media sources report that timetables set by those responsible are not adhered to and no clear answers are being given on how to manage urgent problems.
Renovation of the existing building brought up concerns about the building's structural stability, which have added fuel to the frustration of those concerned.
Mental health workers' branch of Pasydy union called for a halt to "endless studies and planning", and for the immediate start on a new hospital, as well as measures to alleviate the current situation.
"We call on the president to take action now so that the problems are resolved and respect and…quality care [can be] provided for the mentally ill," union head Andreas Andreou said.
According to the nurses' union the hospital has reached above 140 per cent capacity and is in danger of collapsing.
Nurses report being forced to treat 23-24 patients in 17-bed wards. In addition to overcrowding, the nurses are also taxed by understaffing.
Charilaou, meanwhile, told Ant1 TV that prefab units would be installed onsite to temporarily cope with the increase in admissions.
Pasydy union has previously described conditions there as utterly unacceptable and tragic, saying patients are happy to sleep on a bed rather than a couch or mattress on floor.
"Several colleagues at the Athalassa hospital work without [any time] off…or work double shifts," psychiatric nurses' union rep, Dometios Skouroupathis stated.
"It is not ideal right now, we admit this," Charilaou told the CyBC. "The building dates from 1960, it has many problems and we are trying to maintain it as best as possible," the state health organisation spokesman said.
Athalassa is the sole state psychiatric hospital in Cyprus.