People in Cyprus are used to the old being part of the life of the young. ELENI PHILIPPOU meets a woman working to make sure the former do not become a forgotten part of society
In Cyprus many have been brought up in an intergenerational home. For many on the island, their relationship with the elderly – their grandparents at least – is important. Many were raised by their grandparents, family lunches traditionally happen at the grandparents' kitchen table and so many stories are passed on from who many consider their second mothers and fathers.
What happens though when our grandparents grow old, or have no family? What role do they have in society when their bodies slow down? One Cypriot actress and performer is working towards keeping the elderly engaged through theatre and experiential workshops. One creative project at a time, she seeks to bridge the inter-generational gap and make an often forgotten group of society feel important and seen.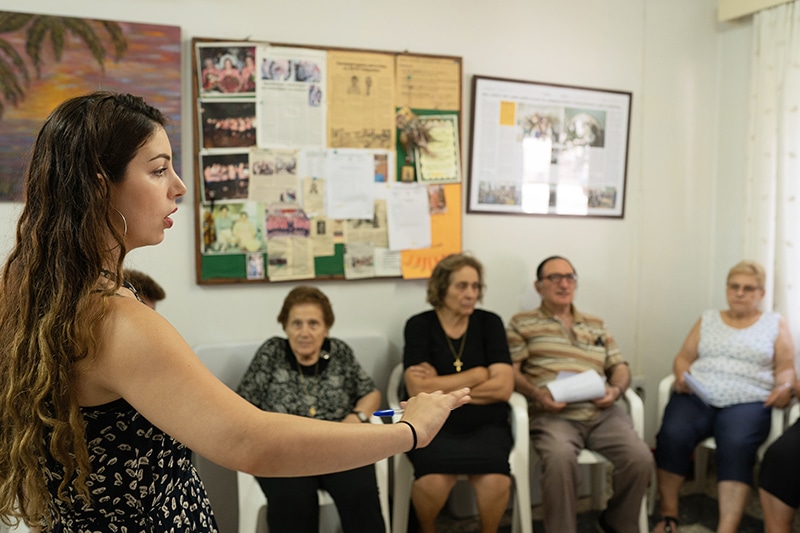 "I have always been sensitive about ageing people but also about people left behind or in need," says Natalia Panagiotou. "Perhaps, this awareness comes from the fact that I grew up with my grandmother who is a very important figure in my life. In Cyprus, very often we see grandparents having an active role in raising their grandchildren and the bond between them is so unique and special. Sometimes we, the younger generations, just feel that we need to give them back what they have been giving us for years."
Since 2018 Natalia has been leading theatre workshops for the elderly in daycare centres or care homes. She facilitates projects targeted at pensioners, one of which was presented at Pame Kaimakli Festival, and co-organises events that aim at bringing different generations together.
One of these projects was a series of inter-generational gatherings in nature that Natalia organised with the Yasemin Collective, an artistic collective she co-created in 2020. Members from the same family, of all ages, came together to play games, share new and old stories, sing and dance.
"The last time we had such an intergenerational workshop was three months ago at the Bank of Cyprus Cultural Foundation as part of the Aisthisis Programme where we invited the three generations of women (daughters-mothers-grandmothers). It is an ongoing project and we will announce new dates soon, independently as a collective or with structures and organisatons."
Natalia's work with the elderly also includes physical warm-ups to aid their limited mobility, brain exercises to boost memory and focuses on topics such as traditional games they used to play and rituals they had.
"My work," she adds, whether that is children's theatre and movement classes, clown theatre or as of recently as a drama facilitator at Materia Group – Care, Nursing and Rehabilitation Services for Older Adults, "explores and questions identity, belonging issues and collective memory in order to contribute to social change."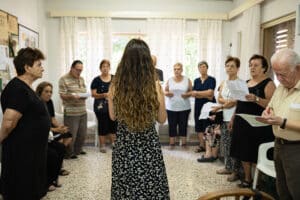 Natalia's elderly workshop participants tend to be aged over 75 and spending this much time with them has offered her many insights. "I have to admit that I learn so much from them.
"Especially things about how Cyprus was in the past and how they experienced historical events first-hand. They also teach me regularly how to be humble, and kind and how to care about people. The older generation is a huge treasure of a family and society. It's important to maintain a relationship with them because they are like the roots of the tree. They have knowledge, experience and wisdom that they can share with the world. They have to be a vital part of society."
At the end of the day, we are not so different. This is what Natalia has observed from her projects and she hopes that all communities – young or old – can begin to understand each other better and recognise their value.
"Inter-generations need to communicate and understand each other. The older generation needs to remember that they were once young and wild and the young generation needs to understand that one day they will get old too. We all need to put ourselves in each other's shoes." Only then we might be able to truly cherish who is around us and the stories they carry with them.
More information and updates on www.facebook.com/yasemin.collective and on Instagram @yasemin.collective