Marking two years since the death of four Egyptians who perished in the Arakapas fire of 2021, a memorial service was held for them in Odou village on Sunday.
Morzok Shady Morzok, Hisa Melad Farouk, Ezat Salama Josef and Maged Nabil Yonan, aged 35, 29, 28 and 24 respectively, were seasonal workers at a local tomato plantation. They died trying to escape the blaze.
The memorial was carried out by the Coptic Orthodox Church in Cyprus, in the presence of members from the Egyptian community, the ambassador of Egypt to Cyprus Amr Hamza and local authority figures.
Last month, a 69-year-old man was sentenced to eight years in jail after he was found guilty of starting the blaze in the countryside by burning scrub.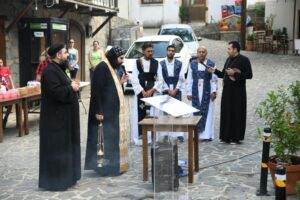 The Arakapas fire, deemed the worst in the country's history, burned a total of 55 square kilometres and cost over €15 million in damages.
The four Egyptians lived in Odou village, with their death sparking calls over the living conditions migrant workers are subject to.
Once they realised they were in danger of the rapidly spreading flames, they drove away from the farm where they worked and lived, trying to head in the opposite direction of the fire.
A compatriot of the four workers had spoken to one of them before the tragedy and was told that their vehicle had fallen into a ravine while they were trying to get away, forcing them to flee on foot.
Their charred bodies were found later around 400 metres from where the vehicle was found in Odou.
Their families were compensated by the labour ministry with €95,000 each, plus an additional €35,000 for each of the victims' children.
Furthermore, the children of the deceased were granted scholarships to universities in Cyprus.
Last year, a memorial plaque was unveiled in their memory.