Sometimes we listen to our friends a little too much regarding restaurant recommendations and general advice. They do not always get the facts right. Indeed, this is the case when it comes to one of my old favourites, Oniro by the Sea. I have always loved going there. However, in recent years I had heard it had become expensive and in any case was impossible to get a table as they did not take reservations. Certainly, it was a long-wasted journey if they could not provide a table and since a previous attempt, I had not returned.
The good news is that system has changed, and now you can easily make an online reservation. There is a section where you can even include special requests, and I highly recommend asking for a table on one of the platforms. We were lucky to get one of these, as they have the best views of the sea with the majestic but slightly sad shipwreck.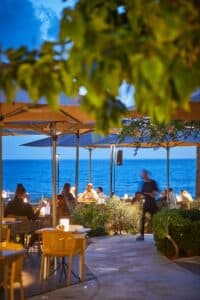 Oniro by the Sea is beautifully designed, with plenty of space between the tables. It has all the ingredients for the perfect location and stands head and shoulders above many other restaurants by the sea. The cove, the cliffs and the shipwreck make for a truly dramatic location.
The food also sets it apart with the addition of a new menu since my last visit. A varied selection of gastro bites takes inspiration from all the culinary corners of the world – homemade prawn dumplings, arancini, garlic butter prawns, and some Cypriot options were all there to tempt you. There is also a selection of salads, dips, flatbreads with toppings and dishes to share. Vegetarian options are available and vegan dishes upon request. However, watching the plate size of the main portions going past the tables and the tempting desserts, we decided to go straight for the main event.
For our lunchtime visit with a guest from the UK, we selected three dishes. The stand-out dish for all three of us was the Tiger Prawn Linguine, my choice. The dish was so good that I became pretty territorial and resented the incoming forks coming in for a taste. The combination of the unique flavours of roasted tomatoes, florina peppers, ouzo, white wine, mascarpone and xinomizithra cheese cream sauce were exceptional. Topping the linguine was a generous portion of succulent king prawns. This dish is also available without prawns.
Our guest selected the Asian Duck, which was served with jasmine egg fried rice. The shredded duck breast oozed flavour. The addition of stir-fried vegetables provided a considerable plate of flavours. The final main course was Sea Bass Fillet, accompanied by a potato and garlic skordalia purée, which gave a real kick to a fish dish that sometimes lacks flavour. The fish was further enhanced with a lemon vinaigrette and sautéed seasonal greens with a spring onion tempura. All the dishes were beautifully presented on unique pottery, and were very enticing.
Reading a dessert menu, and seeing so many tempting options, is very rare. At Oniro, they are outstanding in presentation with unusual flavour combinations. Be warned, they are huge portions, and must have been designed to be shared. We could not decide on one, so we shared two at the table. The Chocolate Cream Choux was a chocolate ganache with fresh raspberries, a banana sauce, and raspberry gel. On the side was white chocolate and tonka soil, which added to the dessert's texture. The Orange and Ginger Pie was served with kaimaki ice cream but was not anything to write home about.
Oniro by the Sea is famous for its cocktails, both alcoholic and non-alcoholic, and it is highly recommended to enjoy one from their vast selection and watch the sun go down. For our meal, we enjoyed a Cypriot wine from a limited wine menu of reds, including just six options. However, all six were available by the glass or the bottle, which is unusual.
And as for the price, I take issue with my friends' comments that it had become pricey. The old adage that you get what you pay for certainly applies here, and with the stunning location, outstanding food and impeccable service, I think the prices are fair.
VITAL STATISTICS
SPECIALTY Mediterranean Fusion
WHERE Glikou Nerou 05, Sea Caves, Peyia, 8560
WHEN Tuesday – Sunday. 11.30 am to 11.00 pm (Closed during winter months)
CONTACT 7007 7272
WEBSITE www.onirobythesea.com
HOW MUCH Bites from 10 euros, Mains from 19 euros, Desserts from 10 euros.