For the fifth time in recent years, McDonald's is congratulating one of its restaurant store managers, who won the honorary Ray Kroc Award for 2022!
Kyriakos Zarponis is one of 394 who stood out among a total of 39,400 counterparts worldwide.
The Ray Kroc Award recognises the top 1 per cent of restaurant store managers worldwide, and is one of the highest honours bestowed by McDonald's Global. The professionals who distinguished themselves were singled out for outstanding execution of their duties and their communication skills, and for their personality being a source of inspiration and harmonious coexistence in the workplace.
Thus, in an uplifting atmosphere, the Company's management and HR team congratulated Zarponis, offering their warm wishes that he continue with the same professional ethos to make them proud. His nomination and distinction are another meaningful example that McDonald's encourages and applauds the progress, development and distinction of its people on a long-term basis.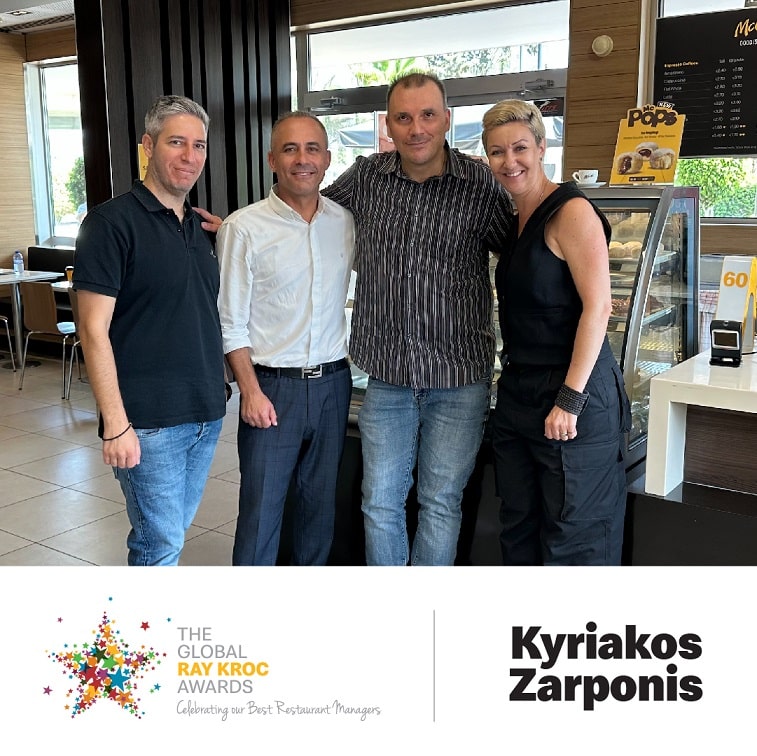 "Once again, I realised how important the meaning of distinction is for every professional who has passion and zeal for his/her work. Congratulations to Kyriakos Zarponis, who won the Global Ray Kroc Award 2022, making the whole McDonald's extended family proud," said McDonald's HR Manager Vassilis Giannakis.
"But I can't help but dwell on the fact that the Ray Kroc Award recognises the top 1 per cent of restaurant store managers around the world, and both Kyriakos' development in the Company and his personality have become a source of inspiration for thousands of people," he continued.
"I am sure further honours will follow in the near future, as the Company empowers its people to grow every day," he added. "Please note that opportunities for distinction at McDonald's do not start exclusively with specific job titles, because everyone, without exception, has equal opportunities for development, advancement and reward. The key is continued perseverance and willingness to learn and improve skills."
Meet Kyriakos Zarponis
Seventeen years at McDonald's and counting, Zarbonis started working for the Company in September 2006, becoming store manager at Germasogeia's McDonald's in October 2011. Thereafter, in September 2021, he took over the post of restaurant store manager in Limassol's Kato Polemidia. Most recently, in June 2023 Kyriakos was promoted to senior store manager, with two restaurants in Limassol under his responsibility.