In an opera singer about to start on a new journey, PAUL LAMBIS finds a woman who first found song through Greek folk music
Christiana Aloneftis, a multi-passionate global arts professional, believes the German term 'Gesamtkunstwerk' best describes what opera means to her. "The term literally means the total work of art, an all-embracing art form that strives to make use of the best multiple art disciplines."
Aloneftis believes the human voice is "the most powerful representation of humanity", and has established herself in the international theatre world for her warm and expressive soprano voice. She is one of only 30 European opera singers who have qualified for the prestigious Ningbo International Vocal Competition, which takes place in China this December.
She was born in Melbourne, Australia to Greek Cypriot parents who relocated in search of a better life. Her father was an iconographer, and her mother a proofreader of Italian didactic literature.
"We did not have an easy family life. I strived to achieve and had to learn to embrace discomfort and self-growth from a young age," she said.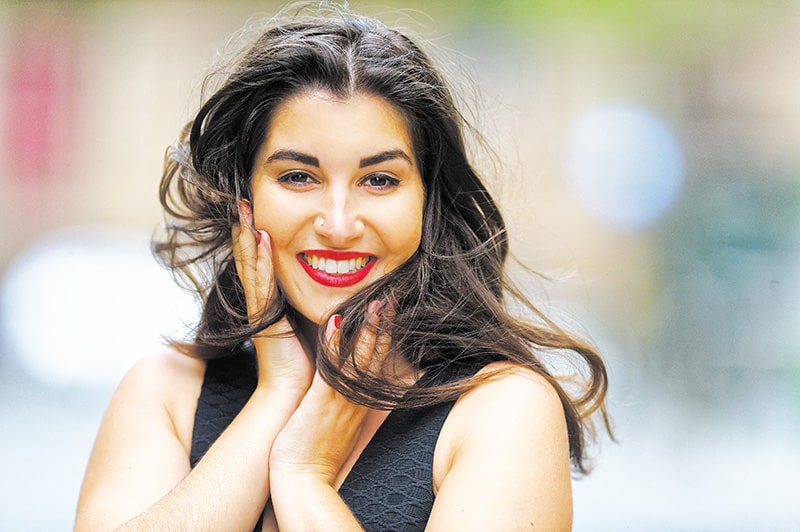 Her father was involved in a life-threatening accident that left him disabled, suffering from chronic illness, pain and a reliance on medication, and ultimately her parents divorced. Nonetheless, they worked hard to provide opportunities for Aloneftis and her brother, while also upholding their cultural heritage.
"I attended Greek school and all the other associated cultural extracurricular activities, including choir where I first discovered my voice as a seven-year old, singing Greek and Cypriot folk songs," she said.
Aloneftis said life in Melbourne, "a cosmopolitan city with diverse ethnicities," offered "a multi-faceted perspective and enriching life experience to those who were open-minded, ambitious and passionate about community development."
However, she found a lack of cultural fusion, where ethnic groups "prefer to stay in their own unique enclaves or societal microcosms.
"I remember thinking what a shame that was and wondering why more connection and dialogue could not be fostered between communities. I felt a lack of belonging to Australia and gravitated towards my European roots."
Aloneftis holds four degrees from three university institutions in Australia and Europe, as well as further studies in Paris. She has completed internships at the world's leading opera houses, including the Sydney Opera House for Opera Australia and the Bayerische Staatsoper in Munich.
"If I hadn't become a singing actress, as I like to call myself, I would have become a barrister or a diplomat. I have always been interested in community, culture and active social change. My calling is to question, reflect and ponder emotions, events and thoughts through my unique artistic voice," she told the Cyprus Mail. "Artists should have the audacity and freedom to advocate for social change, which is exactly what I try to do through performance."
Her professional path prompted her to leave Paris and relocate to Munich, where she believed she would have more options.
She is proud of her accomplishments as a freelance artist and solopreneur. "I upskilled and learned as many cross-disciplinary and transferable skills as possible, while investing heavily in industry relationships, connections and learning German," she added.
"Germany has over 80 public-funded professional opera houses, as well as countless smaller private companies, and is centrally located in Europe to access auditions, competitions, and productions in surrounding countries."
Aloneftis is also a polyglot, speaking five languages fluently. And this, she said, has been her most important ticket to success.
"On a psychosocial level, increased language ability breaks down barriers and promotes intercultural connection, inspires empathy, and makes one more approachable and relatable," she told the Cyprus Mail. "Respect, connection, and understanding naturally develop when two people can find similar ground."
When it comes to opera, Aloneftis believes that Italian is the ideal language "because the dramatic intention always lies in each of those seven perfectly equilibrated vowels.
"The language is a gift for synergistic mind-body engagement, beauty of tone, clarity, and meaning."
Although she considers Italian to be the most vocally efficient, she also has a passion for Greek art song, Spanish vocal music and Slavic opera. "Czech and Russian are so visceral and beautiful, and the music of the Slavic composers is unparalleled," she added.
Shortly before the pandemic began, the Bayerische Staatsoper offered Aloneftis an internship in the language and diction department. While working as a coach on Hans Abrahmsen's The Snow Queen, which won Debut Performance of the Year, Aloneftis decided to open her own coaching studio for emerging talent and established professionals.
Her work as a performing artist and coach has won her numerous awards and funding including the CHASS Prize for Distinctive Work awarded by the Council for Humanities, Arts and Social Sciences Australia for "excellent and diverse contributions to the arts", GVL (German Association for Performance Rights), Deutscher Musikrat, and the Bavarian State Scholarship Programme for Young Artists.
Originally starting out as a lyric diction coach, she now offers operatic creatives coaching in mastering language in its sung form, libretto interpretation and role study. Her expanded practice also includes arts industry strategy consulting, artistic brand creation, fach-transition and somatic voice work, mental tools, and career skill coaching. She supports opera trainees and creatives in some of the world's best houses including the Semperoper Dresden, Bayerische Staatsoper Munich, Opera Australia Sydney.
In terms of the opera scene in Cyprus, Aloneftis sees "a lot of potential but little organisation, cohesion and meaningful investment.
"There are many talented Cypriot artists living on the island and abroad who could contribute significantly to the establishment of a centralised national theatre and company. At present, we do not have a theatre suited for opera.
"The importance of a centralised, state-funded theatre with subsidised ticketing to encourage attendance and Cypriot artistic leadership of repute, knowledge and experience to make important casting decisions based on talent and not leverage position is needed."
Christiana Aloneftis is without a doubt one of Cyprus' leading international sopranos who, aside from her upcoming recitals, is about to embark on a journey of a lifetime, which she will disclose soon.
"Fond memories, memorable productions, yes; but I believe the best is yet to come.
"It is easy to lose yourself in the peaks and troughs of an artistic career. I focus more on the process of artmaking and find that this approach has a much more positive effect on the quality of my performance. It also helps me to stay humble and connected to why I do what I do. It is to move the minds and hearts of my audience; to connect, to heal, to include and to always give the best of myself."
Christiana Aloneftis, accompanied by Munich-based collaborative artist Mikhail Berlin, will perform a recital at the Pharos Arts Foundation Cyprus on November 10 in Nicosia. For further information and tickets, visit: pharosartsfoundation.org