An interview with Astrobank chair of the board Shadi Karam
In less than five years, since AstroBank took over Piraeus Bank Cyprus in 2016, the bank has elevated its role as a key player in financial services here. The bank has seen rapid organic growth, and has consolidated its acquisition of USB bank in 2019. Today, Astrobank has 16 branches and business entities around Cyprus.
But like many banks in Cyprus and around the world, 2020 was a unique year for AstroBank as it faced the pandemic and the resulting slow economy in Cyprus. Last August Astrobank also saw the departure of the lender's CEO Constantinos Loizides and his replacement by Aristidis Vourakis.
How will Astrobank emerge from the pandemic evolve in the future? Chair of the Board Shadi Karam explains how the bank plans to expand despite the challenging conditions.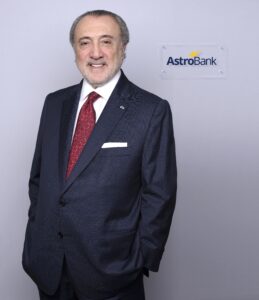 Chair of the Astrobank board Shadi Karam
Question: What differentiates Astrobank from other banks in the Cypriot market?
Karam: AstroBank is a very agile and a very innovative institution. During what was a very volatile and difficult year, we have expanded our assets significantly with quality loans, increased our deposit base by attracting many offshore clients and proceeded with a major staff reorganization following a significant and successful cost-saving voluntary retirement scheme.
This was preceded by the acquisition of a similar size local bank, USB, and all the while, we are increasing our market share by constantly adding new innovative products to our already large choice of existing products thus continually expanding the choices for our customers.
We have also created a Servicing Company to manage with more flexibility our portfolio of non-performing loans and a significant stock of bank-owned real estate.
We have also successfully conducted a substantial capital increase at very good conditions.
We shun self-satisfying statements of course, but we have to recognise that this is not bad for a crisis year!
Perhaps one of our Bank's distinctive advantages is that it enjoys a vast network of international connections, which allows it to take up an important role in the local banking system, but also serve as a platform to the European Union for our clients in the Middle East and beyond.
Question: What plans do you have for expansion?
Karam: AstroBank firmly believes in external growth to complement organic growth from within. We, therefore, plan to continue our acquisition efforts with the blessing of the Central bank of Cyprus as we aim at helping to consolidate the sector.
The availability of a solid capital base, ample liquidity, and an experience in efficient integration of acquired entities are determining factors in the success of this plan.
At the same time, we will continue to expand our activities in our normal areas of business, namely, commercial banking, private banking and asset management with our Geneva based partner, Crescendo, and transaction banking through our very active International Banking platform.
Question: Astrobank has recently appointed a new CEO,  Aristidis Vourakis, who was with AUDI bank Lebanon. How will that choice influence the strategy of the bank?
Karam: The appointment of Aristidis Vourakis is part of our strategy because he has the ideal profile to conduct this strategy and the necessary expertise to adapt it when necessary. His background, experience, and vision on how to steer AstroBank through the present difficulties and take it into future challenges fits perfectly with our objectives. At the Board level, we have set the stage for a new expansion for which we had planned for some time now.
All the changes taking place at AstroBank, including the appointment of Vourakis as CEO are essential for this expansion. What is going on is part of a well thought out process that was defined by the Board and its implementation is monitored very closely by the Board. The arrival of the new CEO crowns this process and will be like the second stage in a rocket essentially because of his experience and profound knowledge of our target markets including Lebanon. We are very lucky to have him.
Question: The world has been facing great challenges due to Covid-19. How are your clients reacting; are there concerns about loans?
Karam: If vaccination campaigns are successful and if the vaccine is indeed a solid protection with no side effects, life will hopefully return to normal and with it essential activity like travel and tourism, consumption patterns and education.
As for the impact of the pandemic on the banking system, I think it is twofold: First, we need to keep in mind that the banks are a reflection of the economy. When economic activity is shrinking significantly, banking activity is automatically affected.
Second, more specifically, in severe crises it is likely that clients will experience more difficulties and, therefore, decrease or stop loan repayments. This increases the stock of non-performing loans, forces the banks to increase their provisions and, hence, their profitability decreases. For some banks, this may also create a need for more capital to preserve solvency regulatory levels which, in turn, is very difficult to find in such an environment.
There were concerted efforts in the European Union to mitigate economic consequences by the massive injection of liquidity, the creation of financial facilities to help speed up recovery and other initiatives. Banks indirectly benefited from these measures. On the other hand, central banks also instituted specific directives such as moratoria for certain category of clients, more flexibility in debt restructuring and other decisions that called for complex implementation procedures. These policies will need time to be absorbed and their long-term effects on the banking system may not be fully appreciated yet.
Question: how did AstroBank manage the special measures for the pandemic, including instalment suspension?
 From the viewpoint of protecting our staff, we have taken very strict and exemplary precautions using the whole arsenal of recommended procedures from sanitizing premises, to mandatory face masks to working from home for part of the staff alternately.
As for our clients, AstroBank participated in the Cypriot Government's programs involving instalment suspension of some loan reimbursements and subsidised loan schemes. From the reports I receive, a significant portion of our clientele benefited from these measures which, hopefully bodes well for their rapid recovery provided both corporate and individual clients make the necessary changes to their financial situations to position themselves for a solid turnaround. We are helping them in this process. It is worth noting that Cyprus has the highest suspended loans per capita in Europe, but also that many of the sectors of the economy that were affected, were recording excellent results in the past five years and the surpluses that were created, need to be used to support business and jobs, at the same time as bank facilities and state support schemes.
Question: How is innovation and digitalisation changing the way the bank does business?
Digitalisation has been a priority for us from the onset. One of AstroBank's basic pillars is innovation. We are putting the finishing touches on a platform of Artificial Intelligence which will be a quantum leap in service delivery, speed of execution and cost-reduction.
AstroBank has actually been a great innovator in various fields of banking operations and payments, especially in 2020, in the midst of the Covid-19 pandemic, most notably, through our "Paperless Cashier" service, which is available at our branches throughout Cyprus, clients can receive all their substantiating documents via email without needing a printer.
But also through our ongoing partner SKash, which is the first "e-wallet" in Cyprus, with increasing functionality and client acceptance. As far as our choice of products is concerned, we have, as I mentioned earlier, a wide range of lending and saving products, that are constantly enhanced, upgraded and improved in terms of becoming simpler and offering a faster process completion time. This is, of course, on top of all the classical services such as a very user-friendly internet banking system.
Question: The bank is very liquid at the moment, so does it plan to increase lending?
Karam: I believe that the best answer to this question is an excerpt from a recent interview of Mr. Vourakis, our CEO, in which he states that "the main priorities of AstroBank's management team, is to offer high-quality services to our clients and promptly address the challenges that have or will come our way. We will still be a commercial bank, that provides services to both private as well as corporate clients.
Our goal is to be specialised and flexible, focusing on clients who appreciate our services, so as to compensate for our smaller size, compared with the bigger banks operating on the island. Following the significant reduction in the number of banks in Cyprus after 2013, I believe that our Bank has potential for growth, based on the prompt provision of high-quality banking services, in a focused and client-focused manner, so that our clients never feel "neglected" or feel that our banking services are in any way "impersonal."
The fact that our clients often have direct access to the CEO or to me personally is a very strong element of confidence and an insurance that an efficient and speedy problem-solving capability is the backbone of quality service.