By Ella Walker
It's been a funny old year, and one that saw kitchens – private and professional – under greater duress than ever before.
Back in March, lockdown sent us all to the stove, whether we liked it or not, with everyone somehow having to conjure up three meals a day from whatever we were able to snag from the suddenly very dystopian and empty-shelved supermarket. Then, worse luck, having to wash up on a never-ending loop, again, and again, and again…
Many of us found ourselves redirecting our pandemic-induced fears and worries into the fickle, bubbling lifeform of a sourdough starter, while too many bananas were left out to brown in aid of banana bread.
Throughout it all, cookbook authors and chefs kept us fed and enthused via Instagram cook-alongs.
Here are three cookbooks you might have missed, that deserve a second look.
Red Sands: Reportage And Recipes Through Central Asia, From Hinterland To Heartland by Caroline Eden
As much travelogue as cookbook, Red Sands comes of the back off Caroline Eden's hugely successful and atmospheric Black Sea. This time her attention swivels to Central Asia, inspired by a lunch in the Kyzylkum Desert where she ate raw onion rings, meat skewers (shashlick) and wedges of watermelon.
My Korea: Traditional Flavors, Modern Recipes by Hooni Kim
Born in Seoul, chef Hooni Kim is arguably best known for becoming the first person to gain a Michelin star in Korean cuisine. He runs two restaurants – Danji and Hanjan – in New York city and splits his time between the US and South Korea. My Korea is his first cookbook and goes big on the traditional ingredients he won't compromise on and shares the food that's intrinsic to how he cooks and eats.
Faviken: 4015 Days, Beginning To End by Magnus Nilsson
Faviken was chef Magnus Nilsson's highly revered two-star Michelin starred restaurant in remotest Sweden, where the food was sourced incredibly local to the kitchen. It closed in 2019 (Nilsson was interested in pursuing new projects) so this hefty book of recipes acts as obituary and commemoration.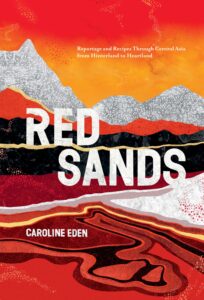 Dushanbe Sambusa with Chickpea, Spinach and Mint
From Red Sands by Caroline Eden
Makes 15
1 small onion, roughly chopped
1 x 400g can chickpeas, drained
3tbsp mint leaves, roughly chopped
Handful of spinach
1tsp fine sea salt
1tsp black pepper
1tsp ground cumin
1tsp dill seeds (optional)
1 x 320g packet of puff pastry
1 small egg, beaten
1tsp black sesame seeds, to garnish (optional)
Flaky sea salt and freshly ground black pepper, to garnish (optional)
Preheat the oven to 200C and line a large baking tray with greaseproof paper.
Into a food processor add the onion, and pulse a few times, then add 100g of chickpeas, the mint and spinach, and pulse so it comes together. Put the mixture into a large bowl and mix in the salt, pepper, spices, dill seeds, if using, and the remaining unpulsed chickpeas.
Lightly flour the work surface and the pastry, and roll it out to 37 x 28cm. Using an 8cm cutter, stamp out 15 rounds then put a teaspoon of the filling in the middle of each one and bring up the edges to create a triangle shape. Press to seal, creating a samosa-style triangle. Repeat with the remaining pastry.
Place on the baking tray seam-side down. Brush each one with the egg wash and scatter over the black sesame seeds or a sprinkle of flaky sea salt and a few grindings of black pepper, if you like. Bake for 15 minutes, then when the pastry has fully risen, lower the oven temperature to its lowest setting and bake for a further 10-15 minutes, until the layers are dry and crispy.
Barley Pancakes with Sour Onions and Sprouting Barley
From Faviken by Magnus Nilsson
Serves 6
For the pancake batter:
2 eggs
600g milk
75g wheat flour
75g barley flour
5g salt
Butter, for frying
For the filling:
500g crystal-clear whey, obtained from yogurt or buttermilk
20g butter
3 onions, cut into paper-thin slices
1–2 spoonfuls cream
30g whole barley seed, sprouted to roughly 3cm-long green sprouts, to serve
Make the pancake batter. Beat the eggs and half of the milk together in a bowl, using a stiff whisk. Add both flours and the salt and stir briskly to get rid of any lumps. Add the remaining milk and stir until fully incorporated. Cover and leave at room temperature for 30 minutes.
Make the filling. Pour the whey into a wide pan and start reducing it over a medium heat, and when you are left with about a tenth of the original volume add the butter and onions. Stir around to fully glaze the onions before flattening them out into an even layer and covering them with a cartouche (parchment lid). Continue to cook the onions over a low heat for another 10 minutes or so. The onions should soften but they should not fall apart, and the pan should be almost completely dry. It is important, though, that there is no coloration. Just before serving, add the first spoonful of cream and stir. If the texture is pleasant and creamy it is ready, if it is still a bit dry, add the other spoonful too.
To finish, heat a small pancake pan to a fairly high heat, butter each indentation very lightly and spoon batter into them. Swirl the pan around to coat the inside of the indentations evenly and thinly. Cook until just set before spooning some of the onion onto each pancake. Place some strands of sprouting barley on each mound of onions before rolling the pancakes up and serving them immediately.