Lost Vegas is teaming up with life-long British prisoner to raise funds for mental health charity
An Ayia Napa-based band that stormed the iTunes charts in the UK last year, have a new single coming out this month and a second in collaboration with one of Britain's most notorious prisoners to raise money for a UK mental health charity.
The band's guitar led songs all have a strong hook, catchy melody, strong lyrics and mostly upbeat vibe which might make it hard to see how they became involved in a project with Charles Arthur Salvador, better known as Charles Bronson, who is often referred to in the British press as the "most violent prisoner in Britain".
"This Christmas, Charles wanted to do a charity song with Liam Gallagher to spread a positive message for people finding it hard to cope in lockdown and isolation, and that's when we got to hear about it," Lost Vegas' lead singer and songwriter, Chris Topliss, told the Sunday Mail this week.
"Liam was already doing a charity single and so our name was put forward as I am a big fan of some of his (Salvador's) poetry. I took some excerpts from the poems he had written and crafted a song around it."
Born Michael Gordon Peterson, Salvador has also been known as Charles Ali Ahmed and most famously as Charles Bronson, after the famous US actor who specialised in playing tough police officers and vigilantes. In 2014, he changed his name again, this time to Charles Salvador, in a mark of respect to Salvador Dalí, one of his favourite artists.
"He changed his name because he no longer wanted to be associated with the image that has become immortalised of him in the media and movies. His new name reflects his new peaceful outlook on life and left the old Bronson behind," Topliss said.
With a record of violent and angry outbursts and mental illness in prison, Salvador has been featured in books, interviews, and studies in prison reform and treatment.
He was also the subject of the 2008 film, 'Bronson,' starring Tom Hardy, and based loosely on his life.
He is quoted as saying: "I'm a nice guy, but sometimes I lose all my senses and become nasty. That doesn't make me evil, just confused."
Initially arrested for armed robbery in 1974, his life has been spent mostly in prison ever since following further armed robbery attempts and violent attacks on prison guards and other inmates.
He has written a number of books about his experiences, other prisoners and fitness in confined spaces.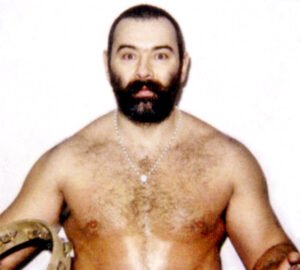 The Sunday Mail was privy to an unmastered version of the Lost Vegas song "Only mad men crawl", which is a strong, air play friendly pop song featuring Salvador speaking the first words of the song as 'Certified Insane" in his recognisable tones.
Topliss has worked the song around the verses of Salvador, staying true to the band's instantly recognisable sound.
"Charles recorded two verses of audio specifically for the track and along with my parts, we put it all together to form the song. It is a genuine collaboration back and forth between us and is an original composition, he speaks the first two verses and I sing the rest," Topliss said.
Salvador has spent many years in solitary confinement and is also a self-taught artist. His paintings and drawings of life in prison and psychiatric hospitals have been exhibited and won him awards.
"Since I have been in prison art has been my true salvation. Every single picture has great significant personal meaning to me. Some featuring The Kray Twins, Broadmoor and many other institutions that I have been in. My art is my life, it has helped me rehabilitate myself. I'm a different person now," he notes on his website.
More recently, Salvador has led a relatively peaceful life in prison and whilst he has done monstrous things in the past, he says he is a reformed character and trying to do better.
"The band felt it would be fascinating to work with Salvador artistically because I believe strongly that your past and the ghosts of your past, shouldn't define who you are today. I love the idea that there is always hope of redemption no matter how late in the day it is,if you are prepared to change course," said Topliss.
The singer said that Salvador is now affecting other people's lives in a positive way from inside prison through his charity work and positive message on mental and physical health.
"His rebirth as a reformed character along with his good behaviour for the last decade sees him up for parole this year with a serious chance of getting out."
"Only mad men crawl," will see all of the profits from the track go to the UK mental health charity Calm.The Campaign Against Living Miserably (Calm) is leading a movement against suicide. Every week 125 people in the UK take their own lives, 75 per cent of them are male. Calm exists to change that.
The artwork for the single is underway and the release looks set to be successful, as TV and radio stations in the UK are already showing interest in the project.
Last year Lost Vegas charted in the top ten iTunes chart in the UK, Sweden and Cyprus with an EP of five original songs recorded during the lockdown.
The band's next single "When the lights go out", will be released on 22 January on Curious Fox Records and the new song has a video to accompany it, which will be available to view online soon.
www.lostvegasmusic.com