Recent allegations of abuse and harassment have highlighted support shortcomings
Problems in implementing the law relating to sexual harassment and abuse have been in the spotlight this week with non-government organisations demanding the creation of better support structures for those who have been sexually abused.
Janet Nikiphorou, 33, said she decided against reporting her childhood abuser "because the system isn't very favourable towards people that have suffered any form of abuse".
And she is not the only one. A young man who said he was raped last year told the Sunday Mail he did not file a police complaint because "I wouldn't want what happened to that British girl in Ayia Napa to happen to me". He was referring to the case of the 19-year-old woman who was found guilty of falsely accusing 12 Israeli men of gang raping her after deciding to report the incident in 2019.
The director at Mediterranean Institute of Gender Studies (MIGS) Susana Pavlou told the Sunday Mail that "we have gaps in the implementation of the law and on prevention, despite the fact that all such behaviours are criminal offences according to the Cyprus law."
Another NGO, the Cyprus gender research centre on Friday called on the state "which has signed and ratified the Istanbul Convention and other transnational conventions", to adopt strategies that will lead to information, prevention and combating violence against women.
The discussion over the extent of sexual harassment and abuse has been reignited after Greek Olympic gold medalist Sophia Bekatorou recently spoke out about her rape by a high-ranking official of the sailing federation back in 1998. Her detailed public revelation started a domino of sexual harassment claims in Greece's sporting circles with Cyprus following suit.
Justice Minister Emily Yiolitis met this week with female shootist Andri Eleftheriou who had previously talked about her own sexual harassment experience on television back in 2018 and again last December but had failed to receive any attention before Bekatorou came forward.
With the minister promising to support her every step of the way, Eleftheriou finally filed a complaint with the police on Wednesday saying she was sexually abused at the 2006 Commonwealth Games in Melbourne and also in Beijing in 2008 by a Cypriot former member of the Olympic Committee. The female shootist called on more people to speak up about their experience "to save innocent souls" from sexual harassment.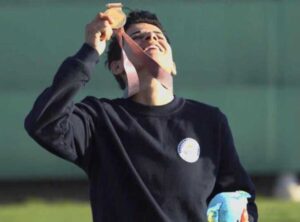 While Pavlou from MIGS claimed that there are some NGOs and state authorities for certain types of harassment they had not reached a "not at a satisfactory level". However, the pilot operation of the Women's Home in Nicosia which will provide 24/7 support to all female victims of physical abuse is a huge step forward, according to the director.
"It is of great importance to have support structures for victims precisely because they must tackle victim blaming, those who excuse rape culture and services to support the victim throughout the process," Pavlou added.
She also highlighted the need of developing preventative measures and actions for raising awareness about the issue. This includes education at all levels from schools, workplace or the training of front-line services to be better equipped to deal with sexual abuse and violence. "It is well-known that we had issues with the police and the social welfare services in the past," she said.
Moreover, comprehensive sexuality education, which currently is lacking from most public schools, "is a key preventative measure, where children learn about consent, how to communicate it and how to recognise unhealthy and violent behaviours," Pavlou added.
Beyond the sports world, the recent complaints brought to mind the experience of Rania Evripidou.
Evripidou found the courage to report her childhood abuser 35 years later, only for him to receive one year in jail. In an angry rant on her social media this week Evripidou said she regretted breaking her silence because she got "nothing" from the state and relevant authorities.
Her case has set an example for some women, but at the same time her struggle with the system has discouraged many others from speaking up.
"It took me 15 years to speak to someone about my own experience, so part of me feels happy for Rania and she gives me strength," added Nikiphorou (not her real name) who was sexually abused by a family friend for almost five years, starting when she was just eight years old.
"On the other hand, I feel sad and disappointed that this woman has been silent for the past 35 years and once she speaks her abuser only gets one year jail time, while she has had to deal with the effects of someone else's disturbing actions," she said.
Talking about the impact of sexual abuse, Nikiphorou said she needed years and a lot of work with herself to feel 'normal' again.
"After any traumatic event, something changes inside of you. So, when I got the help I needed, things started getting better. It's a process, every day, you overcome it, but it stays a part of you."