"Cyprus is changing, and we are moving in the right direction, with increasing recognition of the role of technology in our economy. But there is still not sufficient support for exporters like my company, and this makes us less competitive," comments Tasos Kounoudes, CEO of the Limassol-based electronics firm SignalGenerix, in an interview with the Cyprus Mail.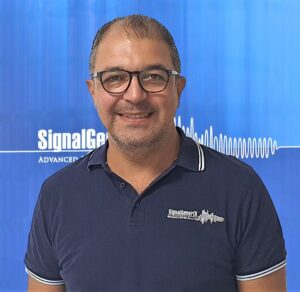 "It's great that we are supporting startups. But why not also support the companies that are bringing the money in? Right through the crisis, we have not had to depend on government support."
Kounoudes's company exports about €2 million per year, and has continued profitable and growing right through the pandemic. This is because the 15-year old company has developed the expertise to partner with the major electronics producers in Europe, like Bosch and Siemens.
Specialised in digital signal processing, a broad area of computer communications that runs from audio and speech processing, sonar, radar and other sensor array processing, spectral density estimation, statistical signal processing, digital image processing, data compression, video coding, audio coding, image compression, and much more.
In fact, we asked Kounoudes  what made him choose Cyprus and stay here?
"We recruit talented engineers and scientists here – we now have 18 on staff – seven with Ph.Ds in electronics — and we are looking for more. Despite the Covid-19, we continue growing, achieving a 30 per cent increase in scientific personnel headcount in 2020,"  Kounoudes insists.  "We find that the engineers who  graduate from universities here provide the talent we need. We've built a team here of high calibre engineers and scientists.
The company has a significant client base and is renowned for its expertise. "And we also have a very healthy financial position," he adds.
Such is the expertise of SignalGenerix, that they are involved in the multi-million-euro EU project to build a European drone (Unmanned Aerial Vehicles).
"We are in hardware and software, and we are developing new technologies, so as to provide our clients with custom solutions. We have our own patterns. We have our own trademarks and a portfolio of patents. We create hardware and the accompanying firmware for complete solutions. So we invest a lot in securing our R&D outcomes in order to maximise profit."
Kounoudes notes that the company works extensively in security and defence. "We have multiple clearances, we have patents in these areas, and we have collaborated for years with defence companies. I mean, we're building electronics, we're not building anything to kill, but we are building, for example, a software-defined radio, let's say that kind thing."
Kounoudes is proud to say that some high-tech companies have established offices in Cyprus because of the opportunity of working closely with SignalGenetix.
"We're helping to build the tech eco-system here, and it's growing fast. It has helped greatly that the government now has a research and technology ministry which is driving change. That is something we have awaited for many years."
For Kounoudes, what's important for Cyprus companies is the ability to work in the major markets, off the island. "You have to go out and prove that you can deliver at the highest levels; that's how Cyprus tech should evolve," he concludes.