By Ella Walker
January gets a bad rep. A month of enforced abstinence, chocolate avoidance and down-to-the-bone cold, compare it to May or August – months of sunshine and Bank Holidays, asparagus and strawberries – and you might as well strike out the first 31 days of the year entirely.
And yet, January 2021 carries with it a sliver of hopefulness, a soupçon of positivity (please let it not be crushed…). So while most of what's going on is largely out of our hands, it is within our power to approach the new year with pragmatism, optimism, and an arsenal of cookbooks to nourish us beyond just dinner.
So, scrap the food denial, and consider tackling your concerns around your meat consumption, health, or impact on the planet, and get reading one (or all) of these.
Here are two cookbooks to peruse and cook from if in 2021 you want to be…
Eat To Save The Planet by Annie Bell
Annie Bell is a chef, food writer and nutritionist. The former Vogue columnist has written a slew of cookbooks following her "modern rustic feel".
With a title like Eat To Save The Planet, the aim is straightforward, bold, and admittedly a little overwhelming. However, as Bell quickly makes clear, the aim is not to terrify, but to help us all tool up in the fight to protect the environment, in a way that involves us eating healthily and sustainably.
Be More Vegan by Niki Webster
Niki Webster – who has never really liked meat – is a plant-based food writer and author, who has been sharing recipes on her blog Rebel Recipes since 2015.
Be More Vegan is presented as a gentle guide to help ease you into a life of veganism is increasingly of interest to you – even if going vegan just one day a week is something you're considering.
Creamy Sweet Potato Soup
From Be More Vegan by Niki Webster
Serves 4
2tbsp olive oil
1 onion
2 cloves of garlic
1tsp ground cumin
1tsp turmeric
1tsp ground coriander
3 small sweet potatoes, peeled and chopped into small cubes
500ml veg stock
1 can coconut milk
1tbsp tomato purée
Twist of black pepper
½tsp salt
Toppings:
Toasted seeds or nuts
A swirl of plant-based yoghurt
Pinch of chilli flakes (if you like some spice!)
Chop the onion into small dice, and chop the garlic up finely.
Add the onion to a large pan with the olive oil and sauté for seven to eight minutes on a low heat. Add in the spices, garlic and fry for a further few minutes.
Next add the sweet potato, veg stock, coconut milk, tomato purée to the pan and simmer for 15 minutes covered – until the sweet potato is soft. Season with salt and pepper.
Turn off the heat and then blitz using a hand blender, until smooth and creamy.
Top with the toasted seeds, plant-based yoghurt, and chilli flakes if using.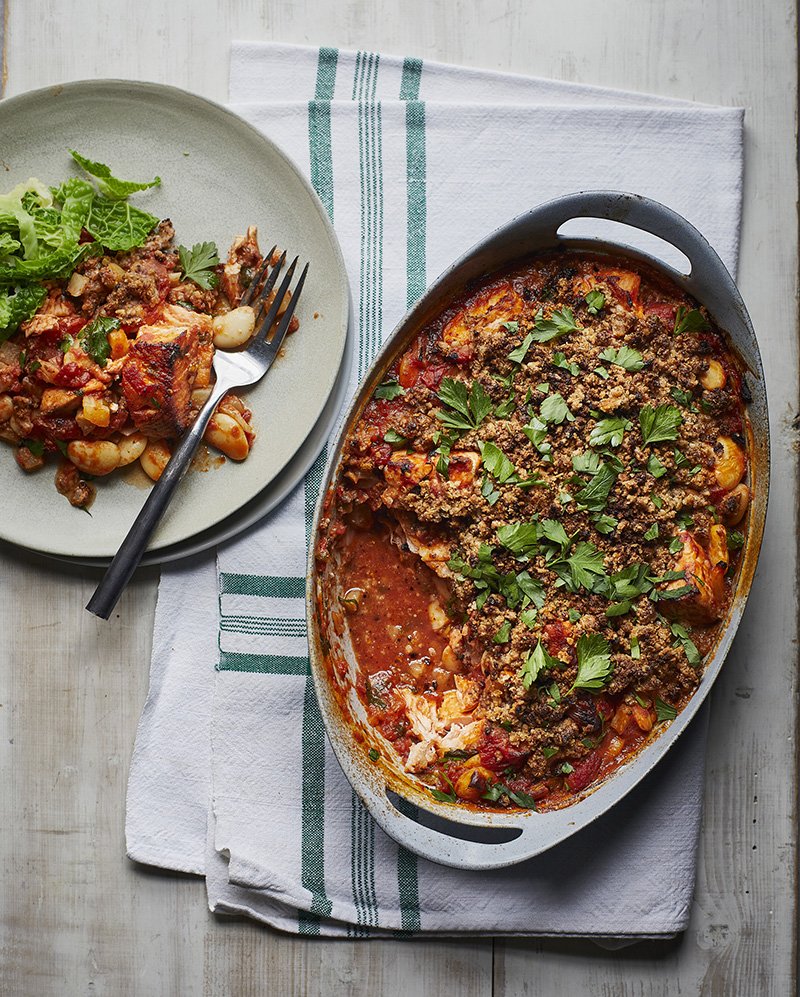 Fish Pie with Pecan Crumble
From Eat To Save The Planet by Annie Bell
Serves 6
For the filling:
1tbsp extra virgin olive oil
1 small dried red chilli, finely chopped
4 garlic cloves, peeled and finely chopped
2 fennel bulbs, green shoots and tough outer sheath discarded, diced
2 x 400g tins chopped tomatoes
3tbsp coarsely chopped fresh flat-leaf parsley, plus extra to serve
Sea salt and freshly ground black pepper
600g skinless salmon fillets, cut into 3–4cm pieces
200g butter beans, drained and rinsed
For the crumble:
30g pecans
30g ground almonds
30g rolled oats
30g unsalted butter, chilled and diced
Heat the olive oil in a medium saucepan over a medium heat, add the chilli and garlic. Moments later add the fennel and fry for several minutes until translucent and softened slightly. Add the tomatoes, parsley and some seasoning, bring to a simmer and cook for 25–30 minutes, stirring occasionally, until you have a thick sauce.
Heat a large non-stick frying pan over a high heat, season the salmon and briefly sear it, half at a time, to lightly colour on all sides. Gently fold the salmon and butter beans into the sauce, discarding any liquid given out by the fish, and transfer the mixture to a shallow ovenproof dish, approximately 20 x 30cm. The filling can be prepared a couple of hours in advance, in which case cover and set aside in a cool place.
For the crumble, whizz the pecans until finely chopped in a food processor, then add the ground almonds, oats, the butter and a little seasoning and briefly whizz until the crumbs start to hold together in nibs. This can also be made in advance, and chilled.
Preheat the oven to 210C, scatter the crumble over the pie base and bake for about 30 minutes until the crumble is lightly golden. Serve scattered with extra parsley.