By Dr. Charles Ellinas
What has become abundantly clear over the past year is the EU's determination to drive a fast transition to cleaner energy. Not only it has adopted the Green Deal and net-zero emissions by 2050, but it has also increased its 2030 emissions reduction target from 40 per cent to 55 per cent in comparison to 1990 levels. This means that climate change targets proposed in National Energy and Climate plans (NECP) for the period 2021-2030 – including Cyprus – are already outdated and will have to be revised upwards.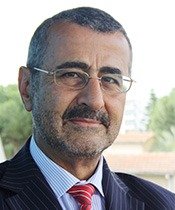 Cyprus was tardy to respond even to the 2020, more benign, targets – that were in place since 2013. As a result, it has been at the receiving end of criticism and fines imposed by the European Commission (EC). The latest is a €40 million fine imposed for not achieving the 2020 target for RES contribution to gross final energy consumption in transportation. This was set at 10 per cent by 2020, but by 2019 Cyprus achieved only 3.3 per cent, the lowest in Europe – the average was 8.9 per cent and, amazingly, Sweden achieved 30.3 per cent. As usual, the cost will be passed to the consumer.
Cyprus' NECP states that "Road transport holds the key to emissions abatement both for 2030 and for the longer-term." Transportation accounts for close to 50 per cent of Cyprus' emissions not covered by EU's 'Emissions Trading System' (ETS). Despite that, not enough is being done to improve the situation.
And it will not get any better as we move into the 2021-2030 period, with an even higher target to achieve: a 14 per cent RES share by 2030. Cyprus considers this a challenging target to achieve, with biofuel blending expected to stay at today's levels, even though this is woefully inadequate. With implementation of new policies and measures, electrification is expected to increase, but only towards the end of the period, but even then it is expected to stay at low levels, accounting for just over 3 per cent of the energy used in transportation by 2030.
In contrast, Greece has fully embraced energy transition. Not only by 2030 RES contribution is expected to reach 35 per cent – in comparison to Cyprus' 23 per cent –  but the RES share in transportation is set at 19 per cent.
Suffice to say that if no action is taken Cyprus will be paying emission penalties to the EU for the rest of this decade, and much higher than now. The cost of carbon emissions has now reached €40 per tonne CO2 – an increase of 66 per cent since November – and it is likely to exceed €100 by 2030.
The Finance Minister said "he who pollutes the environment will pay." But without providing viable, non-polluting, alternative options, this will not contribute to the achievement of environmental objectives, and will merely end-up being an additional fuel tax. Rather than pay for the right to pollute, which is what the Minister's statement is really saying, it is better to take measures to reduce that pollution. And, even though there are technical limitations in achieving the 14 per cent target solely by using biofuels, there are plenty of practical choices to increase the share of RES in transportation and reduce pollution in our cities.
These include electrification/electric vehicles (EVs), wider use and electrification of public transport, ,biofuels and energy efficiency – and in the longer-term biomethane and hydrogen.
Use of natural gas – CNG, LNG, GTL – can also cut emissions, but by less than 20 per cent in comparison to petrol. This does not solve the longer-term problem, but is provides an interim solution, at least to 2030.
One such option to lower emissions whilst saving infrastructure without having to change the car fleet or fuel infrastructure, is to use neat GTL – produced by converting natural gas to liquids. This would reduce emissions, as it is completely natural gas-based. It also significantly lowers harmful air pollutants such as nitrogen oxides (NOх), SOX and particulate matter, thus improving air quality in cities – making it suitable for use by taxi and bus fleets.
Egypt has embarked into a massive programme – supported by appropriate subsidies – to encourage use of natural gas (CNG) in transport – either through conversion or total replacement of older vehicles. It is claimed that this can reduce fuel costs by as much as 50 per cent in comparison to traditional diesel and petrol, while reducing the cost of imports. It is particularly promoted for use by taxis and buses.
Use of EVs is hampered by lack of charging infrastructure. Without it, incentivisation to buy EVs alone will not work. The other limitation is that with over 90 per cent of electricity coming from fossil fuels (diesel now, natural gas later), the overall impact on emissions will be small, unless the share of renewables in Cyprus' electricity generation increases to much higher levels. Unfortunately, even here Cyprus' NECP is not ambitious enough, targeting only 23 per cent RES share by 2030, despite ideal conditions that make it possible to increase this to much higher levels. One of the stumbling blocks is our outdated electrical grid that requires upgrading into a 'smart-grid' so that it can handle a higher share of renewables. But, unfortunately, this has not been included in the list of measures to be supported with funds from EU's recovery package.
However, increased use of EVs could, at least, improve air quality in cities and in the longer-term can lead to reductions in emissions once the share of renewables increases significantly. But without government proactive policy this is unlikely to happen. A road map to help achieve a significant EV penetration would be an essential first step. The UK is planning to ban new vehicles running on fossil fuels from 2030, by accelerating the shift to EVs.
At present, greater use of green liquid fuels offers the best immediate option to increase RES share and reduce emissions in transportation. This was covered extensively at last week's 'Green Liquid Fuels of the Future' virtual conference organized by the Athens based Institute of Energy for SE Europe (IENE). It covered a wide range of options for the production of green liquid fuels, such as advanced biofuels, biomass, fuels from waste and plastic, and synthetic fuels from green hydrogen.
The conference also discussed the longer-term development of sustainable non-petroleum-based liquid fuels that would allow complete decarbonisation of air, shipping and road transport by 2050. By then, renewable fuels must cover 100 per cent of market supply needs.
The great opportunity biofuels offer is that they can be easily produced domestically from plants and animal waste, and at low cost. Since biofuels are equal substitutes to fossil fuels, they can be used to help reduce the fossil fuel monopoly, while at the same time add to Cyprus' economy by reducing expensive fuel imports – including import of biofuels – and increasing local employment.
A number of companies in Cyprus have developed or are proposing to develop production of biofuels, biogases and hydrogen from various sources of waste. There are commendable initiatives, but so far there is no serious government support for the development of a domestic biofuel production industry in Cyprus, despite the obvious benefits to the island. Instead, we continue relying on imports.
In addressing what needs to be done by 2030, we should be aware that this is merely the start of decarbonisation of the transport sector, which of course must include air and sea transport. The real challenge is still to come on the way to achieving net-zero emissions by 2050.
The Greens leader, Theopemptou said recently that so far "all governments have pushed reducing CO2 emissions later." This is exactly what is happening now and in Cyprus NECP.
A question that begs to be asked is why the government is doing so little to address this issue comprehensively, something which is clearly possible. It is a serious question in need of a convincing answer.