With around 90 per cent of eligible people taking up coronavirus vaccinations in Paphos, there is strong support in the area for some kind of Covid passport.
"This is the right way to go and I am happy to have a vaccine passport, I would shout it from the roof tops as I want people to know that I've had it. I don't think that airlines should let people get on a plane unless they've got one, I think it's a good idea," said resident Ted Parry, 76.
The introduction of digital vaccination certificates in the EU were raised on Thursday as countries moved closer to an agreement at a virtual EU summit.
Such a certificate would enable people to travel in Europe despite the coronavirus pandemic and could be available before the summer, reviving international travel and in time for this summer's holiday season, according to German Chancellor Angela Merkel.
"Everyone agreed that we need a digital vaccination certificate," she told a press conference on Thursday.
Greece supports an EU-wide vaccine certificate to open up summer tourism, and along with Cyprus has reached an agreement with Israel, which has a digital Green Pass enabling travel for those with proof of a vaccination.
Some countries are backing a common EU approach instead of individual schemes although Merkel said the EU would need around three months to create such documents.
Meanwhile a poll carried out this week by Rock FM in Paphos found that more than 70 per cent of listeners support a digital vaccine 'passport.'
"We would also both be happy to carry vaccination passports and don't see a problem with it at all," Mike Bingham, 75, said after he and his wife Christine,72, were vaccinated on Thursday.
Mark Morris, 67, too showed support for such a plan, saying he would have the vaccine when offered and if a vaccine passport is required to be able to fly, he wouldn't object.
However, if it was required to enter restaurants, concerts and for other reasons, he wouldn't, "rush out to get one."
"This may be a step too far, they may as well tattoo a bar code on our foreheads and be done with it. I can see the logic for travel but not for jobs and to enter restaurants," he added.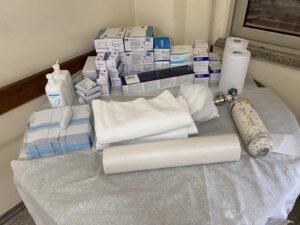 People wanting a Covid 19 vaccine in Cyprus must be registered with Gesy. They are then able to book an appointment through the government portal or request their Gesy registered doctor to do it for them.
"We are using both Pfizer and AstraZeneca vaccines in Paphos at present and everyone we see is happy to be getting them. We have vaccinated all of the health professionals, doctors and nurses, and are also travelling out to health centres in the villages to administer vaccines there," Paphos vaccine programme co-ordinator and health visitor Elena Zachariou told the Sunday Mail.
Paphos has a large number of elderly residents, many of them British expats that have settled in the district, and most feel fortunate to receive a Covid 19 vaccine.
The Binghams both have health issues and received their first dose of AstraZeneca at Palia Ilektriki cultural centre on Thursday, the first day of the new site's operation, and said that the experience was "very professional".
"It was a good experience overall and run very well. There were seven booths all operating and injections were painless. We have our next appointment for May," Mike Bingham said.
The vaccination programme currently underway at Paphos General Hospital is also receiving high praise, with patients noting it is swift, efficient and well run.
"I had my first jab on Thursday and didn't feel a thing. Staff were courteous and the whole thing was terrific, I can't speak highly enough of the staff and congratulate them on smooth it all was," Paphos resident, Terry Scott, 77, said.
Cypriot Pensioner, Eleni, agreed. "I was apprehensive, but I shouldn't have been, it was all fine and nothing to worry about. The staff did a good job. I think it's important for everyone to be vaccinated. This virus affects everyone, young and old and we all need to keep each other safe," she said.
So far, 5,000 people have been vaccinated at Paphos General hospital, while by Friday Polis Chrysochous has carried out 967 with Palia Ilektriki now operational on Monday, Tuesday and Thursday where 288 can be administered a day.
Medics are also visiting health centres in the outlying villages such as, Polemi, Salamiou, Kato Pyrgos and Panayia to ensure all areas are covered.
"We haven't had any serious side effects reported so far, just headaches and fever and so on, which is normal and expected with any vaccine," Zachariou concluded.