By Prudence Wade
While you might struggle to get many 12-year-olds to eat their veg, Omari McQueen isn't your average tween.
Not only has McQueen been vegan since he was eight years old, but his CV reads like that of a seasoned chef: running a pop-up restaurant, selling a range of dips, presenting a cooking show on CBBC – and now publishing his own cookbook.
McQueen fell in love with food by accident. "When my mum was sick, my dad taught me how to cook when he was going to work," he explains. "He taught me and my older brother how to warm up food and do the basics, but I wanted to get more into it and actually use the stove, learn how to fry and chop things."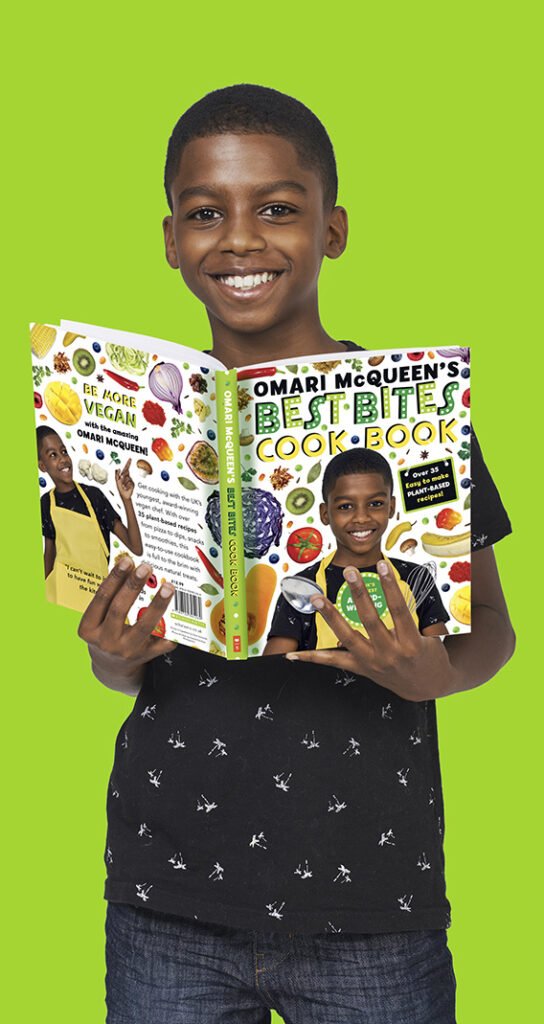 When researching food that might help his mum Leah feel better, McQueen stumbled across veganism. He soon committed to a plant-based diet, saying: "I didn't like the way animals were treated for food and clothes, so I decided to become vegan and cook my own vegan meals."
McQueen's enthusiasm for cooking and veganism is infectious, and you can see why he's the perfect bubbly host for a CBBC cooking show. The tween cook is all about having fun with food, saying boldly: "I'm creative – the kitchen is my science lab. I'm always experimenting with different flavours and different meals, and making new recipes."
Part of this experimentation is bringing in Caribbean flavours and seasonings into his plant-based dishes. Writing Omari McQueen's Best Bites Cookbook was a no-brainer – and for McQueen, it was a huge achievement. "I've got dyslexia and I find spelling hard sometimes," he admits. "But I achieved the goal, because I wrote the whole book myself. I had some spelling mistakes, but my mum checked it and then it was really amazing."
Caribbean Veggie Stew
Serves four
2tbsp sunflower oil
1 onion, chopped
1 red pepper, deseeded and chopped
1 green pepper, deseeded and chopped
4 garlic cloves, finely chopped
1tsp ground allspice
½tsp turmeric powder
1tbsp fresh thyme leaves
2 sweet potatoes, about 450g, peeled and cut into bite-size chunks
450g butternut squash, peeled, deseeded and cut into bite-size chunks
200ml vegetable stock
400g tin coconut milk
1 Scotch bonnet, left whole, or jalapeno chilli, deseeded and chopped (optional)
100g tinned callaloo or spinach leaves
1 corn on the cob, kernels sliced off, or 175g canned sweetcorn
Salt and black pepper
Heat the oil in a saucepan over medium heat. Add the chopped onion and cook, stirring occasionally, for five minutes until softened.
Add the chopped red pepper and green pepper and finely chopped garlic and cook for another three minutes, stirring often.
Stir in the allspice, turmeric, thyme, sweet potato chunks and butternut squash chunks.
Pour in the vegetable stock and coconut milk and add the whole Scotch bonnet or chopped chilli, if using. Bring to the boil, then turn the heat down to medium-low. Cover with a lid and simmer gently, stirring occasionally, for 10 minutes.
Add the callaloo or spinach and sweetcorn and cook for another five to 10 minutes until all the vegetables are tender. Season with salt and pepper, then tuck in. I like to serve it with rice.
Hot Cauliflower Bites
Serves four
100g plain flour
1tsp jerk spice mix
½tsp garlic powder
175ml oat milk
1 whole cauliflower, leaves removed, broken into large bite-size florets
½-1 tsp hot sauce, to taste
1tbsp maple syrup
1tsp sunflower oil
Salt and black pepper
To make the batter, mix together plain flour, jerk spice mix, garlic powder and oat milk in a large mixing bowl. Season with salt and pepper.
Preheat the oven to 190C. Line a large baking tray with baking paper.
Dip the cauliflower florets, one at a time, into the thick, spicy batter until coated all over. Let them drip a little over the bowl to remove any excess batter, then place them slightly spaced apart on the lined baking tray.
Bake for 20 minutes, turning once, until light golden all over and the batter sets.
Meanwhile, mix together the hot sauce, maple syrup and sunflower oil.
Carefully remove the baking tray from the oven. Brush the hot sauce mixture over the cauliflower bites until coated, then put the tray back in the oven for another 20 minutes until golden. Place in a serving bowl then tuck in, dunking them into a sweet chilli mayo, if you like.
Omari McQueen's Best Bites Cookbook by Omari McQueen is available now