Vladimiros Tziortzis is intensively preparing for this year's racing in the NASCAR Whelen Euro Series championship, which gets underway in May at the Circuit Ricardo Tormo in Valencia.
The Cypriot driver will have for one more year the full support of Cypriot pharmaceutical company Remedica.
"The goal for this year cannot be anything other than the championship title, as my team-mate will be 1997 Formula 1 champion Jacques Villeneuve.
"Last year's experiences will be valuable in this effort, as of course will be the support of Remedica, whom I thank from the bottom of my heart for the support and trust in the period we are going through," Tziortzis says.
"During this period I worked intensively on my physical preparation and spent a lot of time watching my on-board videos from last year's races.
"I also spent time with the simulator through the virtual championship EuroNASCAR Esports Series, while we are very close to the pre-season tests in Italy and France."
Tziortzis recently visited Remedica's offices in Limassol to sign his 2021 contract, an agreement that had been announced in December by Remedica CEO Dr. Michalis Neoptolemou.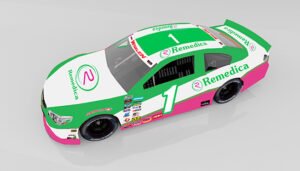 This year, Tziortzis will compete with newly-formed racing team Academy Motorsports, a team created by an Italian entrepreneur and Alex Caffi Motorsports, with who he finished in fourth place overall among 26 drivers last year and second among rookies in the EuroNASCAR 2 category, in which he will also take part this year.
Neoptolemou said: "We are proud to be part of this great and important effort of Vladimiros, who worthily represents Cyprus abroad. He is a great athlete but also a young man who is a role model for our youth, which is why we will proudly continue to support him with all our strength".
The NASCAR Whelen Euro Series includes seven rounds this year, each consisting of two races. The season begins with the Spanish opener in May, and ends in Italy at Vallelunga Circuit, while the calendar also includes races in the Czech Republic (Most), Germany (Hockenheimring), Croatia (Grobnik), Belgium (Zolder) and Great Britain (Brands Hatch Indy).