For the first time, Cyprus employers must rebrand themselves to attract top talent, notes Katerina Andreou, founder of hrinnovate.org.
As the chart shows, there is a fraught global shortage of software developers. And the best among them are used to very special treatment.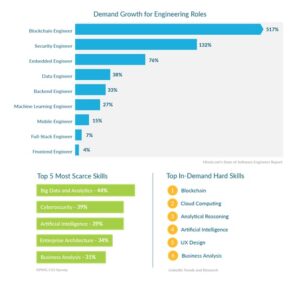 "Our local tech companies, including startups, are overshadowed by the big international groups that come, because they come with their international packages. These routinely giving developers and programmers a nice package, it's not just competitive salary, they give them a host of other benefits," Andreou explains, in an interview with the Cyprus Mail.
"Local companies in Cyprus have to step up their game. It's not enough to offer a 13th month salary. That's gone now, even with local companies. If they want developers to come, if they want them to stay, now, for the first time they have a retention problem. You've got to offer them something that's competitive with the tech giants. This is why Cyprus employers now have to rebrand themselves."
Finding the 'golden nuggets'
Skilled developers command high salaries today, but money isn't enough, Andreou warns. Talented developers are like gold nuggets, and companies all over the world are desperate to hire them. There is a global shortage, Andreou points out.
"What's more, the talented developer is compulsive, he/she is eccentric (there is a massive shortage of women developers, in fact). And these guys, they code, morning, noon and night, they code for work they code for pleasure, they code for relaxation, and it's their hobby, it's their passion.
Lots of money isn't only what they are looking for, and they don't care about titles. They want to know what your stack is, what your technologies are, as a company. So if you're not offering innovation, as a tech company, if you're not offering an evolving career path for them in terms of programming, they won't come. Are they constantly going to be stimulated? Are you going to pay for the innovation that your company can offer them to stay? So you have a really big conundrum here for companies because these are the guys they need most."
Employers in Cyprus aren't used to thinking in this way. They aren't used to developing packages of incentives. And this hurts the development of the tech cluster here, Andreou says.
"If you get known around town as an employer who isn't well-branded or who doesn't offer a full packages, apart from salaries, then the developers won't come and work for you.
And this is a shame, because Cyprus is really beginning to attract large numbers of tech companies from abroad, as well as growing the start-up community as well. But to keep developing a tech hub in Cyprus, the companies need to learn to compete for the best developers, with the best packages, and that includes really challenging innovation."
Creating 'People-focused' HR in Cyprus
 This kind of HR, which works closely with the needs of both candidates and companies, is Andreou's specialty. She didn't plan on becoming a human resources expert. Once she decided to join the sector, she wanted to establish 'people-focused HR,' and she was among the first to create the niche in Cyprus.
"My father was Cypriot, but I studied mental health and social work in the UK. When I came back to Cyprus in 2006, it became clear that I couldn't get a job in that sector: 'You have to be in government, you have to be a full Cypriot, blah blah blah…"
So I thought, well, if I'm going to stay, I need to find an industry that's people- oriented. And I had already done a postgraduate degree in organisational psychology. So it was just an easy match. I started by working around at different companies, then I worked in different sectors, but always in HR."
But working in HR in Cyprus proved disappointing, as local companies tended to be well behind the curve, Andreou found. The recruiters and the HR system in Cyprus was quite archaic.
"I was quite disappointed, to put it mildly. So if I were going to stay in Cyprus, and not just go back to England, I needed some autonomy, to be able to work the way I thought it should be done. I opened the agency in 2016, with the idea of being able to do something I could be proud of."
For Andreou, this meant creating an HR agency that was more 'human.'
"I know that sounds a little bit ridiculous, given that we're talking about HR, which is supposedly all about people. But what I found was, especially in the corporate world, was that things were very desensitized, things were obviously very money oriented.  The CV, the profile was just that, and nobody was very interested in the people behind it.
And it struck me that there's actually a huge responsibility that goes with recruitment and HR, because a job and the associated working life will affect a person's entire life. It affects their health, emotional, physical, there's a whole psychological aspect to it. So if you're going to meddle, and start peddling jobs as if you're peddling cars, then you need to think about your ethical responsibility too."
Andreou didn't plan on having a massive agency, just one with a high level of quality.
"I don't need 50 recruiters, I don't need to have every company in town as my client. I just want a portfolio of decent employers who don't want to abuse anybody, who just want a nice equal transactional relationship with their employees and they give a damn about their well-being, and they pay fair salaries. I can just work with repeat business and select clients. And the same with candidates, because you have the opportunity to really get to know people when you're dealing with their careers and their profiles and CVS if you want to."
Most recruitment agencies in Cyprus are British. And most HR shops are local Cypriots. Andreou didn't fit in with either.
"So I just got on with it. And I think the candidates and the clients were quick to appreciate it, and they still are. They really appreciate the sort of customised, more human approach. If the client doesn't, we part ways. I'm happy to turn away business if it's not a good fit. We're not the fit for every single company in town. And we come across companies that don't necessarily like my approach. They want bulk CVs, it's  like a human conveyor belt. They don't care about ROI, or the cost every time you hire and fire or somebody leaves.
But that's not what we do."