THEO PANAYIDES meets a performance artist whose past life as a barrister is a far cry from the pomegranates, earth, sky, and measuring the sea in buckets of her current work
"I'm a bit of a contrarian," muses Helen Kirwan, sitting in her studio near the Cyprus Academy of Arts (CAA) in Limassol. "If somebody says to me 'It can't be done', I'll bloody well show you that it can!"
Yeah right, thinks the cynical reader; the artist hasn't been born who'd ever describe themselves as pliable and going with the flow. Yet it does seem like Helen tends to do things in her own particular way. Even (or especially) when it comes to age, that implacable force that laughs at so-called contrarians, her path has been quite unconventional. Back in her 20s – prior to embarking on a career as a barrister – she was married to a man in his 50s. Now, in her 70s (she was born in 1949), she behaves like a person in her 30s, going on road trips to Central Asia and churning out work like a much younger artist.
What kind of work? She calls herself a conceptual artist, though she's also been described as a minimalist – by Jennifer Thatcher, in an interview now on YouTube – and reckons Thatcher may be "on to something". A video she made last month, for instance, in her capacity as 'artist in residence' at the CAA, shows Helen sitting on a stool, chopping up blood-red pomegranates with a serrated knife – for a whole hour! Another example is Memory Theatre, a two-channel video piece from 2017, in which Helen, clad in black, wades into the sea off Folkestone in Kent and proceeds to 'measure' it out in buckets.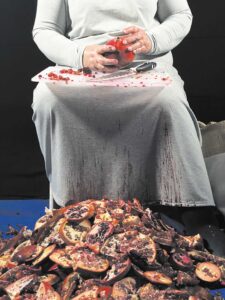 That piece is especially telling, and worth describing in detail. Helen will wade in, collect a bucket of water, then lug it to the beach where nine other buckets are lined up, "and then I faff about with the buckets, moving the water from one to the next… So it's terribly serious, and at the same time pointless and ludicrous". As with the pomegranates video – where she looks very sombre, ignoring the camera, and is dressed in a drab grey outfit – her demeanour is a big part of the work. She initially thought the audience might laugh at her beach stunt (viewers observed her 'faffing about' from behind a sea wall), yet in fact an assistant later reported that "some people were literally in tears, they were so moved. People came up to me at the end, and they were really quite profoundly affected by it… I think it was because I was so focused on what I was doing, the intensity of what I was doing came across. And of course the futility of it, that sort of Sisyphean task."
Futility is part of her project, especially as it relates to bereavement. Her performance pieces and various installations draw "on her own experience of sudden loss", as it says on her website – which is surely why the work speaks to people, evoking the experience of futile, repetitive tasks (whether it's working in an office or carrying buckets of seawater) enacted as a kind of distraction from a deep sense of emptiness. Helen's husband Reg died in 2001, which is not especially recent – yet it took her a decade to start creating art in response to that, and her work continues to grapple with themes of yearning and incompleteness.
There's a lot more to Helen than her marriage, of course – but the marriage makes a pretty good starting point, if only because it seems to have been so idyllic. "We were soulmates," she affirms, briefly threatening to become emotional. "I mean, I'm so lucky, he was just one in a million." Even now, 20 years after Reg died, I note that she still wears her wedding ring. "Yeah, I'm still married to him! I mean, I feel that I am," she replies, laughing wryly. (She's not at all sombre in person, chatting away even while protesting that she doesn't like to talk about herself.) Yet the way she talks about her 25-year marriage also reflects something quite specific about her contrarianism – a subversive aspect, an aversion to the grand gesture and what she calls "the glib", a commitment to a kind of termite art and a self-effacement when it comes to her own qualities.
Consider the marriage, for instance. Reg was 28 years older, and an academic – admittedly a top academic, professor of Civil Engineering at Trinity College Dublin, then again Helen was no slouch herself, working as a barrister in London in the lucrative field of chancery law (i.e. property disputes). One assumes she had the edge, financially; one might also add that the younger partner in a couple with a big age-gap tends to have the edge emotionally (it's the power of youth). Yet, when I ask about their dynamic, she still sounds like the wide-eyed young girl she presumably was when they first met:
"He was very wise, very kind," she begins, speaking of the 'indefinable something' between them. "He was very knowing, he was very, very wise… I mean, he knew me better than I knew myself… He knew my faults very well – but he loved me anyway. In a way he almost loved them, he'd tease me about them. I was very naïve when I met him, about human nature. It took me a while, but then I began – I mean, I learned from him how to love back."
And what did she bring to the relationship?
"I think – feistiness, I suppose. Vitality," she replies with an uncertain laugh. Not that Reg was timid, "he was very solid. He was the kind of guy you couldn't push around… And a much stronger person than me, in terms of ego. He was very solid." So she brought – what, a certain energy? Helen laughs again, shrugging: "Don't know what I brought, really…"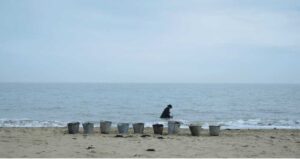 I assume they completed each other, as with all happy marriages – but her reticence about her own contribution seems typical, nor is it just false modesty or self-deprecation. It reflects her worldview and the kind of artistic expression she's drawn to, that kind of plainness and restraint as well as a sidelong, implicit quality. She's vehemently anti-Brexit, to give an example, to the extent that she fell into depression towards the end of last year as the deadline approached, yet she'd never think of making so-called 'Brexit art'; "I'm not going to jump on any bandwagons". Likewise, here in Cyprus, she doesn't plan to traffic in the usual clichés about the Green Line: "I don't want to be one of those artists who parachutes in and glibly says: 'Oh, the Cypriot situation is so profoundly this-that-and-the-other, and I'm going to make work about it'. I mean, for goodness sake!". Instead she deals in pomegranates, static shots of earth, sea and sky (Sadness of Farewell, from 2018), and measuring the sea in buckets.
Much of this stems from childhood (it always does), a not-unhappy childhood marked nonetheless by outsider-dom and a gnawing sense of being abandoned: "My parents really didn't like children very much. My sisters always joked that the horses got the best treatment!". The parents were an English couple who'd relocated to the middle of Ireland – a place called County Westmeath – to breed horses, living apart from the Roman Catholic locals and part of a sort of "threadbare gentry", the so-called Anglo-Irish 'Ascendancy' of posh Protestant squires (Helen's mother came from a landed family in Somerset). It was rather like the Raj, very formal dinners and glamorous teenage balls, everyone being "more English than the English" – though Helen herself was an outsider among outsiders, her early artistic ambitions discouraged both at home and in adolescence, after she'd been shipped across the Irish Sea to a strait-laced, very prestigious boarding school called Cheltenham Ladies' College.
Public-school life of that generation was tough (her housemistress was "a sadist," she recalls bluntly) – though the Spartan training came in handy years later when she travelled the 53 days and 19,000 kilometres from Calais to Kazakhstan (and back) in an old BMW, a 60-something woman in the company of two much younger men (one of them was Simon Pruciak, now Programmes Director at the CAA), for a three-channel video installation called Image of the Road. At the time, however, her inchoate dreams of studying at the Slade School of Fine Art were starved of funding – so instead she did Social Studies then became a social worker in deprived west London for a few years in her 20s, "because I wanted to change the world at that age". Sounds like she was quite a fiery young person, I offer, but she makes no reply. Or perhaps idealistic? "I was idealistic, yes."
'Fiery' isn't really the word for Helen Kirwan. Like her art she's low-key but bold, restrained but relentless. "I'm very determined," she says. "And I love a challenge, I must admit" – yet it's also true that her life has been a series of accidents, "unplanned, in a way". She hadn't intended to be a lawyer – but she went back to Ireland to be with Reg, there were no social-worker jobs to be had (the Church had a stranglehold on that sort of thing) so she started studying Law, and loved it. Decades later, with her husband already unwell and her art having long since been demoted to a Sunday hobby, she moved to a job in Canterbury "and I realised there was an art college in Canterbury which had a good reputation, called the Kent Institute of Art and Design – so I thought 'I'll just go and see if they've got any evening classes or something… Just to keep my hand in, so when I retire I'll be able to do it more'".
The rest, in its small way, is history – and that's how it seems to have gone, a high-achieving woman nonetheless carried along by superior forces, brilliant mentors (Roger King, her tutor at art school, was another one) and fortuitous circumstances. As a barrister, she was respected and combative, but "in my private life I was happy to have a quiet life". (She even declined to play bridge, she recalls, because it was too competitive.) Most strikingly of all, 20 years after trying to find evening classes so she could get back to doing art after her retirement, she's reached the age when most of her peers have retired – yet, creatively, she's stronger than ever, her work shown all over the world and at three consecutive Venice Biennales.
It took over a decade, as already mentioned, to process the loss of her husband; "I was so floundering". Even now, "my work isn't confessional at all," she insists; "I didn't want to make work about me at all". (She practically flinches when I ask if it's been 'therapeutic'.) We live in a narcissistic age, when artists are encouraged to exploit their personal tragedies and let it all out – but Helen is 71 and she comes from an earlier age, when you kept it all in and found poetic ways to express it. In a way, she's glad she didn't go to art school as a young girl: "If I'd gone to the Slade, for example, then – aged 17 or 18 – I mean, I would've been eaten for breakfast! I was so naïve, I had nothing to say." Instead she prizes older-person values like restraint and simplicity, drawn to the "starkness" of flat empty vistas in places like Iceland (where she did a residency in 2019) and Kazakhstan.
Don't confuse the work with the woman, of course. Helen herself is worldly and sophisticated, upper-middle-class by training and temperament. She loves her cheese and wine, and sitting in her big house in Kent surrounded by her many godchildren (she and Reg never had kids, by choice). She does a lot of reading, currently taking advantage of being in Cyprus to revisit Heidegger's Early Greek Thinking. She actually did an MA in Philosophy after her art degrees, and borrowed 'Memory Theatre' – the title of the piece about measuring the sea with buckets – from a book by the philosopher Simon Critchley.
One might say the art reflects that contrarian streak she mentioned earlier, a quiet subversive streak forged in the stiff conventions of rural Ireland and the strict confines of Cheltenham Ladies' College – and the art reflects something else too, a general preference for 'less is more'. "I don't want to put any more objects in the world," she tells me, quoting the conceptual artist Lawrence Weiner; she prefers to use what's already there, like a spy or a magpie. Making art out of chopped-up pomegranates? At 71, she still loves a challenge.
Cyprus Academy of Arts (CAA) is the biggest specialist Art & Design Higher Education Institution in the Republic of Cyprus. CAA offers courses at Pre-Degree, Undergraduate and Masters level in Fine Art, Animation, Film&Photography as well as Graphic Design. CAA also operates a public art gallery and runs international artist residency programme, artist and photo studios as well as weekend/evening/summer courses for prospective students and the general public. www.caa.ac.cy