By Ella Walker
Cooking every night of the week is a demanding old business. What to have for dinner is one of the few things still in our control, and even that has become a chore in its relentless everydayness.
Trained chef, recipe writer and food stylist Rosie Reynolds is hoping to zhuzh things up for us though, with new cookbook, The Shortcut Cook.
It's "all about using shortcuts and creative solutions to get the best food – whipped up quickly, in the best way possible – for your family", she writes. Corners will be cut, but in ways designed to maximise flavour and minimise stress, which couldn't be more timely.
Hannah Stephenson tested: shrimp burgers
Who doesn't love a burger? Blitzing half the prawns in a mixer took seconds, at which point I ended up with a gloopy paste, like a sticky grey mash – the binding to hold the burgers together. Although Reynolds advises you to pulse the other half of the prawns a couple of times so they are roughly chopped, I used scissors to ensure they were still recognisable, rather than risking them turning to mush in the blender.
Then I threw the whole lot together in a large bowl, adding all the other ingredients – it literally took 10 minutes. They're virtually impossible to shape as they are so gloopy, so I just spooned big dollops of the mixture into hot oil and flattened them down with a fish slice to make them into patty shapes. They took longer to cook than expected though.
Making the Sriracha mayo, peeling and slicing the avocado and toasting the buns also takes a few minutes – so start to finish around 25 minutes for the whole meal – and although they were delicious, you could easily have the burgers, which were quite dense, without the buns.
Shrimp Burger with Sriracha Mayo
Serves 4
600g raw prawns
2 spring onions, finely chopped
1 red chilli, deseeded and finely chopped
Small handful of coriander, stems and leaves separated and finely chopped
Zest of ½ lime
1tbsp light-flavoured oil
Sea salt and freshly ground black pepper
For the Sriracha mayo:
2½tbsp mayonnaise
1½tbsp Sriracha chilli sauce
To serve:
4 sesame-seed buns
Handful of rocket
1 avocado, peeled and sliced
Put half of the prawns into the bowl of a food processor and pulse a couple of times until roughly chopped, then tip out into a mixing bowl. Add the remaining prawns to the food processor and pulse until a coarse, paste-like texture is achieved. Add to the bowl with the chopped prawns. Mix in the spring onions, chilli, coriander and the lime zest, along with plenty of seasoning.
Divide the burger mixture into four equal parts. Heat the oil in a large non-stick frying pan (skillet) set over a medium-high heat. When the oil is hot, spoon the portions of burger mixture into the pan and gently flatten to form four burger shapes. Fry for six minutes, turning halfway through.
Meanwhile, make the Sriracha mayo by simply mixing the mayonnaise and Sriracha sauce together.
Split the buns and toast the cut sides. Spread the buns with spicy mayo, then add a little rocket, some avocado slices and a shrimp burger to each. Chop the zested lime in half, for squeezing, if you like.
Ella Walker tested: Asian chicken noodle soup
I'm all for swift one-pot meals, but was a little sceptical at the prospect of this one. A low-effort 40 minutes couldn't achieve that, surely? I was proved totally wrong though.
A few minutes meditatively spent sharpening a chunk of ginger into thin matchsticks and slicing garlic into slivers, was followed by the crackling frazzle of chicken thigh skin crisping up in a pan.
In went a jug of water, and then potion-like swirls of Chinese rice vinegar and light soy sauce – which, combined with the chicken poaching liquor, make the broth. And what a broth – considering how little is in it, and for how short a time it bubbles away, there's an impressive amount of depth to it.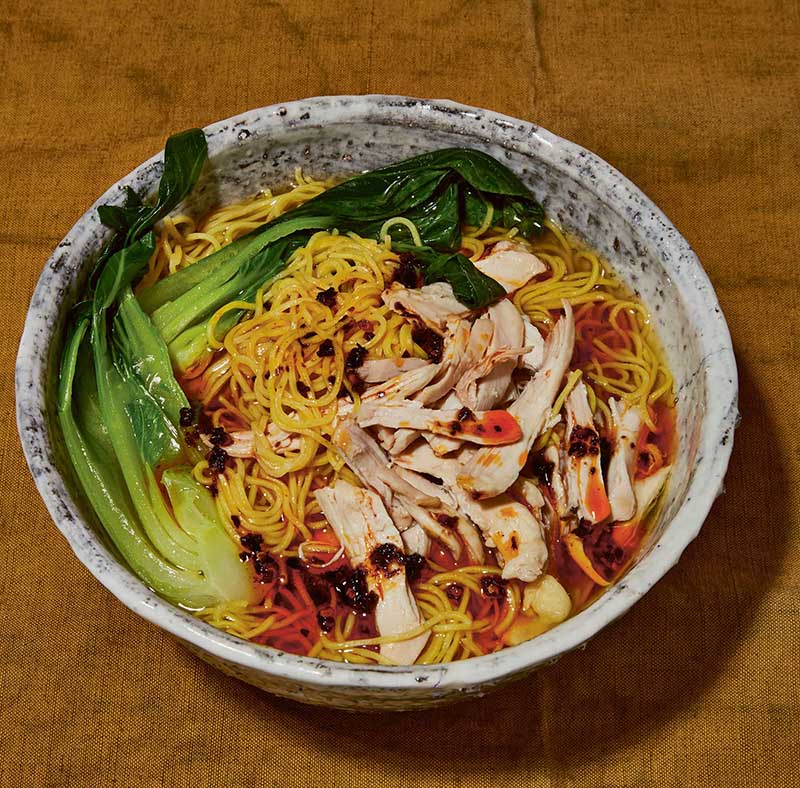 Asian-Style Chicken Noodle Soup
Serves 4
1–2tbsp sesame oil
6 skin-on, bone-in chicken thighs
6 spring onions, green and white parts separated and finely chopped
5cm piece of fresh root ginger, peeled and cut into matchsticks
4 garlic cloves, sliced
800ml cold water
2tbsp light soy sauce
2tbsp Chinese cooking wine or rice wine vinegar
¼tsp caster sugar
250g dried fine egg noodles
4 pak choi (bok choi), halved lengthways
Fermented black bean and chilli sauce or your favourite chilli sauce or chilli oil, to serve
Heat a drizzle of the sesame oil in a large saucepan over a medium heat. Add the chicken thighs, skin-side down, and leave to cook undisturbed for three to five minutes, or until the skin is golden brown. Flip over and cook for a further three minutes.
Push the chicken to one side and add a little more sesame oil to the pan, then add the white parts of the spring onions, along with the ginger and garlic. Fry for two minutes then pour in the cold water, soy sauce and Chinese cooking wine, along with any remaining sesame oil. Bring to the boil, then reduce the heat and simmer for 15 minutes.
Use a slotted spoon to remove the chicken thighs from the soup. Discard the skin and the bones, then use a couple of forks to pull the meat apart.
Add the noodles to the soup and cook for two minutes, then add the pak choi and cook for a further three minutes until tender. Stir the shredded chicken back into the soup, then ladle into four serving bowls. Serve topped with the spring onion greens and a drizzle of chilli oil.
The Shortcut Cook by Rosie Reynolds, photography by Louise Hagger, is available now