A Turkish Cypriot man whose family was killed by Greek Cypriots in 1974 called for the eradication of nationalism and fanaticism from schools and all forms of power during his loved ones' funeral after the identification of their remains by the Committee on Missing Persons (CMP).
Huseyin Rustem Akansoy from Maratha buried on Saturday the remains of his mother, Emine, who was 36 when she was killed and his siblings Sezin, 15, Mustafa, 13, Erbay, 12, and Sibel, 8.
They were murdered by the Eoka B Greek Cypriot paramilitary organisation in August 1974 along with many other residents of the Aloa, Sandalaris and Maratha villages, all in the district of Famagusta. They had been buried in a mass grave and their remains were exhumed and identified by the CMP.
According to media reports in the north, the Akansoy family lost 30 members.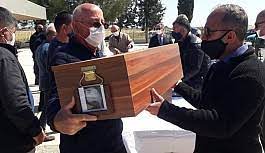 During the burial, Akansoy, who was 17 at the time, said the events his family had experienced were the result of "the nationalist movement, mass fanaticism and rotten minds."
"Therefore, what we must all remember that this mentality must be completely eliminated from our schools, religious places and all forms of power," Akansoy said. He added that this was important so that such pain is not experienced again.
In total, 126 children and women were murdered by the paramilitaries on August 14, 1974.
The villages of Sandalaris, Maratha and Aloa, inhabited entirely by Turkish Cypriots, were located next to each other. The men of the three villages had been rounded up and sent to Limassol on July 20, the day Turkey invaded the island.