There is only one right-hand drive Koenigsegg for sale currently worldwide. It's a 1-of-7 car in England, called the 'One:1' after its power to weight ratio (it has 1360hp and weighs 1360kg). The seller is asking £5.22m.
Hardly consumer advice today, but I simply could not resist writing about Koenigsegg.
Founded in 1994 by Christian Von Koenigsegg at the age of just 22, the company has grown into a staple name in the hypercar industry. The cars are very expensive, very fast and exceedingly rare. The company have held the marketable gauntlet of 'fastest car in the world' on numerous occasions, and plan to once again steal the title back from Bugatti with the new top-speed focused variant of the Jesko. Though not tested, Koenigsegg estimate it will top 530km/h.
What is perhaps more remarkable, is the way this small company has been able to consistently innovate over the last two decades. Despite not benefitting from large research and development budgets, Koenigsegg seem to always come up with something new, something interesting.
Take their doors. Instead of 'normal' scissor doors like you might find on a Lamborghini, Koenigsegg pioneered an entirely new type of hinge. They call them 'dihedral synchro-helix' doors, with a mechanism that allows the door to simultaneously move upwards and outwards.
Koenigsegg describe the system as 'every bit as practical as beautiful', but I'm not too sure – parking next to a curb seems like it would cause an issue. Nevertheless, they are very interesting and sure to cause a splash wherever you pull up.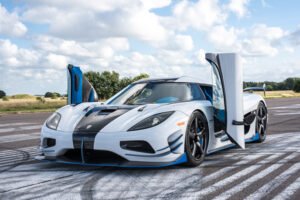 Things get even more funky when you peer underneath the carbon fibre bodywork of a Koenigsegg. In the Regera, a more luxurious offering with a hybrid powertrain, Koenigsegg installed a new type of gearbox, patented as 'Koenigsegg Direct Drive' (KDD). The technicalities of a gearbox are not something I would usually get into, but this is too interesting not to mention.
Essentially, the car has one gear, and the ratio is equivalent to the seventh gear in a normal car. It sounds simple, but it is a world first for a reason: While a normal car set up this way would do fine on the highway, getting to that speed would be very difficult – accelerating away would require impossible torque figures.
To make it work, Koenigsegg looked to a trusty old invention that has been used on automatic cars for decades – the torque converter. They developed a 'hydracoup' – basically an enormous and very powerful torque converter, and use it to allow decoupling between the engine and gearbox to facilitate the engine spinning at higher RPM while the wheels catch up.
Put even more simply, it converts horsepower to torque, which is necessary at lower speeds. Once the Regera gets into its stride, the hydracoup locks and the engine spins in tandem with the gear. Of course, it helps that the Regera has 700 electric horsepower, supplemented by 1100 horsepower from a V8.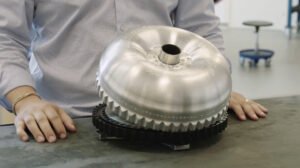 With the electric motor's torque available in full from 0 rpm and the V8 engine's already impressive output being augmented by the hydracoup, the Regera is able to accelerate astonishingly quickly, completing 0-100 km/h in 2.8 seconds, despite being in a seventh gear equivalent drive ratio.
An engineer with a popular YouTube channel calculated that during its acceleration, traction was the limiting factor all the way up to 300 km/h. In other words, you could drive the Regera at 290 km/h, floor it and it would still accelerate so hard that it would theoretically break traction. The Regera holds the record for 0-400 km/h, completing the charge in just 20 seconds.
But all this comes at a price. Koenigseggs rarely leave the factory for less than two million euros, with some models costing twice that. On their latest car, the Jesko, customers can option a type of naked carbon fibre exterior finish for €400,000.
Even so, their aftermarket values have been even more impressive. An American buyer recently revealed that he had sold his gold-leaf Agera RS just five months after taking delivery because he received 'an offer that was too good to refuse'. He paid $3.6m and sold it having driven less than 300km for $5.5m. These are highly desirable cars.
Despite the company being just 27 years old, Koenigsegg have already made their mark on an industry that is notoriously hard for newcomers to penetrate. With their provocative approach to innovating and extraordinary attention to detail, Koenigsegg are sure to be a staple name in the hypercar industry for many years to come. Maybe one day we'll even see one in Cyprus.