Let's get cold – really cold! On the Svalbard archipelago, midway between the northern coast of Norway and the North Pole, it's currently -15 degrees even though, at this time of year, the sun has just risen above the horizon and won't set until August!
Longyearbyen is Svalbard's unofficial capital, and though the entire island has just 25 miles of tarmac (snowmobiles are the preferred method of transport), its 2,000 residents enjoy a fairly modern way of life, with hotels, shops, and an international airport.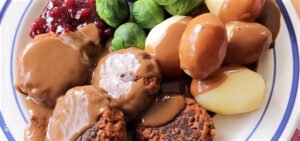 Wildlife abounds here. Svalbard boasts more polar bears than people; a unique subspecies of reindeer; and the largest animal ever to have lived – the blue whale. None of which will appear on the local menu; Svalbard takes its protection very seriously (cats are prohibited by law to safeguard local bird life!). Instead, alongside the more modern imports, you'll find traditional dishes such as lappskojs (a hearty hash, containing beef, sausage, carrots and potato), vaffelkake (a delicious waffle that's often served with jam), and polarbröd (a traditional flatbread that's a staple accompaniment to Arctic meals).
In that the Gulf Stream keeps the surrounding waters ice-free for most of the year, fish are ever-popular. Seifilet fersks (which translates to 'fresh fish filets') such as pollock, salmon, haddock have long been a primary food source, served steamed, grilled, poached or cured. And tørrfisk (or 'stockfish') is a local favourite when the going gets tough: enjoyed since the time of the Vikings, this cod-like fish is dried in the open air on racks matured indoors for up to 12 months, and then consumed raw.
Norwegian cuisine has also made its mark on the archipelago, with the heart-warming KJØTTKAKERS a perennial favourite. Made from whatever local meat is available, these Arctic meatballs are kneaded, spiced, seasoned, shaped into flat cakes and baked in the oven, before being sautéed in brown sauce or added to broth. They're served up with either boiled potatoes, fried onions, sauerkraut, or pea or cabbage stew. And, like most traditional Svalbard dishes, they'll come with a side of cranberry jam.