Where other festivals have been put on hold, Cyprus Film Days is pushing ahead next week, and not just online either. PRESTON WILDER looks at what we can expect to see
Be honest, you never saw it coming. Even the mighty Cannes has shifted to July this year, and it's not like Cyprus filmgoing is especially resilient at the best of times; cinemas can theoretically open at the moment – but none of them have, unable to make ends meet with a maximum audience of 50 people. Yet Cyprus Film Days (CFD), our premier film festival, is going ahead this week, kicking off on Friday at the Rialto in Limassol – and not just online, like every other festival these days, but face-to-face, or at least face-to-screen. (A streaming option has now been added at the eleventh hour: contact 99-379755 for details, or visit https://cfd2021.eventive.org/.)
The differences from previous years (not counting 2020, when the fest was cancelled) go without saying. Masks must be worn throughout, even while watching the movie. The 50-person maximum will be in force, unless something changes between now and then – which in turn means that almost all tickets will be booked online, and many screenings will be sold out (some have already reached their limit). One might also mention that the president of the jury, Spanish journalist and festival director Eduardo Guillot, is apparently carrying out his duties long-distance, travel being the main casualty of the pandemic.
Otherwise – incredibly – things are much the same: 19 films showing over nine days (the awards ceremony, again at the Rialto, is on Saturday April 24), split into two main strands, Viewfinder and Glocal Images. There are even a few parallel events – five workshops by industry professionals, plus four films aimed at kids – taking place online.
Last but not least, there's a small selection of films from 2019 (poignantly titled 'A Year Without CFD', being presumably films that were slated to play last year) which are all worth your time. Two strong, quite hallucinatory South American titles – Monos, about child soldiers, and the Brazilian Bacurau – plus two crime dramas: the Iranian Just 6.5 and our own The Siege of Liperti Street, a big winner at the most recent (2019) Thessaloniki festival.
There's another Cypriot drama in the main programme: Senior Citizen by the prolific, indefatigable Marinos Kartikkis – a writer-director who, working mostly independently, has somehow made four features in a country with no film industry to speak of (even Covid hasn't managed to stop him). Senior Citizen is in Glocal Images, which has been expanded this year (10 films) – understandably, since Viewfinder (five films) is the category for big festival titles, and big festivals were a shadow of their former selves in 2020.
We don't know much about Glocal, since the category (by definition) harbours more obscure titles – but the big one is Identifying Features, a Mexican migrant drama that cleaned up at last year's Sundance. The other Glocal films are more of a punt – but we can't not mention Yannis Economides, the Limassol-born director whose grim, often grimly funny films have earned him a considerable cult in Greece. The two-hour-plus Ballad of a Pierced Heart, his first film in six years, promises to be an experience.
Speaking of experience, here's our take on the five Viewfinder titles (having watched all five), in no particular order:
NOMADLAND (**): CFD's opening film is also its biggest coup: Golden Lion winner at Venice, two Golden Globes, six Oscar nominations. Obviously a must-see, one of the year's biggest films – but this lyrical look at life on the fringes, a romantic vision of being a "nomad" (i.e. poor and disenfranchised), thinks that being honest about its heroine going to the loo is the same thing as being honest. Has its moments, but it desperately needed at least one nomad getting ugly-drunk and going on a rant about the Blacks and the Jews.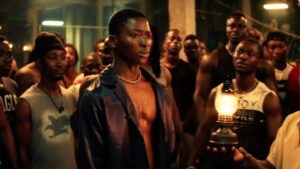 NIGHT OF THE KINGS (***): A prison drama unlike any other – not just because it hails from the Ivory Coast but also because it aims for a fairytale, mythical tone. Scheherazade is in there, also a hint of Mad Max: Fury Road (only with "lackeys" instead of "war boys"), also the great Denis Lavant with a chicken on his shoulder. Plot is incoherent, alas, so be warned; this one's purely for the crazy vibe.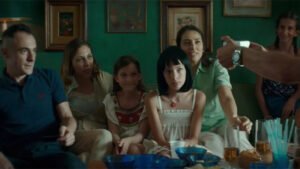 BAD TALES (***): "What follows was inspired by a true story. The true story was inspired by a lie. The lie was rather uninspired." Another crazy one, Best Screenplay winner at last year's Berlin, a picaresque Italian mosaic of fear and loathing in the lives of suburban children. Consistently cruel, sometimes vulgar, then suddenly melancholy and beautiful; not everything works, but a jolt of imaginative life nonetheless.
SWEAT (**): Sylwia is a fitness instructor – but also an influencer, making endless videos for her 600,000 followers ("My loves!") and urging them to "accept yourselves". Can she also accept herself, her own loneliness and yearning for intimacy? This Polish drama is part of 'Cannes Label 2020', films that were due to play at last year's aborted Cannes festival – yet it seems a bit flash, and a bit obvious. People on Instagram aren't as happy as they look? Shocker.
APPLES (****): Shots of an empty house, cut to the slow, rhythmic beat of what sounds like a banging drum – then another shot reveals that it's actually our hero Aris, slowly and rhythmically banging his head against a wall. The opening scene of this deadpan Greek comedy-drama illustrates both its mordant sense of humour and artfully-depressed vibe – and its plot, with Greece overwhelmed by a pandemic of amnesia, makes for a poignant echo of our own pandemic, suffused with faint, fuzzy memories of the 'old normal' (not to mention the old Cyprus Film Days). Too artificial? Perhaps. Also heartbreaking.
Screenings are at the Rialto in Limassol and the Zena Palace in Nicosia, full details at cyprusfilmdays.com. Call 25-343907 for more information