The Railway Inn in Chlorakas Paphos has a well-earned reputation as a traditional British style pub serving tasty homemade dishes.
As with other venues, pandemic restrictions have meant the once lively venue which usually hosts regular events has turned to take away and delivery with fish and chips on Fridays and generous Sunday lunches proving popular.
Found on Nikolaou Leonidou hill in Chlorakas, driving up from the Paphos coast road, the venue sits on a corner complete with a small outdoor area. This has recently re-opened, but only 19 customers are permitted to be seated due to restrictions meaning take away or delivery options will be available for some time to come.
We decided to try a number of delivery options on different days.
First, on a Friday, we ordered large cod and chips, one with mushy peas, the second with garden peas. The order was delivered on time and piping hot. The batter crisp and the meaty cod cooked to perfection. The mushy peas were delicious and the portions large. (Unless you're feeling particularly hungry, the regular cod is ample.)
On another occasion, we tried the homemade steak and ale pie which arrived with chips, gravy and garden peas. Once again, our meals arrived on time, hot, and the quality was excellent.
The Sunday lunch is well worth a try as well and we have ordered it a number of times since our first sample. It was delivered to my door, scooped out onto large plates, filling them to the edges, and heartily eaten and appreciated.
Desserts include home-made apple crumble with custard or cream or a homemade chocolate brownie.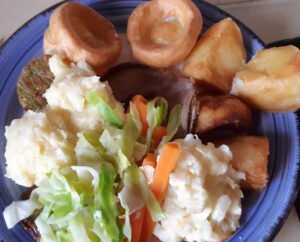 The pub is well known for serving good pub grub and the menu often includes a weekly special, this week it was three sausages, fried onions, mash and gravy for €9, liver with onions, bacon mash and gravy for €10 or chili con carni with rice or chips at €8.50.
Cottage pie with vegetables and gravy, homemade steak and ale pie or chicken and mushroom pie, or for vegetarians, Mediterranean vegetable pie, or kale, mushroom and walnut pie are also on offer. There is also gammon, egg and chips and all are delicious.
Starters are priced at €3 and include homemade soup of the day, prawn cocktail or homemade chicken liver pate. Main courses are a generous size and all of the meats are of a high quality, sourced from a local butcher.
Roast options are all superbly cooked and include beef, chicken and pork, all priced at 9.95. Slow roast lamb on the bone (orders for lamb must be pre- ordered at least 24 hours before), or there is a selection of homemade pies.
All are served with roast potatoes, mashed potatoes, cauliflower cheese, carrots, cabbage, Yorkshire pudding, stuffing and gravy.
If you don't feel like venturing out just yet but are missing good pub grub, a meal from The Railway Inn will hit the spot.
VITAL STATISTICS
SPECIALTY pub grub
WHERE The Railway Inn, Nikolaou Leonidou hill in Chloarakas
WHEN From Tuesday to Saturday, the Railway Inn is open to eat in or take away from 11am to 4pm. Wednesday and Friday a take away and delivery service from 4pm to 8pm.On Sunday, from 12 to 4pm, Sunday lunch take away and delivery is available and booking is essential. Friday's see fish and chips on offer from 11 am to 8pm for €6.50.
CONTACT 26 272855 or 99 289285 or on Facebook.