In amongst the plethora of hypotheses for why Tesla, a 20-year-old company, is the most valuable automaker in the world, lies a fundamental truth which is indicative of the way the entire industry is heading.
You see, while they are in the business of building cars, selling nearly 500,000 last year, Telsa is, at heart, a technology company. According to most analysts, their lofty valuation derives principally from their industry-leading software capabilities – the binary essence of their unique infotainment system, user experience, and autonomous-driving features.
The implications of vehicles depending more and more on software are fascinating. For one, this is completely redefining the criteria by which companies are valued. Morgan Stanley found in a study that Ford Motor's cloud computing foray, including digital subscriptions, could one day by itself be a $100 billion business, roughly three times the size of Ford's current market cap.
Furthermore, the very nature of software will allow manufacturers to reform the way they market their products. Every single Tesla sold comes as standard with the advanced hardware required to run 'Autopilot', the company's self-driving system. Yet if you actually want your car to be able to drive itself, you have to pay to 'unlock' the software. In the UK, this costs around £8,000.
This can be a hard pill to swallow. 'So, my car has everything installed to do this – you're just purposely handicapping it with some code so that you can charge me to un-handicap it?' Precisely, welcome to the future!
BMW found this out the hard way that it may not be that easy to get people on board with this. In 2019, they tried to charge customers around €100 per year for use of Apple car play – a feature that comes standard on most other luxury vehicles. Sure enough, after considerable backlash, they dropped the policy, announcing in December of the same year that the feature would now come free.
Off the back of BMW's failure, Porsche are testing the waters more tentatively, with the 'intelligent range manager' feature available on the electric Taycan offered either as a €400 up-front option or €10 per month pay-as-you-go subscription.
Subscription-based business models are the norm across other technology applications – think Spotify, Netflix or even Microsoft Office. But given a long market history built around selling products for a one-time fee, teething problems are inevitable in incorporating this model into the automotive sector. Nevertheless, there is good reason for this change.
Firstly, with more and more components of modern cars being electric, it would surprise you how much can be updated. In 2018, a US consumer review firm conducted tests that showed the Tesla Model 3 to have worse braking performance than the Ford F150 pickup truck (a much heavier and slower vehicle). In response, Tesla released an over-the-air update which was shown in the same independent tests to have improved braking performance by nearly 15 per cent.
Tesla have also released updates over the years which have made their vehicles faster or more efficient, meaning that even from a dynamic standpoint, the product you purchase can continue to improve long after it has left the factory.
Secondly, subscription options would facilitate personalisation owner to owner. For example, a vehicle registered in England could have a subscription licensing software that manages traction in the snow – redirecting the Sat Nav towards safer routes and tentatively managing torque distribution.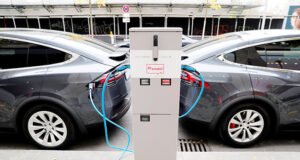 If a Cypriot buyer wanted to import this vehicle, they would confidently be able to unsubscribe from this option, lowering their cost of ownership. Another possible application would be subscription licensing for analytics software that can log mileage and fuel consumption in the case that someone drives for work and is entitled to claim expenses. Subscription schemes would be beneficial for customers – who would be able to only pay for the features they need, and for companies, who would be able to more efficiently amortise hefty software development expenditure.
Lastly, subscription-based features would provide unprecedented flexibility from both the perspectives of the consumer and the manufacturer. For example, a bonus or pay rise may allow you to purchase upgrades that you did not deem affordable when initially ordering the car. Similarly, companies would be presented with opportunities to market features every time the car changes hands on the second-hand market.
Software's automotive crusade will change the way we think about depreciation, too. I have long advised that if you are buying a car that is expensive mostly because of the technology on offer (like an S class Mercedes), it is inevitably going to lose a lot of its value in a short period of time, because technology tends to advance much faster than other things. You wouldn't buy a five-year-old phone, for example.
But to worry that your future car is going to lose most of its value in a few years would be to misunderstand just how far this is going to go. As hardware advances plateau, vehicles will become technological canvases upon which the latest software can be purchased and projected, meaning, if you can afford it, you'll always be able to upgrade to the latest and greatest without having to switch out your car – keeping you trendy while saving the planet.