Almost 660 people from 15 political parties, as well as eight independents, officially submitted their candidacies on Wednesday, competing for one of parliament's 56 seats during the May 30 elections.
According to the interior ministry, 651 candidates belong to parties and eight were independents.
The ministry said 247 candidates, including three independents, were vying for Nicosia district's 20 seats; 141, including three independents, will compete for Limassol district's 12 seats, and 128, and one independent, will fight for 11 seats belonging to Famagusta.
In Larnaca there were 68 candidates, including an independent, who will compete for six seats while 45 party candidates will fight over four seats in Paphos.
Thirty-three candidates will contest Kyrenia's three seats.
The ministry said 557,589 registered voters have the right to vote on May 30 at one of 1,150 polling stations across the Republic and 10 overseas.
Sixteen additional polling stations are expected to operate for the election of the representatives of the religious groups – Maronites, Armenians, and Latins – who have one seat each in parliament but without a vote.
Elections will only be held for the Maronite and Latin communities where two and three candidacies were submitted, respectively.
The current MP representing the Armenians, Vartkes Mahtesian, is the only one running for his community's seat.
Flanked by his party's candidates for Nicosia, Disy leader Averof Neophytou sought to paint an optimistic picture of the near future but warned that it would need a parliament able to make decisions, something that the entry of many small parties would impede.
He said Cyprus was slowly but steadily leaving behind the pandemic restrictions and was preparing to restart the economy through the €3 billion recovery scheme.
"We are making the necessary reforms for green development and the country's digital transformation," he said, referring to the EU's recovery package, while embarking on a new effort to reunite the island.
"To achieve these, we need seriousness and responsibility. A clear line in the economy and a parliament that is able to take decisions."
Neophytou said Cyprus could not afford the luxury of going back, as he appealed to voters to support his party.
"No to risky games in the economy; no to pointless party games in parliament."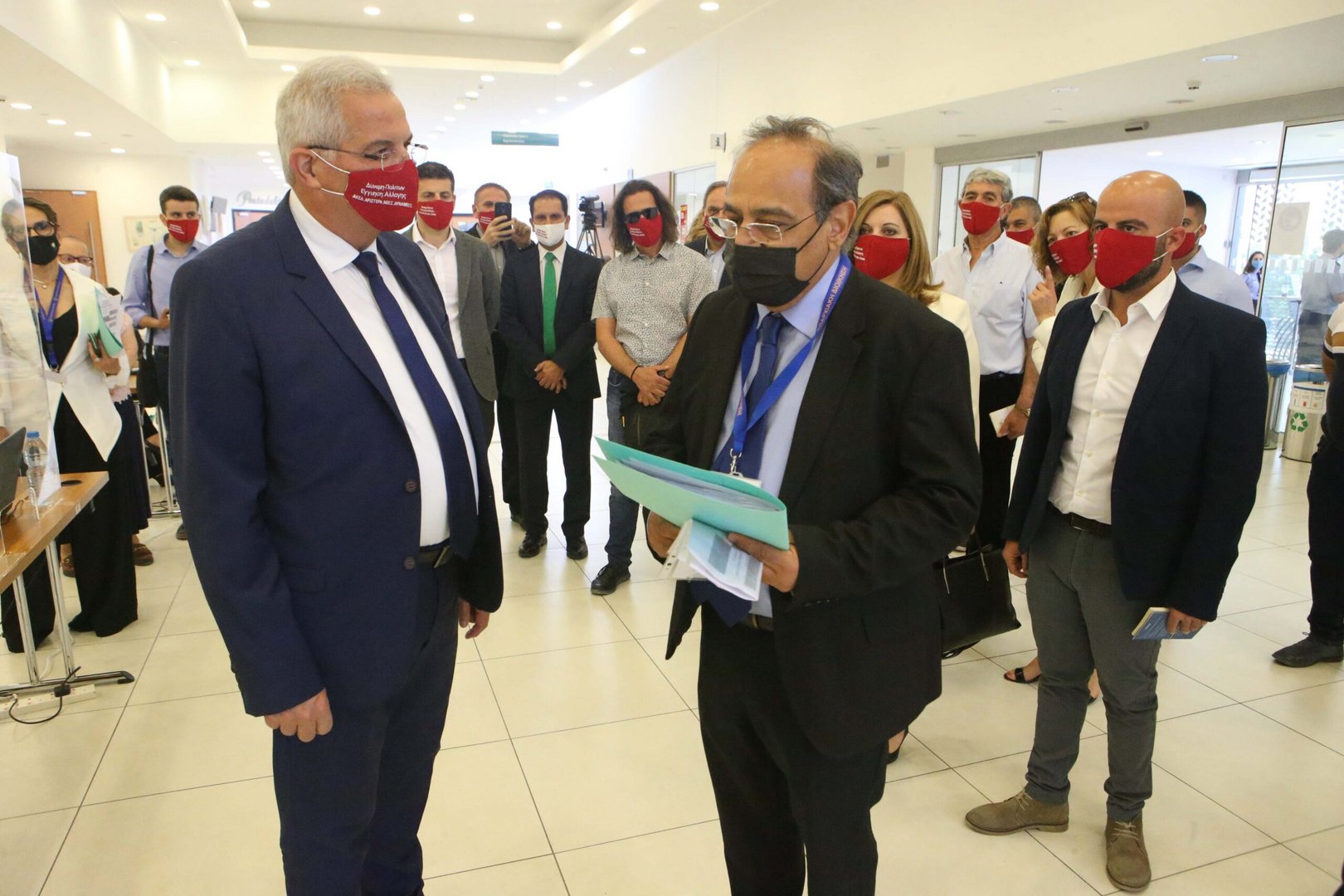 To the eyes of Akel chief Andros Kyprianou, things were looking bleak.
"Cypriot society feels that they are slowly, slowly stealing the hope for a solution of the Cyprus problem, exiting the deadlocks created by the economic crisis, the pandemic, but also the anti-popular government policies," he said.
Kyprianou added that developments in the country in the past few years were negative and people were seeking hope and prospects for a better life.
"We are looking each Cypriot in the eyes and asking for their support. We are asking them to give us the power to be their power. To be the voice seeking their rights."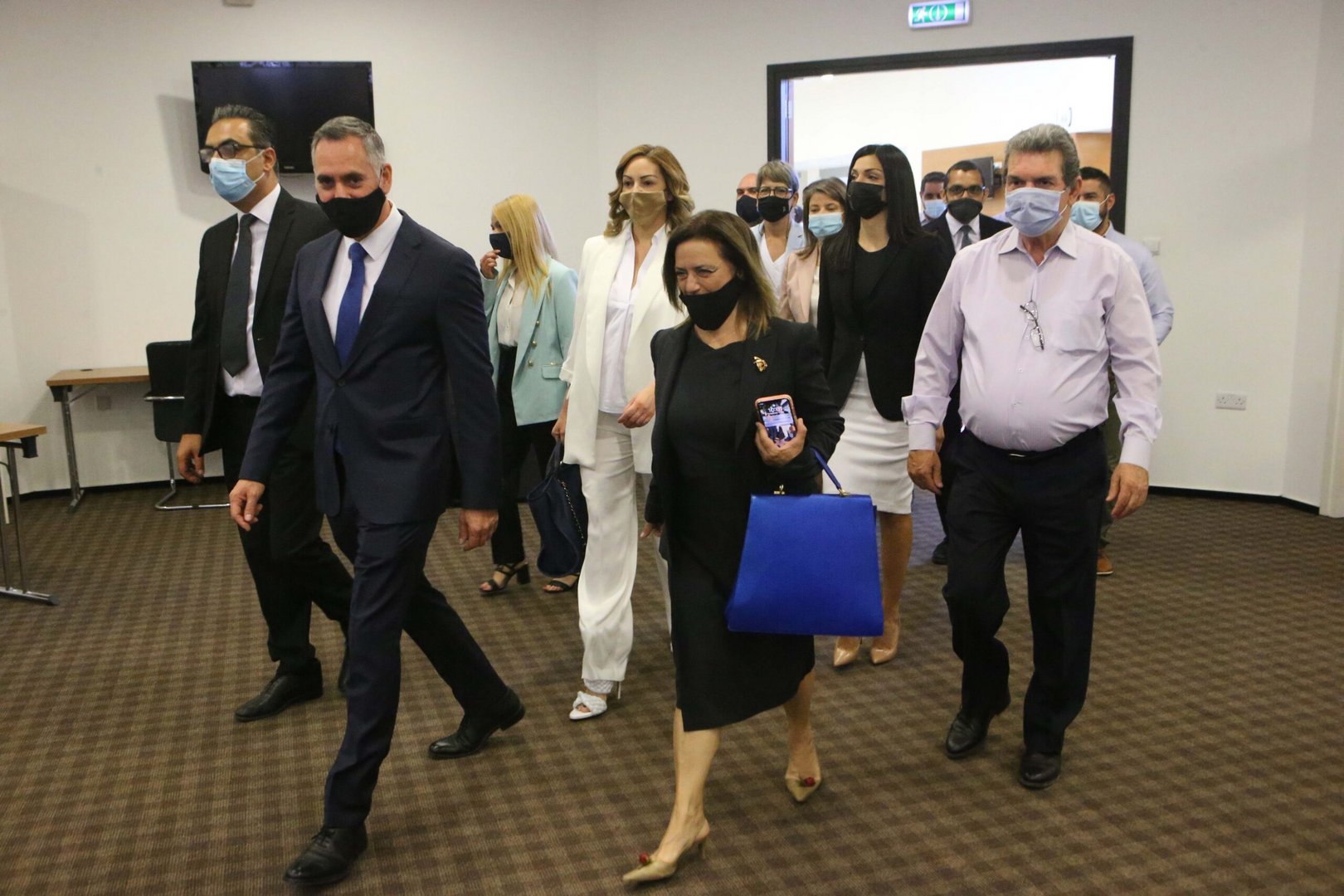 Nicolas Papadopoulos said his party, Diko, could change things around if voters gave it a strong mandate.
"With our vote we can change all those things that humiliate our society; a strong Democratic Party can truly support workers and small and medium businesses, vulnerable groups, but also the middle class, the entire society," Papadopoulos said.
He said a strong Diko could impose transparency, control and catharsis. With its new strategy, it could prevent the danger of Turkey imposing a confederate or two-state solution, Papadopoulos added.
Diko will almost certainly face stiff competition from Dipa, a party created by ousted former chairman Marios Garoyian and other former Diko members.
Speaking in Limassol after submitting his candidacy, Garoyian appeared certain that his party would be the surprise of the elections.
Garoyian said the country was facing serious dangers and big challenges, which jeopardised its prospects.
"Our country is before a multifaceted health, financial, and institutional crisis, and certainly what the people demand, are ways out from there deadlocks," Garoyian said.
Edek chairman Marinos Sizopoulos also appeared optimistic, despite some predictions that his party could even fail to enter parliament.
Sizopoulos said once more, Edek would defy the odds and all those waiting to disparage the party.
"As we have done in the past, we shall do our duty this time too," he said, adding that they owed it to the party's historical leader Vassos Lyssarides who died a few days ago.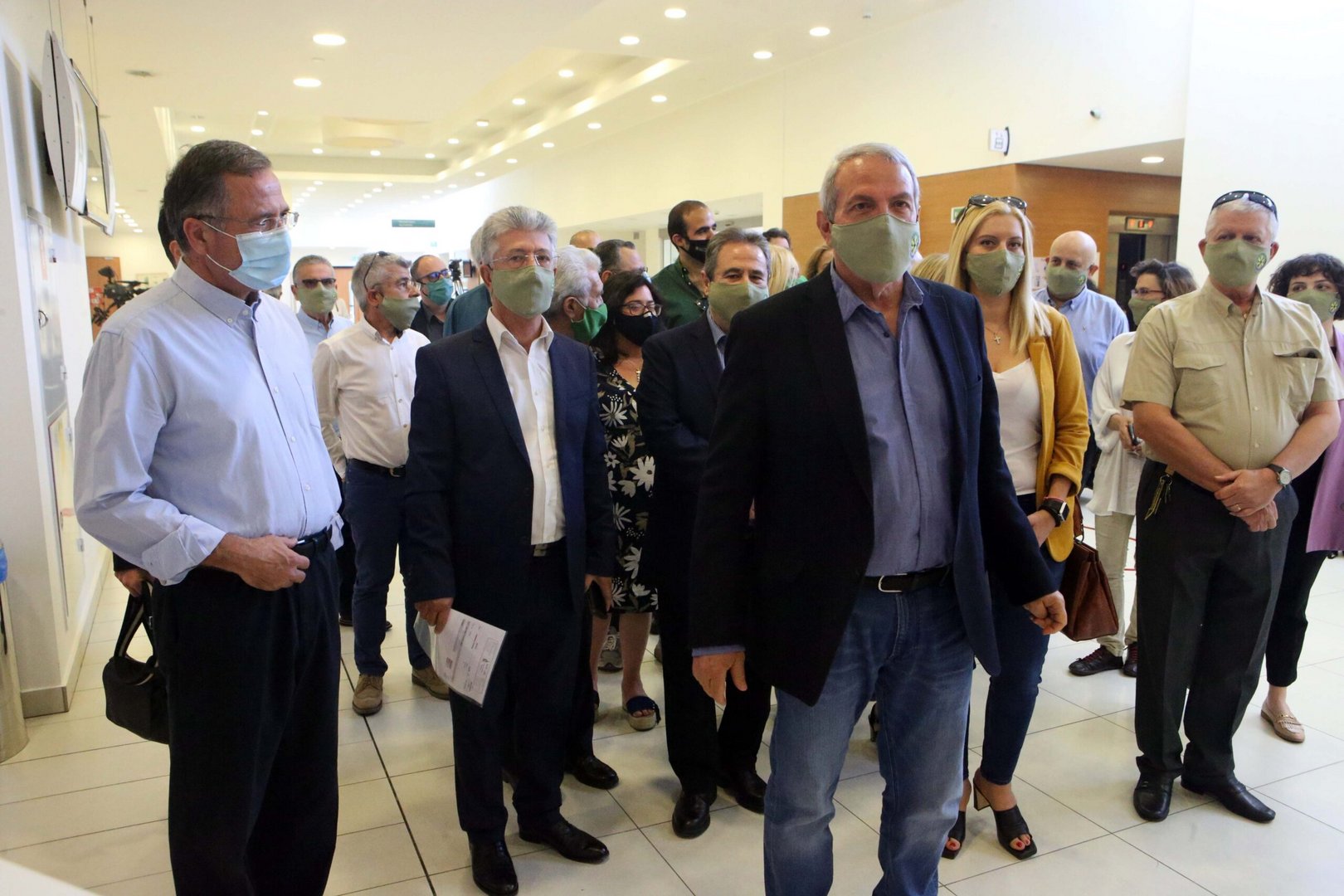 The Green party, which could capitalise on public disappointment with the bigger parties, urged people to go and vote.
"We call on everyone to look at green policies and honour us with your vote," party leader Charalampos Theopemptou said.
He said Cyprus, and the whole world, were going through difficult times with the problems caused by the pandemic.
His party, he said, was ready to work for society, culture, the environment and the economy, green policy, the creation of jobs for the youth "and everything that distinguishes us as a movement."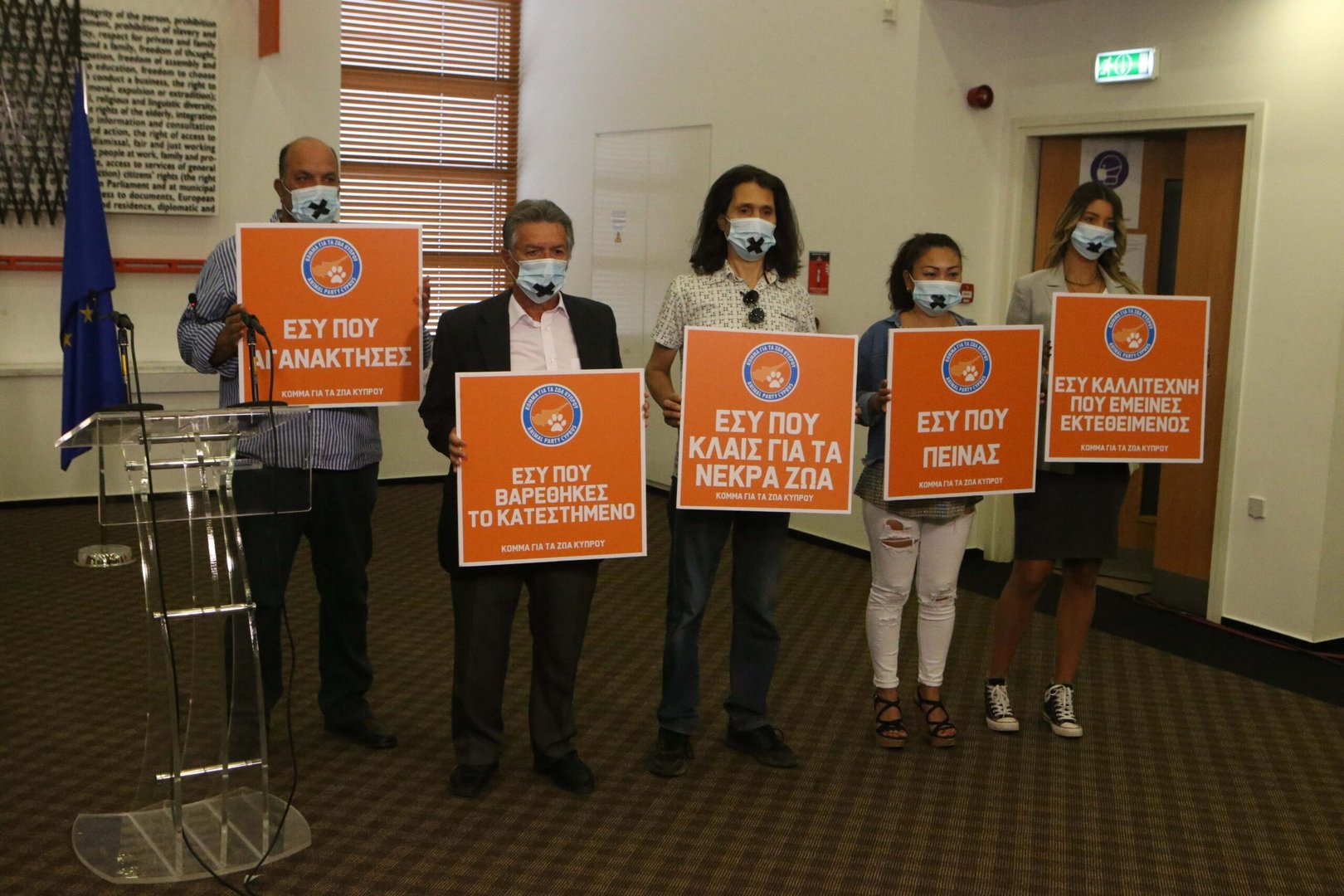 Candidates for the Animal Party in Nicosia on Wednesday (Christos Theodorides)
The head of the Animal Party urged people, especially animal organisations and animal lovers to consider voting the party on May 30.
After submitting their candidacy in Nicosia, party members held placards appealing to those who were indignant, the people who cried for dead animals, the people who were fed up with the establishment, and the artists who were out of work because of the pandemic.
"Humans, animals, nature. One health, one welfare, one strong relationship," party leader Kyriacos Kyriacou said.
In Sotira, the chairman of the newly formed Famagusta for Cyprus, Christakis Nikita, said the party's aim was to restore freedom in Cyprus.
The party was founded recently by residents of Varosha who were disappointed with the political leadership's handling of the Cyprus problem in general.
"We are citizens who, through our love for the country and desire for reunification, founded a party to be able to help in restoring freedom," he said.
The head of Generation Change, Anna Theologou said they sought to bring a new ethos to politics.
"We are a movement of your people who want to bring a new political ethos in politics," she said. "People who no longer tolerate the corruption scandals we see daily and the fact that these conditions affect the country's public life and the pride we have for this place."