One man wants to find a cave to live in. Another wants the jab ASAP. Divergent views on the newly introduced SafePass
By Antigoni Pitta
May 10 marked the much-anticipated lifting of measures – not least the SMS system – that came to define the pandemic for us all, but what was given with one hand was taken with the other.
The curfew was moved back to 11pm and from Monday until midnight, and the SMS system was scrapped. But while some measures went, others took their place, most controversially the SafePass proving you're Covid-free to visit crowded places including most shops.
The tweak announced on Friday that this pass will no longer be needed to visit outside areas of restaurant and bars may have calmed some of the critics down, but it remains the most contentious. Unless you have had Covid recently, the price of freedom is to get tested several times a week or get vaccinated.
The Sunday Mail went downtown Nicosia to find out how the first week of the SafePass has affected people, what they think about it, and whether it has motivated them to get vaccinated.
"The SafePass makes sense if you think about the Cypriot mentality of dodging the rules, but that's not to say that it's not taking away some of our liberties," said Yiannos Gabriel, 24, who was waiting at a rapid testing site. "In a sense, it is taking away our right to freedom, especially for young people. But I was willing to get vaccinated before it was introduced, but now I'm booking as soon as I'm allowed."
At the same testing site, 28-year-old Seto, who had just booked his vaccine appointment the same morning, said that he had been planning on getting vaccinated anyway in order to be able to travel. "I think it was just very bad timing for our age group, because we didn't get the chance to get the vaccine until this week so many still have to get tests every three days," he said. "SafePass is a good system because in a way it 'scares' people into order… But I do think that the system is a hoax," he remarked. "No-one knows what the f**k they're doing, not even the government! Someone must be making money from the rapid tests."
"I have absolutely nothing against the SafePass," Giorgos Nicolaou, 60, said as he sat at a coffee shop on Ledra street. "I just got my first vaccine dose so I'm still taking rapid tests, but I see no problem with that. I'm not one of those people who like to go on and on about personal data violations and all that – if you have nothing to hide why do you care?"
"And it's not a party loyalty thing either," he added. "I didn't vote for this government or this president, and never voted for Disy, but I see the bigger picture. It's a matter of safety, personal and collective. I don't work, but my sons do and I make them wear a mask when they visit me."
"I think it's starting to bother the anti-vaxxers and the Covid deniers," 44-year-old welfare worker S.D. said. "For the rest of us who acknowledge that this virus exists, it hasn't made much of a difference. As a frontline welfare worker I am vaccinated, and I can't say I feel 'controlled' or like I live in a dictatorship, as some say."
The SafePass as a concept was around before it was given a name, she continued, "but the government constantly changing the name really fuels the Facebook experts. I think those who do choose to follow the decrees do it out of respect for themselves and others.
"My work has helped me see this double standard. At the welfare services office we would get calls from Cypriot parents saying foreign children in their kids' classrooms should be vaccinated because they might infect their kids with the illnesses we vaccinate our children for, like measles, chickenpox… the same people are now on social media talking about some great conspiracy and refusing to get vaccinated."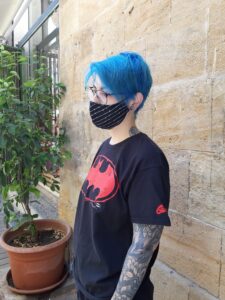 "This whole vaccine business has divided people, it's taking us back to the times when we had Makarios supporters and Grivas supporters!" Andreas Kapetanios said. "Me, I'm not getting the vaccine anytime soon. I'm going to wait and see how many of us are left in maybe ten years, then I'll decide."
And what if there is no option but to take the vaccine?
"I'll go live in a cave, and grow cucumbers and lettuces."
"On paper it's a good idea because personally, I think that getting tested regularly makes it possible to live our lives and do our jobs with more freedom and less risk, at least until the vaccinations start taking effect and we hopefully move toward herd immunity," said Kyriaki Paraskevaidou, 25. "But in practice, there are issues that arise, like enforcement. Whereas I do not have an issue with the frequency of testing and am happy to abide more out of a sense of cautiousness and social responsibility, it's clear that many others are ready to disregard it. What I do take issue with, is the lack of infrastructural support for it," she said, adding that a lot more people would welcome it if testing became widely available in pharmacies, if self-testing kits became available and a concerted effort was made to inform the public of new testing sites.
"The SafePass was implemented before offering younger people the chance to be vaccinated, but these are the people who want to get vaccinated the most," 30-year-old Ivy said, explaining that she really tried to get the vaccine, even trying to get AstraZeneca through her personal doctor.
"I was under 30 and nobody wanted to take responsibility if something happened," she said. "I'm pro vaccines. Call me a sheep, it's OK. But do I agree with it [SafePass]? No. We should respect people's choice not to get the vaccine."
"I couldn't wait to get the vaccine! If we didn't have vaccines, pandemics would be never ending!" said Androulla Georgiou, 62. "But I have to ask. Is anyone profiting from rapid tests?"
"There is no pressure to follow the SafePass measures," she continued. "It's a democratic process; we choose for ourselves, but we must think of others too."