In the lead up to the parliamentary elections on May 30, the Cyprus Mail has asked the main political parties for their policies on a wide range of green issues. This week – energy and transport
What is your party's energy policy?
AKEL
A good energy policy must define energy as a social good and fight against energy poverty for the benefit of society. Our goal is to reduce our country's energy dependence and cost of electricity, while protecting the environment and public health. The rational and sustainable use of renewable energy sources (RES) with as much overlap with the local electricity generation system as possible will lead to a more humane and healthy environment and cheaper electricity for the public.
DIKO
What is worrying in Cyprus is that profit is driving the existing energy policy model. Thanks to our geographical location which gives us the most sunshine in Europe, we could very well implement a self-sufficient energy plan powered by reusable energy sources. Unfortunately, however, as a state we did not manage to reach the 2020 targets of 20 per cent of our energy coming from RES, and as a result have had to pay fines.
DISY
Nobody can deny the energy prospects opening up in the Eastern Mediterranean and the positive effects they may have, both on the countries of the region and the European Union, as well as the role that Cyprus can play.
EDEK
We should first point out that Cyprus is among the EU member states with the highest proportion of greenhouse gas emissions.
This confirms that despite our repeated calls for measures to boost renewable energy production, few initiatives have been taken. This is supported by the fact that in 2019 and 2020 we paid about €120 million in pollution fines, while this money could have been allocated to actions that would help reduce pollution. Edek insists that in order to end this, the production of electricity from renewable energy sources needs to be promoted and boosted. That is why, we insist on making the most of solar energy through photovoltaic systems.
GREENS
We believe in achieving full divestment from the use of fossil fuels, with the interim use of natural gas until we can go 100 per cent renewable, in order to immediately cease the use of crude oil which is devastating for our air quality and for the planet in general. Individuals and companies should be given more incentives to introduce solar panels on their buildings and the government should invest immediately in transforming all government buildings to zero emission constructions, instead of the 3 per cent rate it is supposedly doing now.
We are trying to introduce the relevant EU directive as quickly as possible in our legislative framework (instead of last minute changes that more often than not are not well thought out). We insist on a green budget presentation being introduced, as is demanded by the Paris Agreement. We want our government to be bolder and set higher goals concerning the reduction of pollution levels and use of fossil fuels and the increased use of renewable energy sources.
SOLIDARITY
Our movement has developed a strategic plan focusing on everything related to energy. The main element of our proposal is decoupling from conventional energy sources and switching to alternative energy sources, especially solar with conditions. Our innovative proposal is that every home and every factory should have an alternative energy generation system installed. This would be achieved in the medium term over an eight-year timeframe with specific incentives.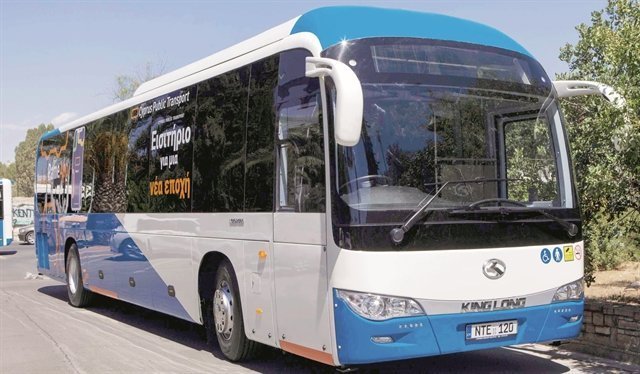 What is your party's transportation policy? Do you intend to encourage more sustainable alternatives to cars? How?
AKEL
Transportation and traffic are some of our biggest problems, especially in big cities. Addressing and mitigating this requires, first of all, political will, significant investments and the creation of a new culture and mentality among the population regarding transportation.
Intensively using private cars for every simple movement further degrades quality of life as it damages air quality and burdens the economy on an individual, family and national level. In particular, it contributes to increasing carbon dioxide emissions and noise pollution. Therefore, efforts to develop and upgrade public transport through an integrated management system need to be intensified.
In this direction it is necessary to take measures such as:
Launching special bus routes,
taking effective measures to encourage alternative modes of transport,
constructing sidewalks on all roads for the safe and comfortable movement of pedestrians and wheelchair users
financial support and subsidies for the purchase of buses serving rural areas as another sustainable policy measure for rural development.
Akel's proposals are inextricably linked to our general proposal for the development of our country, which places at its centre the individual and their modern needs. Urban transport and design are important deciding factors in the function of cities, but also their connection with the countryside. Public transport needs to serve broader goals, such as quality of life, the environment, urban reconstruction and economic development.
DIKO
We certainly support alternative means of transportation over personal cars, such as public transport, bicycles and walking. The traffic problem in Cyprus is estimated to cost more than 1 per cent of our GDP. It seems that our public transport policies to date have not worked – on the contrary, traffic jams continue, and the existing public transport system is costly.
Therefore, what matters is the creation of infrastructure meeting the public's needs. We should not make demands from them unless we can offer them a proper, attractive public transport system. This should be our goal.
DISY
The transport minister recently presented the "Action Plan for the Promotion of Bicycle Use" which aims to introduce the bicycle as a safe and reliable means of transportation, exercise and entertainment. A carbon offset policy can only be implemented by introducing a shift from vehicle traffic to more sustainable modes of transport, something exemplified by this policy.
In addition, an ambitious plan is being prepared in collaboration with the transport ministry  to promote e-mobility both for private vehicles and public transport vehicles such as buses and taxis. Our party leader, Averof Neophytou, drives an electric car.
Within 2021, more streets will be made one-way and bus lanes will be reconfigured along with the density and frequency of bus routes. At the same time, a plan has been submitted to promote bicycle use that includes incentives for the purchase of bicycles and improved infrastructure for bicycle use.
EDEK
Edek proposes:
Implementation of Park and Ride programmes (eg from the new GSP stadium to central Nicosia).
Ensuring modern, comfortable, reliable and more efficient public transport with new contracts.
Better and more frequent routes, modern buses and telematics systems.
Completion of the urban road network of all cities and the inter-urban and rural road network, with emphasis on the roads that connect cities with mountainous and surrounding roads.
Promotion of the Nicosia mobility plan and immediate improvement of a corresponding plan for Limassol. Emphasis on bus lanes and bike lanes.
Providing incentives for the use of bicycles within cities.
Adopt a strict policy for the parking of private vehicles in the city centre.
Greater incentives for electric and hybrid cars. Development of a fast-charging network for electric cars.
GREENS
We want to see more incentives for the use of public transport and electric cars. We demand that the government only buy electric cars from now on. We need to rebuild the public transport system and introduce more bicycle lanes.
SOLIDARITY
 Our long-standing position in terms of public transport does not focus on the use of conventional buses, but on the conversion of private vehicles into electric ones that will be charged only from points autonomously producing solar energy. At the same time, public transport should focus on the use of buses or other autonomously powered means. A basic condition is to have the appropriate infrastructure to serve the public and make transport sustainable, but also user friendly.
Elam did not respond to the Cyprus Mail's questionnaire
Next week – the parties' policies on biodiversity and illegal bird trapping