Political stalwart, former foreign and commerce minister Nicos Rolandis has died at age 86, it was announced on Thursday.
His long political career helped shape the politics of Cyprus domestically and internationally, while a deep-rooted flair for philosophy brightened his private life.
President Nicos Anastasiades said that the loss of Rolandis is a loss for Cyprus, describing him as a "patriot who adorned with his presence parliament and the institutions he served".
His long and varied life saw him become manager of the Limassol Coca-Cola plant at the age of just 23, serving as foreign minister and then commerce minister, creating his own political party and running as a presidential candidate.
A strong-willed individual, Rolandis proudly told the Cyprus Mail in a 1998 interview that "I've always had my ideas, very strongly". This he put on full display when he split from Diko, of which he was a founding member in 1976, to form his own party – the Liberal Party – in 1986. He remained party president until 1998 when the Liberals merged with Disy.
Born in Limassol in 1934, Rolandis' path towards politics came later in life, when in 1978 then president Spyros Kyprianou asked him to serve as foreign minister.
He did so, dutifully, until 1983 when he resigned his post over a dispute on Kyprianou's hard-line stance on the Cyprus problem.
A minute's silence was held by at the council of ministers on Thursday.
Disy leader Averof Neophytou also paid his respects, describing Rolandis as "an honest politician of substance who was measured in his approach".
The Limassol-born politician studied law at the Middle Temple University in London. After his graduation in 1956, he became manager of the Coca-Cola plant in Limassol.
But as became evident in his later political life, he was prepared to go it alone, and did so three years into his job at Coca-Cola when he formed his own rival company, bringing 7UP to Cyprus.
It was his political life however which brought Rolandis to mainstream public consciousness.
After his stint as foreign minister, he served as an MP from 1991 through to 1996, later merging his Liberal Party with Disy in 1998.
In the 1998 election Rolandis launched his own campaign to become president but later supported the eventual winner Glafcos Clerides, who in turn appointed Rolandis as commerce minister; a position he fulfilled until 2003.
He oversaw and pioneered significant policy initiatives such as the oil and gas exploration in the seas surrounding Cyprus. In 2003, he signed an agreement in Cairo establishing the Exclusive Economic Zone (EEZ) of Cyprus and Egypt, the first EEZ agreement signed in the Mediterranean.
Rolandis' early foray into the underwater frontier was initially met with scepticism but he was later vindicated as gas finds reforged regional alliances – upending traditional power priorities. In the years to come he would chide successive governments on what he saw as their missed opportunities to use the gas finds as a win-win bargaining chip to negotiate a solution to the Cyprus problem with Turkey and the Turkish Cypriots.
One of his less successful ventures during his stint as minister came in March 2001 when he put forward a plan for erecting a statue of Aphrodite of gargantuan proportions in the Paphos area.
Dubbed the 'Mighty Aphrodite', Rolandis said he wanted it to match the pyramids or Colosseum.
"Unless it is large in size and large in inspiration you can do nothing.  You just have another statue like so many others in the world."  The project never got off the ground.
In his timely 432-page memoirs published in 2019, titled 'Maties stin Zoi and stin Istoria' (A glimpse in life and history), Rolandis recalled meeting a pope, Fidel Castro, Yasser Arafat and Josip Tito, international personalities such as David Rockefeller, Chuck Norris, Katherine Graham.
And in that book, Rolandis told the Cyprus Mail that: "I state that I had a mandate from my father that in my life 'I should not become the servant of anybody or anything, other than the truth'. I followed this mandate devoutly."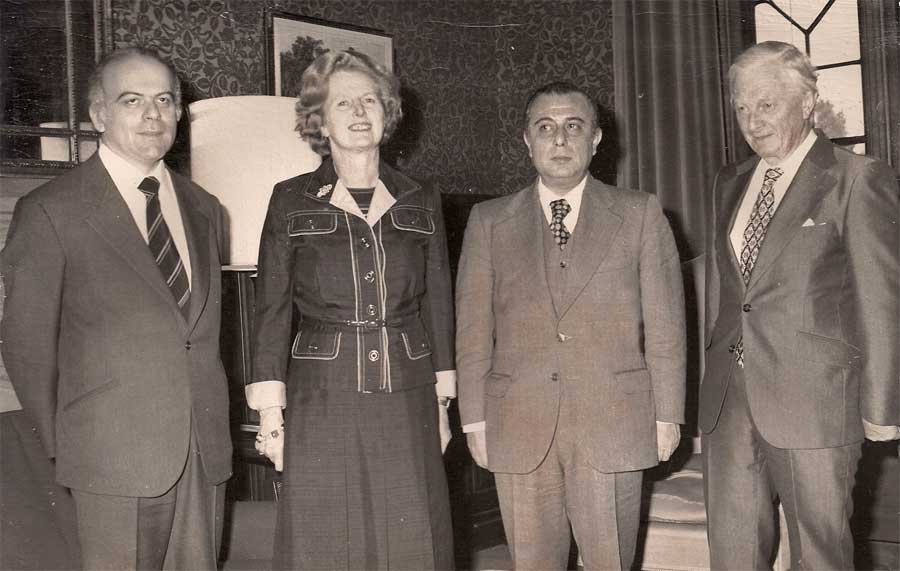 Nicos Rolandis (left) with Margaret Thatcher and Spyros Kyprianou
While much of the book focuses on the serious side of politics, he also offered a glimpse behind the curtains as it is peppered with humorous anecdotes.
Among them are the anarchists who threw eggs and lemons at former Greek Foreign Minister Constantinos Mitsotakis when he visited Cyprus in 1981, the story of British Prime Minister Margaret Thatcher, who "instead of the £200m we had asked for, offered us a £7m loan", and a meeting with Castro who had forgotten President Makarios had died.
In another incident, the Cypriot delegation was almost kicked out of the Oval Office because the then US President Ronald Reagan did not realise who they were.
His writing, spanning memoirs and poetry, also came in the form of regular contributions to the Cyprus Mail – with one of his final pieces which was particularly poignant, appearing on June 7, 2020.
In it, Rolandis looked back on his life – and towards death – drawing on his father's philosophical influence on a 17-year-old Rolandis.
"Does the biological death of the body and the brain constitute the final curtain or is there a soul which survives? And if there is a surviving soul, where does it end up and in which form? Where are the dead? And if they are somewhere what do they do?" Rolandis asked.
"There are no answers. So, I sit back, calm and I let tranquillity drip into my body. The endless time slips through my fingers, under the sky and the trillions of stars," he surmised.
Back in 1998, when asked how he would like to be remembered, he told the Cyprus Mail: "As a results-orientated man… and as a pragmatist".
Rolandis is survived by his wife Lelia and his three children.
His funeral will be held on Saturday morning at 11.30am at the Saint Sophia church in Strovolos. President Anastasiades will deliver the eulogy.