Indonesia's Java is the world's most populous island! Almost 150 million people make their home here – about half the number living in the States!
As a whole, the island is the business, academic and cultural hub of Indonesia, with a colourful mix of religions, cultures and languages. Even the cuisine is considered international: over the last few centuries Malaysia, China, the Middle East, India and Europe have all made their mark on the island's fare; today, you'll find American fast food chains sitting alongside Indian restaurants, Thai takeouts and French bistros.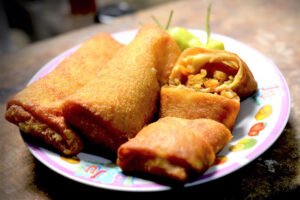 The original cuisine, however, still remains. And it's much the same as it has been for centuries: tasty, spicy and very, very sweet; famed for the liberal usage of sweet soy sauce and palm sugar. Coconut milk, peanut sauce, tamarind, shrimp paste, shallot, garlic, turmeric, ginger, and chili are common ingredients island-wide, while seafood (including tuna, red snapper, wahoo, anchovy, shrimp, and squid) is more popular on the coast, and the highlands are noted for dishes such as sanggar (thick slices of spiced beef slathered in coconut milk before grilling) and gudeg (stewed jackfruit).
Steamed rice is the common staple food, served at every meal, though varieties abound: wajik is made from glutinous rice cooked with Java sugar; grombyang rice comes in a soup, with sweet buffalo satay; gandul is served in banana leaves with slices of beef.
But it's lumpia that is, perhaps, the island's best-known dish. Similar to a spring roll, this snack food contains egg, dried shrimp, or chicken in a crepe-like pastry, with added cayenne pepper to taste. And while you'd think coffee would be the most iconic beverage (back in the 1800s, Java was the world's main source of coffee beans) you're more likely to find locals enjoying a glass of bandrek (hot condensed milk with ginger, palm sugar, cinnamon, cloves and durian), bajigur (a concoction of coconut milk, palm sugar, and vanilla), or es teler (more condensed milk, this time with added syrup, shaved ice and fruit). Like the food, the Javanese drink maxim seems to be 'make it sweet, and they will come'… In their millions!