At 300 metres elevation in the foothills of the Troodos mountains and in a frost pocket, I am always surprised that I can get anything slightly sub-tropical to grow at all. A frost pocket is the name for a garden usually situated in a valley bottom or indeed on the slope of hill. In my case it doesn't mean that we have continual frost, but cold air can be trapped within the garden in the winter behind our dense hedges, altering the climatic conditions within. This means that my plants are always a few weeks behind a friend whose flat garden is only 1km away.
These hedges not only trap the cold winter air, but also the hot summer air, creating a sun trap, so that lots of plants go over quickly, especially annuals whose roots are near to the surface. The ideal situation would be not to have any barriers like hedges around the garden although we inherited ours and over the 20 plus years we have been here they have grown enormously and are now a major job to maintain. Another minus is that any fruit trees will not survive within 3 metres of the hedges as they take up all the nutrients, including water.
However, despite all that, we have managed to garden quite well here. When the extension to the house was finished we planted a hedge of hibiscus alongside a wall to keep the grandchildren from falling over the edge of it, and the first time they were here, eldest grandson scooted right through the hedge into the garden! I am often asked what I would suggest for privacy hedges. I usually answer with those I wouldn't choose. We also inherited a huge myoporum hedge to separate us from our uphill neighbours.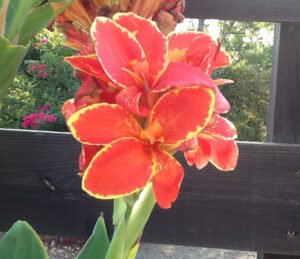 It was another dense hedge and some of it has demised, but the constant litter it still produces is tiresome. All year round there are dead leaves and at various times pretty little flowers shower down on us. These are followed by tiny black seeds, which when trodden on make a mess everywhere.  Hibiscus can be time consuming having to watch for mealy bugs as well as dead leaves all year round, whilst rosemary can get very woody after a time, but gives off a heady perfume when it is  cut. Lantana and oleander can sometimes make a decent hedge but you must take care if children are around, as some parts are poisonous. Perhaps a fence is better!
The fencing around our pool on the garden side is made of spaced wooden slats, which allows the air to pass between them. This diffuses any strong winds and has proved successful and, touching wood, has so far withstood many winter gales and I think that the fencing does not affect the water temperature. It certainly doesn't worry the birds that drink daily from our pool and we delight in watching the house martins, especially the young ones, as they learn to fly sorties over the pool, narrowly avoiding the fencing, to pick up a beak full of water. They learn fast after the first few dunks in the pool!
I love this time of year as the bougainvillea is colouring up nicely. Originally from Brazil bougainvillea grows so well here in Mosfiloti, which is something of miracle as they like lots of humidity as a rule. Now is the time that we can enjoy all the tall trees that can easily cope with the high heat of summer. Those long split leaves filter the hot winds and whilst they don't provide much shade for those who sit beneath them, they can cool the breezes and cope with the humidity of the closeness to the sea. Frangipane with its heady night-scented perfume really needs coastal humidity, along with Delonix regia, which you may find in 'older gardens', and the many trees of Albizia julibrissin around the parking spaces of Larnaca airport, delight any visitors to the island as they shake their silky pink tassels in the sea breezes.
Cyprus can be such a dusty place causing breathing problems for some people, especially the elderly and young children. Hot air from North Africa sometimes pushes into our area, bringing with it vast amounts of dust, which falls and settles everywhere. This happens regularly and can occur at any time of the year, obscuring the light and leaving a trail of dust. There is always pollen of some kind around as well and my advice, if you suffer from allergies, is not to plant olive trees near your house as their pollen is particularly noxious.
However, it is only around for a short while and should be finished by now. This year we have become used to wearing masks, so perhaps that made things easier for those who suffer.
What to do in the Garden this Month
The early heat caused osteospermums to stop flowering and indeed they do need a rest now after being in glorious flower throughout the spring and early summer. Keep trimming them back to a fresh green growth down the stem and give them a feed and a watering. Don't move them at the moment, leave that until the autumn. The new little seedlings around them could be your new stock for next year if they survive the summer. The early herbs, like marjoram and sages, need a trim at this time as well, so cut them back to new growths close to the base of the plant as there is no sense in wasting the plants energy in making seeds. Keep dead-heading lavender flowers as they die off as well. Potted cycads can look messy now and their older lower growth may need to be removed. Do take care though as the stems are very prickly.
Chasmanthe (plants that resemble monbretia or crocosmia, although chasmanthe blooms in March), should have dead leaves taken off now that they have dried. If you remove them too soon, rather like other bulbous plants, you will interrupt the flower-making process for next year. Remember to mark the empty space and don't plant anything else in it! Cut down frayed strelitzia leaves and flowers that have died and gone over. The leaves, despite looking so robust, are extremely vulnerable to rain and winds and can look very untidy at times. The same goes for canna lily leaves that can be torn or shredded and are an extremely tasty meal for any locusts passing by. However their flowers can be quite wonderful and some have striated leaves, which look particularly attractive in a shaded spot. Canna lilies certainly do well in our gardens enjoying the summer weather, although they enjoy a rich soil and quite a lot of moisture. They are available in various colours now, but in older gardens you may just find the big red ones. One of my favourites with wonderful flowers is Lucifer, which sits next to Durban with its amazing leaves and orange flowers.
A big pot of Echinopsis on my doorstep, a birthday present from a friend quite some time ago, is much admired this month, but the charming pretty pink flowers are extremely short lived. Stapelias are making buds at the moment and will have stunning flowers soon.
It's very tempting to buy hanging baskets to decorate your veranda or porch but be aware that they need constant attention and when watered will be twice the weight they were before, so do ensure that the hook is strong enough. An easy way to water them is to dunk them into a large pail of water and drain away the excess before hanging them up again Potted plants, especially those on verandas, will also need extra care from now on and perhaps a feed once a week to keep them healthy using Phostrogen (readily available in garden centres). One measure in 10 litres of water, should keep them healthy.
Plant of the Month – Nigella damascena
 These lovely (usually cool weather) annual cottage-garden plants flower around this time of year in Cyprus, bringing colour and an interesting form to the front of the border. A member of the buttercup family and native to southern Europe, they can be grown in lots of northern countries as well. As its botanical name suggests it is thought to have been found originally in Syria. You may know it as 'Love in a Mist', 'Ragged Lady' or even 'Devil in the Bush', some of which refer to the lacy bracts that surround the flower.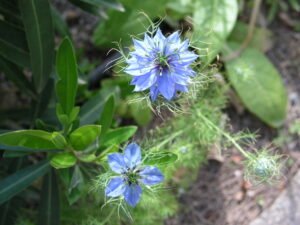 Growing to around 20cm, the flowers can be several shades of blue or even white or pink nestling in a frame of lacy foliage, which compliments any broader-leaved plants round about. Nigella, preferring to grow in well-drained sandy soil, will bloom for several weeks after which the plants produce seed capsules, which when ripe will shower seeds around the mother plant and germinate in the next spring. The dried flower stems can be used in floral art.