June is developing into a crucial month for the East Med and its geopolitics involving Turkey, Greece and Cyprus
By Charles Ellinas
At a recent Senate hearing, US Secretary of State Antony Blinken said that ratification of the UN Convention on the Law of the Seas (UNCLOS) will work in favour of the US. The context of the hearing were efforts made by the US and other countries to address China's aggressive policies in the South China Sea. This is important to understand because of similarities with Turkey's claims in the East Med.
China devised what is known as the 'nine-dash-line' demarcation – contrary to UNCLOS – to lay claim over most of the South China Sea, ignoring and infringing the rights to parts of this by the Philippines, Vietnam and Malaysia. In 2016 the UN Permanent Court of Arbitration based in the Hague ruled that there was no legal basis to China's claims and rejected the 'nine-dash-line'. China dismissed this ruling.
President Biden considers the ruling legally binding and is determined to keep confronting China on freedom of navigation in the South China Sea. Ratification of UNCLOS would provide access to its legal framework that would strengthen the US position against China's claims, or any other such claims in other parts of the world.
The US was party to the the negotiations and subsequent modifications that led to UNCLOS in 1994. But even though the US recognises UNCLOS as a part of international customary law, it has not yet ratified it. China has.
The original argument against the US not ratifying the UNCLOS was that it gave too much power to communist countries and especially to the Soviet Union. There was also concern that it might subject the US to international lawsuits over its environmental policies. However, the Soviet Union argument is no longer an issue and legal experts have concluded that UNCLOS doesn't actually require the US to adhere to any environmental laws or regulations other than its own.
On the other hand, it is now recognised that "ratifying UNCLOS would bring substantial benefits such as the agreement would resolve many territorial disputes with other countries… and allow the US Navy easier access to foreign waters. Moreover, acceding to the agreement could serve as a signal that… the US is willing to play by the rules." The US now believes that its ability to navigate open seas freely would be better protected if it could rely on UNCLOS provisions and expect other countries to follow suit.
There are also arguments related to rights to Arctic Ocean regions. Countries such as Canada, Russia, Norway and Denmark have made or are in the process of preparing submissions seeking to develop offshore resources. Without ratifying UNCLOS, the US is not a participating party to that process, limiting its ability to protect overlapping claims with Russia and Canada.
These are broadly the reasons the US is now considering ratification of UNCLOS. This is now accepted as the world's standard treaty when it comes to determining maritime rights and responsibilities. By rejecting UNCLOS, "the US loses out on national security, oceanic trade, resource extraction, and its own values as a defender of the rule of law."
In support of a resolution submitted in May to ratify UNCLOS, Senator Murkowski said that "the treaty would enable us to contest unlawful Chinese [and other] claims through an international tribunal rather than military escalation and dangerous freedom of navigation operations… without ratification, the US lacks a seat at the table for these negotiations."
The argument is that ratifying UNCLOS would give greater weight to US efforts upholding global norms. This is likely to include the East Med.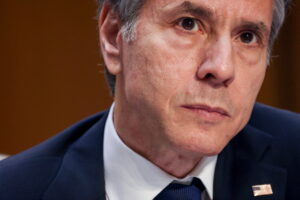 Implications for the East Med
Blinken confirmed earlier in June that President Biden will raise the issue of Turkey's aggressive activities in the East Med when he next meets President Recep Tayyip Erdogan, on the sidelines of the NATO summit in Brussels.
At a hearing in the US Senate, he said he shared the concerns and described Turkey's behaviour as "deeply concerning." He added "our differences with Turkey… are no secret." The US is "pleased" to see Turkey pulling back from such activities in the region, "including removing its ships from waters that Cyprus considers to be part of its exclusive economic zone (EEZ) and stopping the drilling."
He was responding to a question by Senator Menendez, chairman of the foreign relations panel, who asked "Turkey is constantly violating… international law when it seeks to threaten Cyprus in its EEZ, when it declares an economic zone going to Libya that is not recognised at all but it interferes with Greece's EEZ… so what are we doing?"
But Blinken also reiterated that it is in the US interest to keep Turkey "anchored to the West."
By all accounts, the meeting with Biden on June 14 is developing into a critical test for Erdogan, who conceded that his interaction with Biden "has not been easy so far."
This meeting will be followed by an EU-US summit in Brussels on June 15, where some of these issues may also be raised, and the European Council summit on June 24-25. This will review Turkey's progress in line with the statement of the European Council on March 25, 2021. Positive outcomes from these meetings could play well in creating a positive atmosphere at the meeting between Greek Prime minister Kyriakos Mitsotakis and Erdogan.
These are coming at a time when Turkey's economy is in tatters, much in need for cooperation, rather than confrontation, with the EU and the US. Turkey is in need of a positive agenda, but this requires readiness to work with the EU and the US to resolve thorny issues, including the East Med.
June is developing into a crucial month for the East Med and its geopolitics involving Turkey, Greece and Cyprus.
This time Turkey's usual approach to such events, of laying low until the meetings take place and reverting back to its unilateral claims and aggressive activities, is not likely to work. Under the combined watch of the US and the EU, Turkey will be expected to adhere to de-escalation, avoidance of provocative rhetoric and resolution of disputes through negotiations based on international law.
But statements last week by Energy Minister Fatih Donmez and Erdogan saying that Turkey is ready to resume exploration and drilling in the East Med continue to cast doubts on relying on what may turn-out to be 'appeasement' by Turkey – hopefully this will not be the case.
The likely ratification of UNCLOS by the US will strengthen its position in terms of upholding global norms.
Dr Charles Ellinas, @CharlesEllinas, Senior Fellow, Global Energy Center, Atlantic Council