Lack of winter rain forcing snakes to venture further afield to find water
By Evie Andreou
Reports of snakes being seen in places where people have never seen them before is not because Cyprus' snake population is spiralling, officials have said.
The reason is far more mundane: the drought. Lack of winter rain has forced snakes to move about more to find water and food.
"My son saw a snake on Easter weekend in Troodos, which is odd since we haven't seen any in four decades up there," Marios Stylianou told the Sunday Mail.
He also heard of a man who got bitten while hiking in the mountains.
"There are snakes in Troodos, always have been," said Haris Nicolaou, forest official at the state forestry department. It's just that the drought has made them more visible.
"When there is scarce water, snakes are forced to move about more to find food, habitat and water," he said.
His advice if you see a snake is to simply walk away.
"No snake will chase you," he said, though walkers must be careful not to step on them.
The agriculture ministry is in the early stages of setting up a team to answer calls when snakes are found in people's homes. But as yet there is no state service to call and have a snake removed from premises.
The private services available are not licensed by the agriculture ministry.
"The ministry is trying to set up such a team among staff, but it is not easy as they need to find people who can handle snakes and who will be properly trained," he said. The snakes captured will be released in the wild.
There are eight snake species in Cyprus, Nicolaou said, of which three are venomous, but only one is dangerous to humans: the blunt-nosed viper.
He said that just like all other snake species, the viper will not attack unless someone touches it or steps on it.
"They are more afraid of us than we of them," Nicolaou said, adding they bite to defend themselves and will not deliberately attack anyone.
He said snakes are more active in April and May, when they come out of hibernation and seek food and to mate and in September and October, when they need to eat before going on hibernation. The hibernation period, he said, also depends on the temperatures.  Snakes avoid much activity during the high summer heat.
He said nature trails have been cleaned of weeds and shrubs that could attract snakes. He added that on some occasions snakes might lie down on the path to catch some sun, because as coldblooded animals they need to maintain their body temperature, and that people should just avoid them.
The forestry department is working to preserve snake populations though it is not easy to record numbers because it is very difficult to locate them.
"They live in habitats, they are not easy to locate, some are nocturnal, we might be looking for a week and not see any," Nicolaou said. "We know that some species' populations are more than others."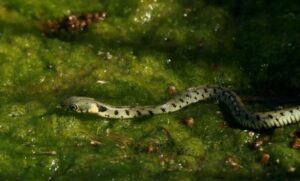 According to the environmental group Terra Cypria one species does seem to be extending its habitat.
A study carried out by the group in autumn 2020, said Cyprus' unique but endangered and totally harmless water snake (Natrix Natrix Cypriaca) has been found for the first time ever near the Pedieos and Gialia rivers and that its presence increased near the Serahis river, one of its natural habitats.
All snakes in Cyprus are protected by national and EU law and killing them or abusing them could lead to fines and or imprisonment.
Nicolaou said they have taken in court people who killed snakes.
Last year, a man had posted on social media videos of him catching vipers so that they could bite him to prove he was immune to their venom. In one video he is seen catching one viper and pressing a shot glass onto the snake's fangs and pressing its head to release its venom and then drinks it to prove he is unaffected by it. The man later posted that he did have to seek medical treatment after a viper bite. According to authorities, he was taken in court.
What to do if bitten by a viper.
In cases people are bitten by a viper, they must be taken to hospital immediately. People should not try to treat the wound with disinfectant or use any other remedy, while the person who has been bitten must move as little as possible and should not drive themselves to hospital, Nicolaou said.
All state hospitals are stocked with anti-snake venom, he said, and people usually are discharged within two to three days unless they have underlying conditions exacerbated by the venom.
"There have been very few deaths from snake bites in the past 20 years and they concerned people with underlying conditions," Nicolaou said.