A divided opposition ensured a House presidency victory for Disy
By George Psyllides
On the night of the parliamentary elections, Akel leader Andros Kyprianou suggested that despite his party's loss, the government and ruling Disy faced isolation in parliament and difficulty in convincing opposition parties.
But that was certainly not the case on Thursday, when Disy managed to get its candidate, Annita Demetriou, elected House president. It was the first time the party has held the post since it was formed in 1976. It was a result very few expected.
Did Kyprianou and other opposition leaders fail to read the room as badly as they did before the May 30 elections? Or were they outfoxed by Disy leader Averof Neophytou who managed to drive a wedge between opposition parties?
In the run up to Thursday afternoon's House presidency vote, all signs suggested Kyprianou would most likely win, thanks to a proposal tabled by Dipa, headed by Marios Garoyian, the former chairman of Diko who has no love for the party from which he was expelled in 2018.
That, however, changed not long before the vote for reasons that were hotly debated on Friday, which could also put an end to any notion of future cooperation between opposition parties.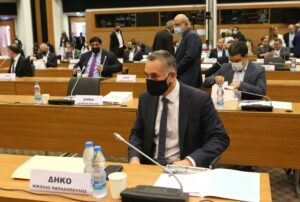 Akel kept repeating on Friday that Demetriou got elected with the support of far-right Elam, claiming Neophytou must have promised the party something in return.
Diko was also complaining that Akel refused to support its leader, Nicolas Papadopoulos, for the presidency, though they themselves also refused to support Kyprianou. The two opposition parties went their separate ways, each hoping that developments during the vote would in the end compel the other to vote for them.
The vote kicked off with a record seven candidates, all party leaders apart from Demetriou. It had been expected that due to the procedure's peculiarities, the winner would not be decided before the third round of the vote.
To win the first round, a candidate must secure the support of at least 29 of the 56 MPs. In the second round, at least 22 MPs were needed, while a simple majority granted victory in the third.
One of the problems is that all candidates, irrespective of support in the first round, can also take part in subsequent rounds.
So, in the first round, all candidates received the votes of their party's MPs, except Diko and Edek, which also voted for each other, suggesting an agreement between them.
However, just before the second vote, Elam chairman Christos Christou withdrew his candidacy, signalling that something may be afoot.
Eventually, Demetriou received 25 votes, Disy's 17 and four each from Elam and Dipa. It was an unexpected result, even for Disy MPs.
It did not take long for things to become apparent.
Ostensibly in a bid to resolve the matter consensually, Garoyian embarked on a backstage initiative to convince the two big parties, Disy and Akel to cooperate.
His proposal entailed electing Kyprianou House president, and if an opposition candidate won the 2023 presidential election, then he would step down for Disy to take over.
Dipa said Akel backed out because Edek disagreed with the proposal. The rejection was conveyed by Kyprianou himself during a phone call about two hours before the vote.
That left no option for Dipa but to support Demetriou as there was no way they would vote for Diko's Papadopoulos.
Elam too said it would never vote for Kyprianou.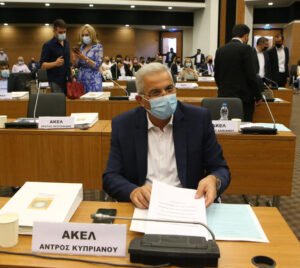 Depending on who you ask, Disy was on board with the proposal.
Dipa MP Alecos Tryfonides said Disy leader Averof Neophytou agreed with the proposal, as did Akel MP Giorgos Loukaides.
Disy MP Nicos Tornaritis, however, said the proposal "was put to the party's political bureau and was rejected".
Diko MP Panicos Leonidou did not rule out the proposal being a ploy to drive a wedge between Akel and Diko.
He said it was a matter of tactics and Disy's tactics apparently worked. The next few weeks would show if there had been any horse-trading between Disy and Elam, he added.
Edek MP Costis Efstathiou said he was not aware of any proposal by Dipa.
Speaking on Alpha television, Kyprianou said it was Neophytou who had been leaking to the media that he was the favourite to win.
"He got Elam to panic and support Annita Demetriou in the second round," Kyprianou said.
He added that his party rejected Dipa's proposal because they also wanted Edek and Diko to be on board.
But he also said Dipa did not vote according to the philosophy of their proposal and chose instead to vote for the government party.
Of the opposition's failure to forge an alliance, Kyprianou said there could not be any discussion when they say they are prepared to cooperate but only provided their candidate is supported.
In a statement, Diko put the blame for the failure on Akel.
Diko said it proposed its chairman as the most suitable candidate and called on other opposition parties to support him.
"While it appeared initially that there was a winning prospect due to positive signs from opposition parties, Akel subsequently insisted on the candidacy of Mr Andros Kyprianou, perhaps because of assurances of support he received from other parties," the statement said.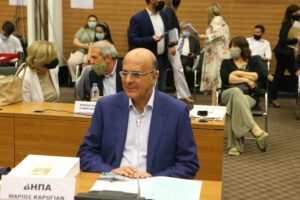 But while the government camp was waxing lyrical about the vote's handling by Neophytou, it should be remembered that he got Demetriou and another candidate to withdraw ahead of the 2016 parliamentary election to make way for two others who had not won an internal vote to be nominated.
In fact, the party spokesman at the time, Prodromos Prodromou, said about the decision: "we are headed to an election, not a beauty pageant."
One of the two brought in was Yiannakis Yiannaki, who later became commissioner for volunteerism and who resigned in May amid a police investigation that his academic qualifications had allegedly been forged.
Yiannaki eventually withdrew, returning the nomination to Demetriou after a public uproar and party members publicly expressing their disagreement with the actions of the leadership in shoving aside nominees who had been voted for democratically, in favour of those who had not.