Officials on Thursday pointed fingers at each other after a helicopter allegedly damaged a newly renovated ward of the Athalassa psychiatric hospital in Nicosia.
On Tuesday evening, a helicopter transporting patients to Nicosia general hospital reportedly flew too close to the psychiatric hospital building, located next door, causing the false ceiling in some rooms to collapse.
The helicopter "scraped past the roof", endangering not only patients and staff, but also its passengers, mental health services director Anna Paradisiotou said, adding that this is not the first time Athalassa hospital has been endangered by helicopters.
"Some time ago, a low-flying helicopter cut some branches off a tree in the hospital's garden."
Hospital officials reported that the false ceiling collapsed just as the helicopter flew past the building, also causing damage to other rooms in the ward.
"We are lucky there were no victims," president of the state nurses' union Pasydy Andreas Andreou said.
Nurses' union Pasyno general secretary Christos Christodoulou said that the incident confirmed "everything we have been saying all these years, and even last week," about conditions at the psychiatric hospital not being up to standard.
"To be perfectly honest, Athalassa hospital does not safeguard the health and safety of its patients or staff," he said. "A picture is worth a thousand words, and someone has to answer for it."
The incident has triggered a blame game among officials, with the state health services (Okypy) looking at the public works department for an explanation, and the public works department shifting blame elsewhere.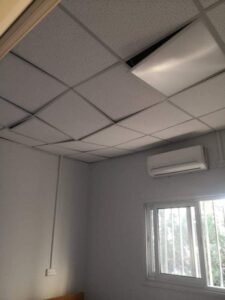 Paradisiotou initially said that the public works department will need to answer for the damage as they are responsible for all renovations at the hospital, which include grand plans for its expansion as part of the government's recovery and resilience plan.
The public works department informed Okypy that initial inspections showed the false ceilings were not properly secured, which should explain why they collapsed.
Chief engineer Antonis Koutsoullis said that the public works department will take over replacing the supports for the false ceiling, some of which were cut clean off.
"I am not in a position to know how the incident took place, we have to look into it," he said.
He added however that the department is only responsible for civil engineering works. "We installed the false ceilings, but maybe they were then moved to install air conditioning units and light fixtures. As far as we know, they weren't in place [during the incident]."
While he accepted the department's explanation, Okypy spokesman Charalambos Charilaou said that the organisation expects the renovations it commissions to be up to standard.