By Katie Wright
David Atherton is remarkably upbeat for someone who was unlucky enough to catch Covid-19 despite having had his first dose of the vaccine.
"Because I'm a Covid vaccinator, I'd had the first dose," says healthcare professional Atherton, who lives in London with his fiancé Nik. "Then my partner and I both got Covid. He got it worse, so I obviously had some protection."
Describing the experience as "three weeks of not-particularly-pleasantness", the 2019 Great British Bake Off Winner says the strangest thing was the way the virus dulled his sense of taste.
"At first it was kind of strangely interesting, and then it just became really frustrating. We got all the condiments out of the cupboard then my partner made me taste them all with my eyes closed. I couldn't tell the difference between, say, vinegar and lemon juice, but I could definitely notice sour, sweet or salty."
Known for being unflappable throughout his tenure in the famous white tent, Atherton thinks being crowned Bake Off winner a few months before coronavirus cases snowballed might help explain why he's coped so well during this tumultuous time.
Now, the star baker is back with his second cookbook, Good To Eat, in which he combines his health and cooking expertise with recipes that are both delicious and nutritious.
As well as upping the fruit and veg factor, Atherton extols the virtues of feeding your microbiome (the beneficial bacteria that resides in your gut) with fibre and fermented foods like pickles, chutneys and kimchi: "I just love the health benefits of fermented foods, and particularly over the last 10 years I've got a bit obsessed with the microbiome.
"We've always thought in the past that fibre is really good for just keeping you 'regular'. Now we know people who have a more diverse microbiome are more healthy. It's actually really good for your mental health, it's good for weight loss, it's good for general health as well as, obviously, your bowel."
With recipes for Filipino 'tortang talong' (a kind of aubergine omelette), Vietnamese 'nouc mam cham' (spicy salad dressing) and Bulgarian 'banitsa' pastry parcels, it's clear Atherton was inspired by foodie adventures abroad when writing the book.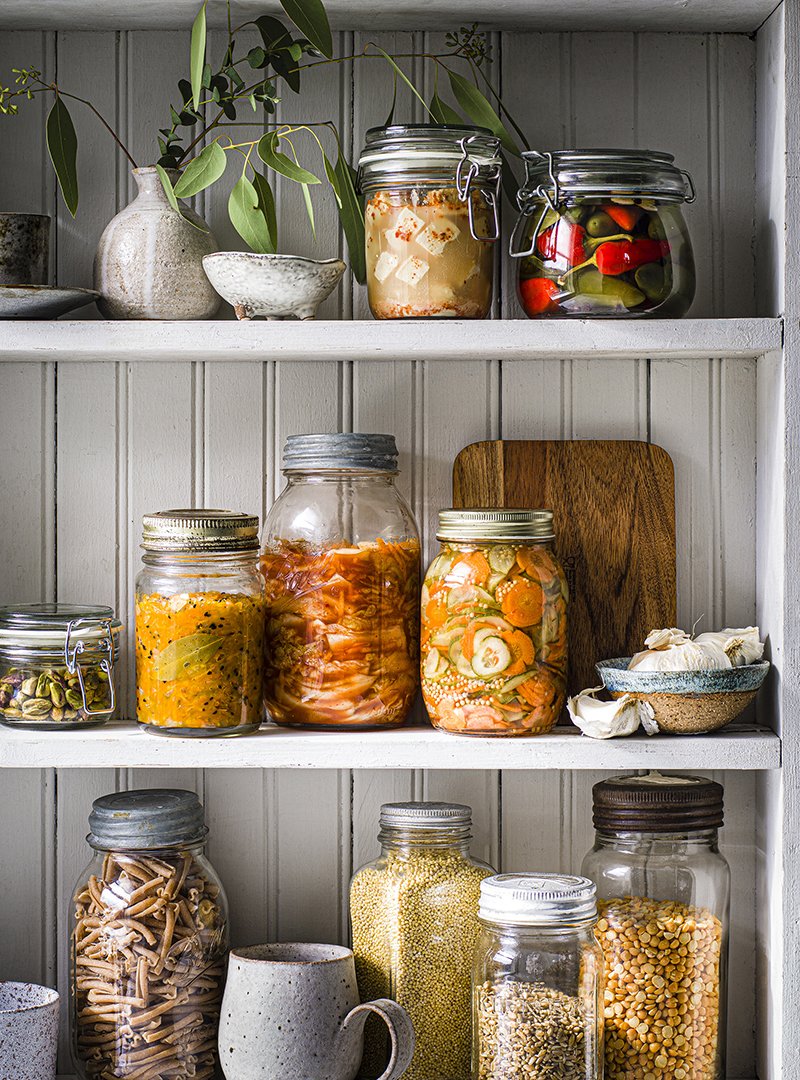 Tangy Carrot Chutney
Makes 2 x 300ml jars
300g carrots, peeled and coarsely grated
1 small onion, finely chopped
2 garlic cloves, minced
150ml cider vinegar
150ml water
110g soft brown sugar
2tsp nigella (black onion) seeds
4 bay leaves
3g salt
Add the carrots to a pan with the onion and garlic, then add all the other ingredients. Bring to the boil and simmer vigorously for five minutes.
Reduce the heat to a gentle simmer and cook for 45–50 minutes until thickened. You'll need to periodically stir to avoid it sticking to the bottom of the pan.
While the chutney is simmering, you'll need to sterilise your jars. Preheat the oven to 160C fan (180C), wash the jars as normal and place on a baking tray. Once the oven is at temperature, put the jars in for 15 minutes.
Fill the hot jars to the top with the chutney, fit the lids on tightly, then store for at least a month before eating. Store in the fridge once opened and use within one month.
Banana Chocolate Muffins
Makes 10
100g dark chocolate (70% cocoa solids), chopped into chunks
130g plain (all-purpose) flour
30g cocoa powder
100g soft brown sugar
2tsp baking powder
1 very ripe banana, chopped
30g natural yogurt
50ml light olive oil
1 large egg
1tsp vanilla extract
100g cooked quinoa
50g finely grated sweet potato
Runny honey, to glaze (optional)
Preheat the oven to 200C fan (220C). Prepare a muffin tray either by greasing or filling 10 holes with paper cases.
Add the chocolate to a mixing bowl with the flour, cocoa, sugar, baking powder, and toss together. Blend the banana, yogurt, oil, egg, vanilla and quinoa until smooth, then add to a bowl with the sweet potato. Combine the wet and dry ingredients with a wooden spoon until just mixed, then divide between the paper cases or muffin tin holes.
Bake for five minutes, then reduce the oven temperature to 150C fan (170C) and bake for a further 12-15 minutes, or until a toothpick inserted in the centre comes out clean. If you like, glaze the tops with honey while they're still a little warm. Best eaten fresh but stored in an airtight container will last for up to five days.
Good To Eat by David Atherton is available now