Electrical problems with his Ford Mustang with the No1 on the doors, which appeared in testing before the racing action, did not allow Vladimiros Tziortzis to fight as he would like on the small, narrow and difficult track of the Brands Hatch Indy Circuit in England.
The Cypriot driver moved smartly and without risk took the maximum points he could under the circumstances, as a result of which he remains in the top three of the EuroNASCAR 2 championship standings – 15 points behind Tobias Dauenhauer who was first and nine points less than the Czech Martin Doubek who also had a difficult three days and fell out of the lead.
Tziortzis is taking part in the NASCAR Whelen Euro Series championship for the second consecutive year with the support of the Cypriot pharmaceutical company REMEDICA.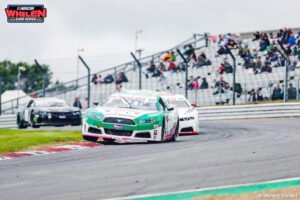 The electrical problem did not allow Tziortzis to participate normally in qualifying, as when he went out for at least one fast lap (in order not to start from the last position), he found himself on the track with dry tyres, while it had started to rain (championship rules state that all drivers are not able to change tyres after the start of qualifying) .
He qualified 11th and finished ninth on Saturday, while on Sunday he started seventh – based on his fastest lap in the first race – and finished fifth to score valuable points. He also set the second fastest lap time of the race.
"Two difficult races, as I was fighting with slower drivers and most of them defended very well, without mistakes, benefiting from the short track and the narrow road," Tziortzis said.
"I made a few overtakes but to climb even higher I had to take more risks, something that there was no reason to do as each point counts.
"Especially on Sunday when I climbed to fifth, having Doubek far behind, there was no reason to put more pressure on the Naveh Talor, with whom we fought hard for fourth."
"It is positive that despite the misfortune I fought as much as I could and I am in third place in the standings. This gives me enough strength to be even better prepared for the next race weekend in the Czech Republic on a bigger track.
"I want to thank Academy Motorsports who in collaboration with Alex Caffi Motorsports & Race Art Technology gave their all for the cars.
I am sure that things will be even better going forward as the results show that the team is on a good path ", added the Cypriot driver.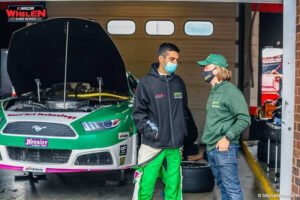 The next round of the NASCAR Whelen EURO SERIES will find drivers and teams in the Czech Republic (Autodrom Most) on August 27-29. In the lead-up, Tziotzis will take part in scheduled tests days with the team.